Gold Coast Army Tank Ride
In a property on the Gold Coast hinterland with fields of grass, trees and blue skies above sits a piece of fascinating Australian military history. You, your buck and the rest of your crew will feel like you've stepped back inside as you venture inside and take a ride in one of the tanks… and there's definitely a few of them to choose from.
The 52t Centurion Gun Tank is one tough mofo. Nicknamed 'The Bitch' in Vietnam, it was hit by landmines on two occasions yet kept on ticking.  Made in 1953, this tank is definitely getting on a bit in years (which makes it all the more interesting as a piece of history).
Yet everything in it still works except the guns. Other tanks include the Alvis Stalwart, one of only two known in Australia; the Alvis Sabre, which is the lightest tank and has impressive speed; and the Centurion Bridge Laying Tank, which is certainly one of the most interesting-looking tanks available.
So take your boys along to see some authentic relics of war and give your buddy who's getting hitched a proper send-off to the single life. He's sure to tank you for it. Why not just throw in some girls to join you in true style.
Experience Overview
Ride in a piece of Aussie history
Climb all over a 52 tonne Vietnam Battle Tank
Sit in the gunner position
Enjoy a ride in the world's only public use Trainer Driver Tank
Interact with a V12 motor engine
Feel the insane power of these ex-Army vehicles
Nothing quite like the feeling of being inside 'The Bitch'
Get a Quote
Call for Info
5 Reasons to do an Army Tank Ride on the Gold Coast
You can see cool military equipment without having to actually fight in a war.
On a purely historical level, it's totally fascinating.  
It's also just a downright cool experience.  
While you're in the hinterland of the Gold Coast, you can take the time to appreciate the natural beauty of the area.
It's an easy activity to combine with some of our many other activities on Queensland's super-popular Gold Coast. Read on to find out more about those.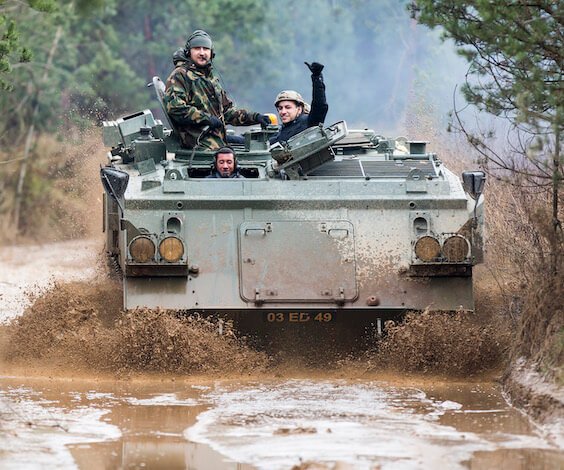 Making the most of your Army Tank Ride on the Gold Coast
Our Army Tank Ride is a very unique experience you won't find in too many places besides the Gold Coast. Yet if you want more Coast activities, it's only the beginning. There's so much more to do here! Need some ideas?
Gun Shooting Bucks Activity: If riding in old war machines has given you a thirst to get your hands on some weapons, our Gun Shooting Bucks Activity will allow you to fire some shots in a perfectly safe, expertly controlled environment. You and your whole posse will roll to one of the Coast's best shooting ranges, let off some rounds and crack open a couple of cold ones afterward.
Bucks Axe Throwing Gold Coast: If the idea of throwing axes makes you worried about losing a hand, don't worry: you're in safe… er, hands. Start growing your beard, throw on a plaid shirt and pretend you're a lumberjack for this manly activity: a lumberjack who throws axes instead of using them to chop down trees. If you still have any doubts that axe throwing could very well be the Gold Coast's hottest new sporting activity, let Wicked Bucks cut that belief down for you.
Barefoot Bowls and BBQ Bucks Activity, Gold Coast: This is such a classic manly activity it barely needs an introduction. Bowls, barbeque and beers – three activities that make for a classic buck's party activity and that will warm you up to experience the best and the rest of what the Gold Coast has to offer when night falls.