Stretch Hummer Transfers
What's the difference between a Hummer and a porcupine? On a porcupine, the pricks are on the outside! Can you remember the last time you and the boys piled into a large load? There is something about the back seat that gets you going and this experience will have you both tipsy and hyped for the night ahead.
Enjoy the disco lights, pumping beats and BYO drinks in our totally pumped out Hummers. Better yet, sweeten the deal by bringing along one of our Wicked Buck Angels or topless waitresses and ensure both your company and beverage consumption! Get the buck utterly hummered… and by that we mean setting him up with an exclusive Hummer transfer to and from your Buck's activities!
Your party will be hard to miss and catching everyone's attention as your role through the likes of Surfers Paradise, Bondi Beach, Byron Bay or any of our other exclusive locations; Brisbane, Melbourne, Hobart, Darwin, Perth, Adelaide, Cairns, Wellington or Auckland. Choose from a selection of colours, drivers and beautiful escorts to ensure the wildest ride of your bucks life.
This addition to your evening is sure to take it from messy to charged as we get you to and from your destination of choice! Want to take the long route and crank some Kanye or T-Swizzle if that is more your vibe (awkward)? Go for it, plug in your iPhone and make sure you keep the boys happy as you wind down the windows and feel the wind in your hair because THE BOYS ARE ON.
What do you get
1 - 3 hours in the stretch hummer
drinks in the hummer
Enquire Now
5 Reasons to get Hummer Transfers
A bunch of big lads hitting the town? Save yourself the hassle of squishing into the tiny hatchback uber that you'll usually cop and spread out in one of the biggest rides on the road, a HUMMER.
Feel like outright badasses as you tower over the other cars on the road, looking like a party on wheels as you make your way from hotspot to hotter spot.
Indulge your buck and show him you care! Because what bloke doesn't appreciate a good set of wheels?
Did we mention, BYO. A ride you are encouraged to drink in, you'll be arriving merry and ready to party all through the night after this ride.
It is a power move that is a dead set killer with the ladies… everyone knows girls like guys with nice cars! Save yourself the trouble of thinking of cute pick up lines and simply catch the girls attention on arrival.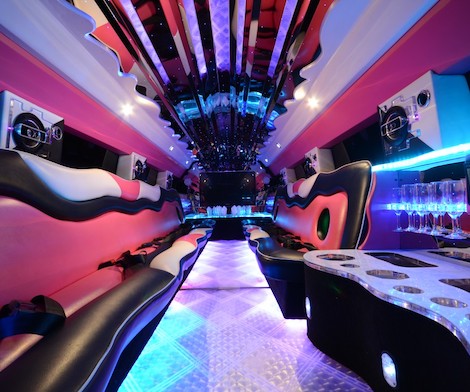 Making the most of your Hummer Tour or Transfers
This is the perfect addition if you're looking to live large and party hard from the very moment you step out of the door until you crawl back in. It truly does feel like a portable party, especially if you pick out one of the hummers that come with a built in smoke machine and plasma screen TV… boujee AF. Straight off the plane? Skip the taxi rank and jump into your hummer that screams VIPs COMING THROUGH.
Your full party should fit into this giant car and if you're having a Greek wedding why not book in two and place bets on who will arrive first? You know what they say… it's not the destination, it's the journey. Turn heads, get some epic photos to show off on Facebook and deliver your buck his most premium ride for one truly wild night with his best mates! Feel the warm leather beneath your bottoms as you sip on your favourite beers and direct the driver past your old highschool to show off to that teacher who said you'd never make it! Because tonight boys, we've made it.
Unfortunately Hummer Transfers aren't available in Queenstown, Taupo or Airlie Beach due to WILD RIDES… sorry not sorry.