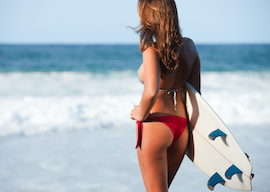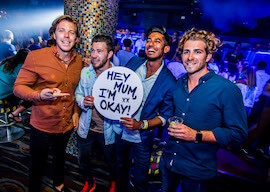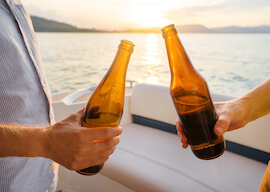 What's Included
1 Night's Surfers Paradise accommodation
Ultimate 2 hour bucks party surfing lesson
Mankini or hot pink bikini for the buck to wear
Cold beers to toast the buck
All equipment & instruction
Hotel pick-up
Photos of your day
Smokin' hot bikini bucks angel host
Wicked Club Crawl Party tour tickets
Entry to Hollywood Showgirls
Detailed Bucks Itinerary
Personal Event Planner
Package Overview
True to its name, few places in Australia are better-suited to a surfing holiday than Surfer's Paradise! Some of the breaks are world-famous and serve as a key spot to catch that wave of a lifetime. Closer to shore, there are some great learning sets to experience, within five minutes of the downtown core. You're spoiled for choice! But this isn't all. This Surfing Buck's weekend comes complete with instructors, all your gear, transfers, pro coaches, striking Angel bikini hosts, and a great night amid the chaos of this iconic party city. You're catching a great ride with this package!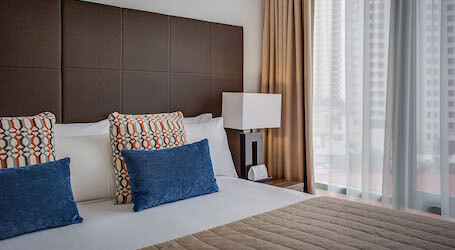 The Accommodation
Situated at the end of the Surfers Paradise mall, and opposite the iconic beach of Surfers Paradise, you are not left wanting for good views. Amazing 1 and 2-bedroom apartments await you, complete with large balconies, full kitchens, and spacious living areas. Outside of the room, BBQ facilities, a heated pool and an indoor spa and sauna will speed your recovery next morning. All of this, a stone's throw from the action on Orchid Avenue.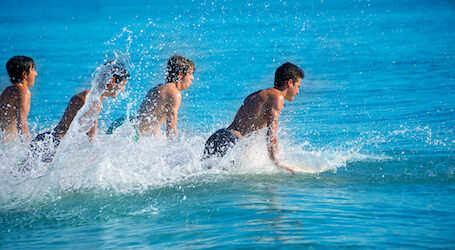 The Wicked Day Plan 2 hour surfing lesson
Combine the beach, the bikinis, and some outrageous dressups for the Buck – on a very busy beach, no less – with a surf lesson, and you have the essence of fun! After this two-hour surfing lesson by our professional instructors, you're guaranteed to stand up on a wave, if you're not too busy laughing at the man of the hour and his getup. All equipment is provided, along with cold beers to toast the Buck, and a photographer to ensure the photos are top quality!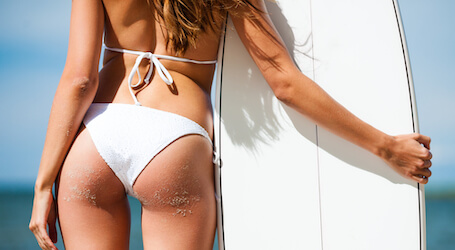 Wicked Bucks Bikini Angels
Our infamous Bikini Angels will be accompanying you on this surf mission, and why not? Sometimes, we all need someone to pass us a towel, the sunscreen, or a few cold drinks – and look good doing so!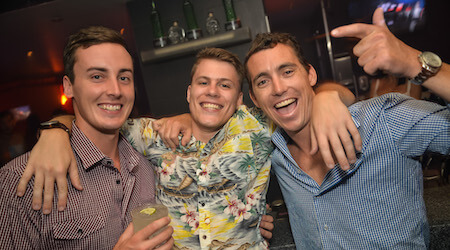 The Wicked Night Plan Wicked Club Crawl Party Tour
The infamous Wicked Club Crawl is the cherry on top for this day of days, and the figures speak for themselves. Four of the wildest and hottest pubs and clubs in town. Free entry and a free drink at each. Free tucker, free photos, awesome games, even more awesome hosts, a VIP nightclub and discount pass. The hits just keep on coming. Get dressed to impress boys, it's going to be a good one!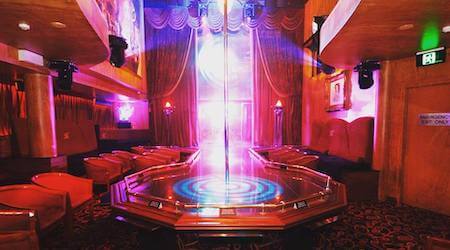 Hollywood Showgirls Entry
What is Hollywood Showgirls? It's just the hottest and freshest adult entertainment venue in town! Get ready to watch the hottest women in town put on an unforgettable show, while you enjoy the plush furnishings of this multi-million dollar venue. The perfect way to bid your bachelorhood a stirring goodbye.
Get a Quote