Top Gold Coast Nightclubs
The best? Really? Yes, really! Trying to pick the greatest nightclub on the Gold Coast might feel like trying to pick the hottest girl on the Gold Coast. There are just too many to choose from. The Gold Coast is literally famous for its nightlife so you're guaranteed to never run out of options when you're here.
But we get it. You're only in town for a short time, a night or a weekend, and you can't possibly experience it all. No worries. Visit a few of the very best of the bunch and you've already got the perfect bachelor's party experience all sorted.  For all your Gold Coast VIP Nightclub Access get in touch with the party planning team.
On the Gold Coast, there's a nightspot – or several – for everyone. No matter what your tastes are, you'll find a venue that suits them. But these ten Gold Coast nightclubs are consistently popular, always pumping and have great reputations, so they're sure to please a bunch of fun-loving guys hoping to have an amazing Gold Coast bucks party.
And if you have time to check out the Gold Coast's selection of nightclubs while you're here, even better. Take a look at this bunch of hotspots and you can start putting together your own shortlist for an unforgettable bachelor's party on the Gold Coast.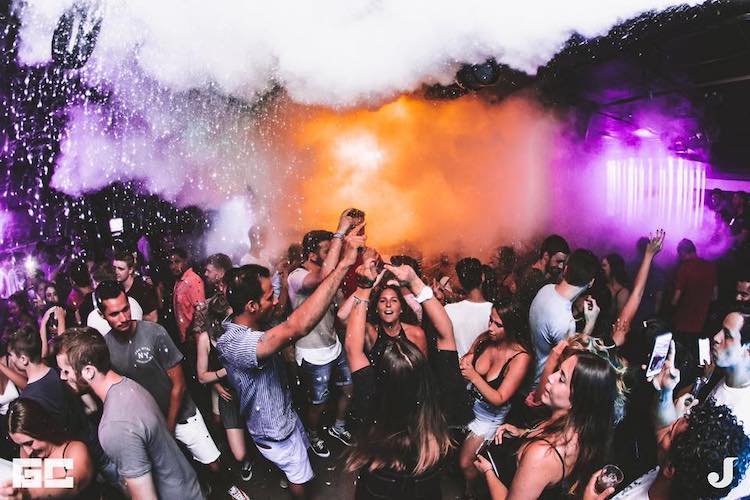 Source: Shooters NC Facebook 
15 Orchid Ave, Surfers Paradise
One of the longest-running and most famous nightclubs on the Gold Coast, Shooters is a go-to spot you can't go wrong with. You're guaranteed a party in this venue, which comes with exceptional sound and lighting, massive LED screens, VIP lounge areas and classy and elegant décor.
On top of blasting banging tunes, Shooters has also been involved with the White Ribbon campaign and holding fundraising events to stop domestic violence. Another reason to give them some love and support.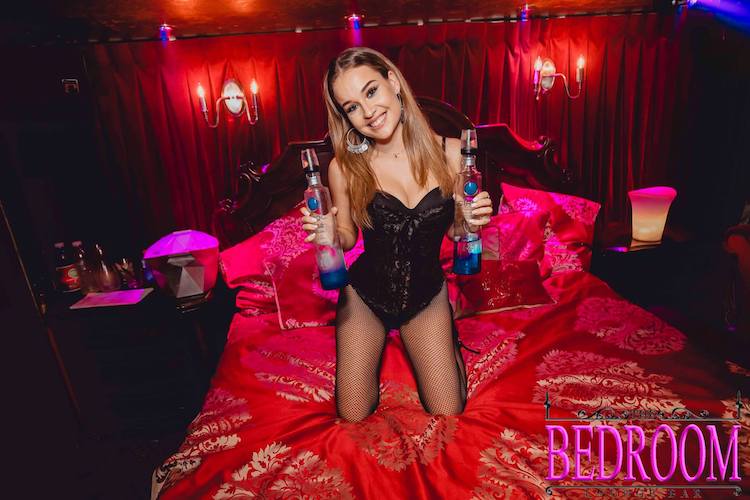 Source: Bedroom Lounge Bar Facebook 
26 Orchid Ave, Surfers Paradise
Voted the #1 nightclub on the Gold Coast by locals. This nightclub is decked out in decadent décor and is a popular spot for beautiful women to gather in, as you're destined to see for yourself. You can book yourself a booth or a bed, but no getting freaky on the beds.
That's against the rules. The tunes are top-notch with a mix of hip-hop, R&B, top 40 and dance and you'll be blown away by the sound system and the wicked skills of the bartenders.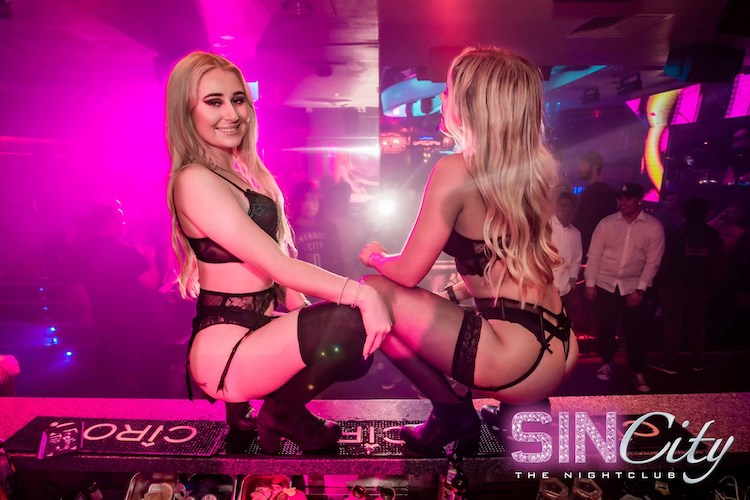 Source: SinCity Nightclub Facebook 
22 Orchid Ave, Surfers Paradise
You don't have to be a sinner to love this place, but it helps. This club prides itself on having "the best cocktails in the city" and considering how popular it is, the description just might be accurate. Come judge for yourself.
As soon as you step into this cool Gold Coast nightclub you'll be surrounded by luxury, from the chandeliers over your head to the velvet in your surroundings. The sound system is phenomenal and the venue has been known to attract both famous Gold Coast locals and international superstar performers. When you party here, you'll be in the domain of party royalty.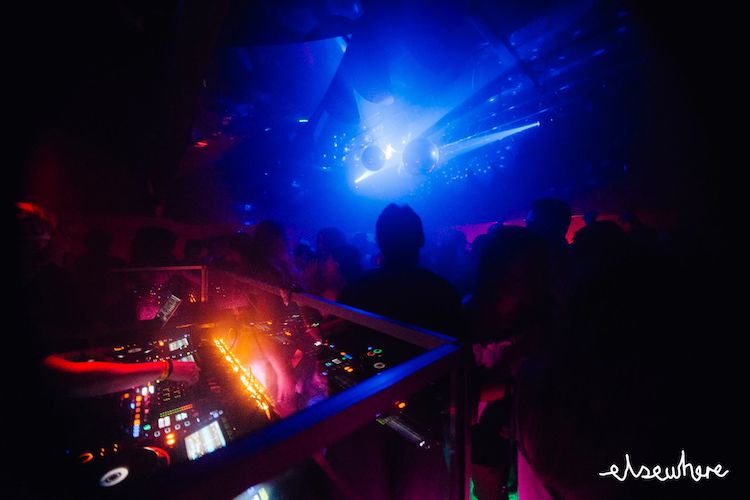 Source: elsewhere Facebook 
1/23 Cavill Ave, Surfers Paradise
This retro-style club upstairs on Cavill is a highly memorable experience. Disco balls hang from the roof, the colourful chequed dancefloor looks like the side of a Rubik's cube and the music blends the alternative and the electronic.
Like the name suggests, there's a slightly otherworldly feel to this place. While you're there, you might begin to feel like you're on a slightly different plain of reality – in the very best possible way. And with the great music they play, you're sure to have a lot of fun dancing too.  

Source: Underground Nightclub Surfers Paradise Facebook
3 Orchid Ave, Surfers Paradise
Underground is one of the finest clubs to go to for hip-hop and RnB on the Gold Coast. Although it's still relatively fresh on the local scene, this nightspot is surging in richly deserved popularity.
As well as the kicking tunes, Underground also has pool tables, dance competitions and a very well-stocked bar with a variety of drinks. Considered as one of the best clubs for a bucks party as it's not your typical nightclub.

Source: Love Nightlife Facebook 
Niecon Plaza Basement, Albert Ave, Broadbeach
Love is a luxurious destination that's sophisticated, suave and stylish. There's a top-notch drink selection, visual entertainment, hot girls, competitions and sometimes famous international acts performing.
If that's not enough, there's also VIP bottle service and some private booths. Make sure you dress for the occasion because this Broadbeach gem is super classy.  

Source: Platinum Nightclub Facebook 
19 Victoria Ave, Broadbeach
If you love dance music, Platinum is an absolute must-visit destination on the Gold Coast. It has an affiliation with the Ministry of Sound dance music empire, which we're sure you've heard of, and it boasts a breath-taking variety of extremely famous touring DJs.
The place is loud, crowded and comes with the finest of DJs spinning countless bangers. So if you're looking for a really big night out, you know it's gonna be an absolute blast.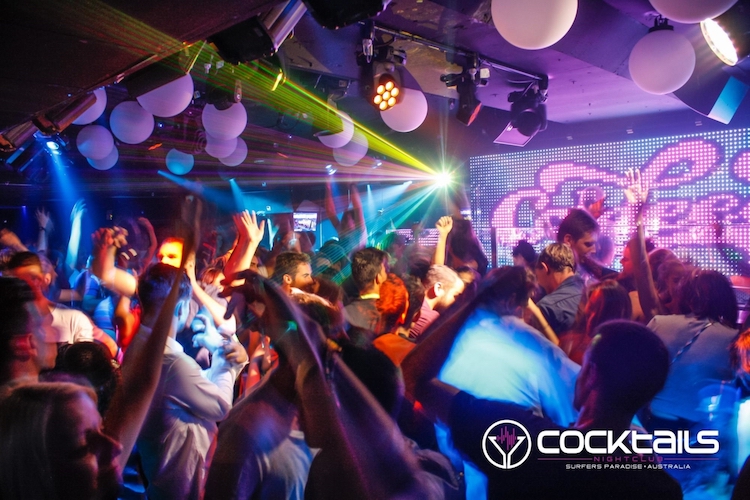 Source: Cocktails Nightclub Facebook 
3-15 Orchid Ave, Surfers Paradise
Cocktails is one of the biggest and best dance clubs you're likely to find in Surfers Paradise and on the Gold Coast. This place is a popular destination for all kinds of events including bachelor parties and now it's time for you to see why. There are three rooms all playing different styles of music and some of the best DJs in Queensland pumping the latest and greatest tunes.
Inside it's vibrant and elegant with dance floors, pool tables, a cocktail lounge and a cool atmosphere. Definitely worth checking out whether you and your crew arrive to dance to local resident DJs or to check out one of the big-name acts on tour.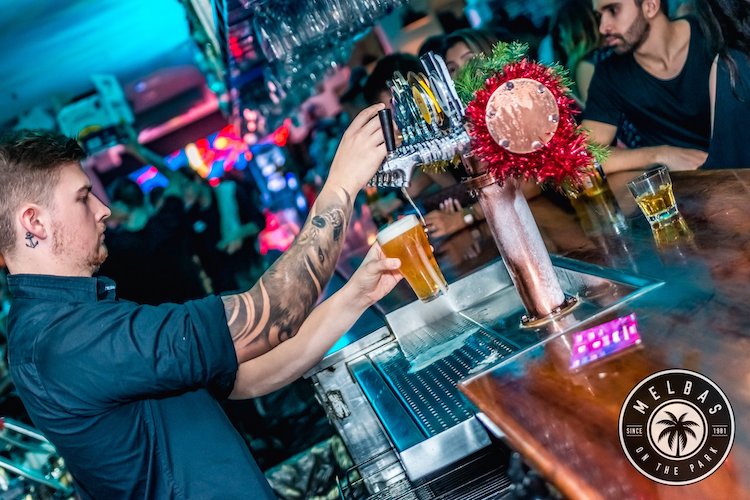 Source: Melbas On The Park Facebook 
46 Cavill Ave, Surfers Paradise
Another Cavill Avenue destination, Melbas is many things: a restaurant, a bar, a gaming lounge and a nightclub. Two storeys high, the nightclub comes with a dance floor, cocktail lounge and quality house music. Plus vibrant neon colours to help get you in a perfect party mood. And with the restaurant providing a delicious bistro menu and bar snacks, maybe this is the place to take the party for dinner too.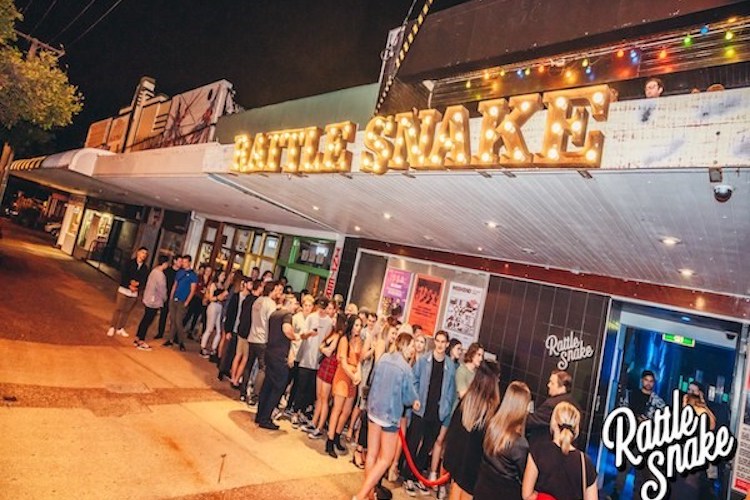 23 McLean Street, Coolangatta
A place that's all about the party, Rattlesnake is a down-to-earth nightclub located in Coolangatta. Close to the beach and away from the bustle of Surfers Paradise, this is the spot to go if don't want somewhere hoighty-toighty or full of itself. There are two storeys. Downstairs, a large dance floor complete with booths, a bar and arcade games. Upstairs there's another bar, dancefloor and sofas. There are neon lights and colours all around the venue and high-quality sound with state-of-the-art equipment and big-name DJs. Even if you're planning to mostly stick around Surfers for the buck's party, Rattlesnake is worth going a little out of the way for.
If you are looking for a bucks weekend full of adventure check out our Gold Coast bucks party activities for some ideas. If you are looking for something already pre-planned then view our Gold Coast bucks party packages for any budget, group size and style of party. Get in touch with the Wicked team today.