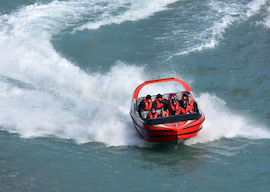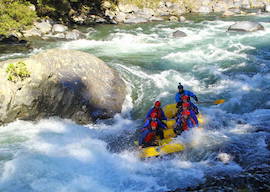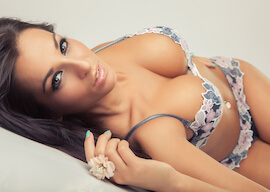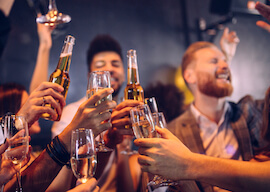 What's Included
1 nights' accommodation
30-minute jet boat ride
Skirmish paintball w/ 200 paintballs
Whitewater rafting adventure
Group dinner
Function room + bar tab
Topless waitresses & strip show
VIP strip club entry
Detailed Wicked Stags itinerary
Personal event planner
Package Overview
Do you have a taste for adrenalin? A bit of white-knuckle action, some sweaty palms, the whole shebang? You have found the right Bucks party package. The Adventure Weekend is a non-stop thrill ride, packing in enough thrills to last a lifetime! We're talking jet boating. Paintballing. Whitewater rafting. And an evening party package that will leave you and your Buck properly exhilarated. Party like your true adventurers with the Adventure Weekend and Wicked Bucks.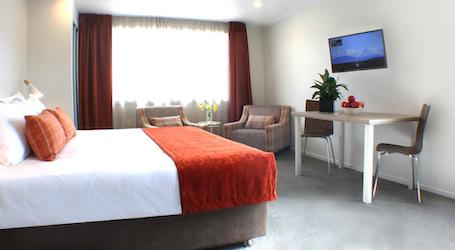 THE ACCOMMODATION
Your hostel accommodation puts together everything you need for a great stay here in Taupo. From free Wi-Fi and incredible views over the lake to some of the softest beds in the business, you will be well taken care of here. And if you are thirsty for a drink or some companionship, just hit up the onsite bar.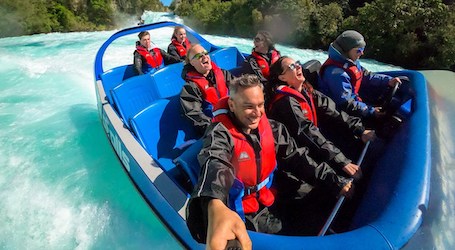 JET BOAT RIDE
Ever ripped about on a high-powered jet boat? Ever done so on a narrow river bordered by sheer cliffs? We didn't think so! This ride has been thrilling tourists in Taupo for many years, and with speeds inching up close to 80km/h and 360-degree spins, we think it will thrill you too!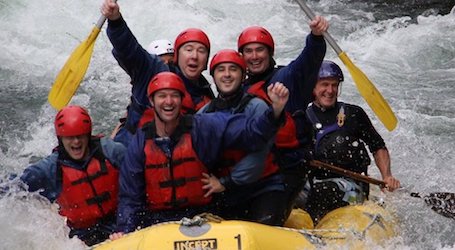 WHITEWATER RAFTING
Prepare yourself – you are about to spend two solid hours blasting down the infamous Tongariro River! This steep, fast river provides an amazing venue for rafters and has become a world-class destination as a result. Work your way through 60 sets of rapids, and try your best to stay aboard! Transfers are covered.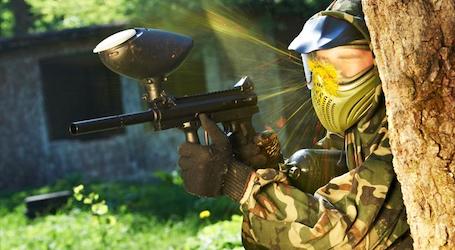 SKIRMISH PAINTBALL
There are few feelings in the world that are as satisfying as lighting up your friends with a high-powered paintball gun. And you have one of the best venues in the business to enjoy on this mission! Across 6000 acres, you will gear up and do battle, armed with 200 paintballs in your hopper. Stay low and aim centre mass!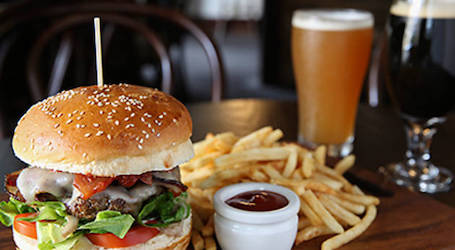 GROUP DINNER
It can be painful to book a group dinner for everyone to indulge in together, so Wicked Bucks has taken the liberty of doing so on your behalf. Tuck into some mouth-watering fare while washing it down with a pint or two, and set that base – it could be a late one tonight!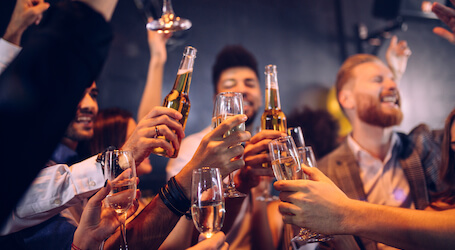 FUNCTION ROOM, BAR TAB + ENTERTAINMENT
Now, it is time to step things up a notch. You are headed to your own private party room, there to indulge yourself in some very tasty beverages being served to you the right way – by a pair of stunning and topless waitresses. Enjoy your tipple and the views, but that isn't all – they are set to put on an amazing strip show for your eyes only.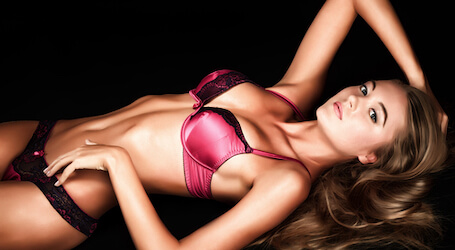 VIP STRIP CLUB ENTRY
Of course, no good Bucks party is complete without a trip to Taupo's finest gentlemen's club. And Wicked Bucks has found it. Enjoy VIP entry, some great beats and very tasty drinks as you enjoy some truly first-class views coming from the stage. Cheers to the man of the hour!
Please Enter Your Details To Get A Quote