VIP Entry into the best Strip Clubs
Skip the not getting laid part of the night and go directly to the strip club! Make your buck and the rest of your teenage boy fantasies come true with the VIP Strip Club Access. Sit back, relax and try to keep your hands to yourself as you watch some of the sexiest girls in the business dance, tease and most importantly strip for you.
Whether your types blue eyed blondes with massive hoo-haas… or you like an asian doll… maybe the allure of big booty girl… we can assure you'll see something you like. Order your buck his very own lap dance and watch him try and hide his excitement or do him one better and arrange a private dance. Skip the line you're VIPs here, straight into the front row and seated below the stage where you can enjoy the relaxed table-service, pre-loaded bar tab and special special show that will feel like it's just for you.
Lose yourself for a moment in the wonder of nudity and snap back to reality as the funny banter escapes your best mates mouths. Oh and don't worry one of our trusty hosts will be around to keep you out of trouble and insure the drinks keep flowing while you get distracted. Make the age old mistake of falling in love with a dancer as she flirts with you (and every other member of your group) all night long.
Visiting a strip club on a Stag's night out is like a right of passage, watch old Uncle Ron lick his lips in anticipation and the nervous giggles from the fresh 18 year old as you all buckle up for the night ahead at your destinations BEST stripclub with the sexiest ladies any of you have ever seen.
What do you get
VIP Guest List
Free entry into stripclubs before 11pm
Own private booth available* Extra Cost
Enquire Now
5 Reasons to get VIP Strip Club Access
It's a bucks party, SOMEONE is going to organise a stripper at SOME POINT so you may as well go all out and book in for the VIP treatment.
These girls are the best of the best and are there to put on a damn good show, you won't want to miss.
We mentioned that there is a pre-loaded bar tab right? Alcohol, sorted. Eyes on the prize boys.
Somewhere, deep down inside, there is a 14 year old boy screaming at you to book this. Do it for him.
Sex on legs, guilt free and completely professional. Enjoy a dance and the show without crossing any lines before the big day!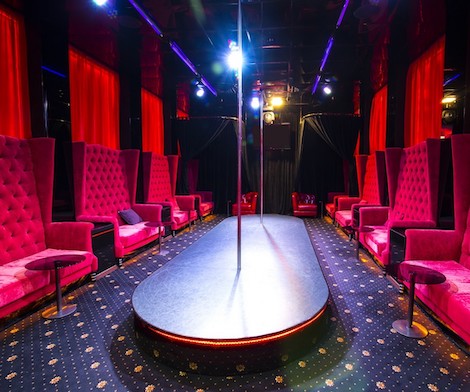 Making the most of your VIP Strip Club Access
We've connected with the best strip clubs in all of our locations except Airlie Beach and Cairns. The Gold Coast and Brisbane girls are blonde, with long lashes and full lips. Melbournes girls tend to be more worldwide if you know what we mean. Hobart can expect something a little more close to home… ahem. Darwin get ready for some real beauties that can handle themselves off the stage too.
Perth's girls are one of a kind. Byron Bay's strippers are typically wild. Adelaide has some real hidden peaches hiding out beneath the spotlight and paper bills. Queenstown girls are more than alluring. Wellington has nothing smaller than a pair of Double Ds. Auckland's ladies will blow your mind and your wallet.
So give your buck one last night of treating his inner teen before he mans up and marries the love of his life. Ignorance is bliss right? These girls don't care who you are, where you're going or what you look like… they'll ALWAYS give a great show and a dirty dance to your party with the VIP Strip Club Access you and the boys will feel like you have hit the jackpot!