Club & Pub Crawl Gold Coast Bucks Party Ideas
You know the Gold Coast is famous for its nightlife and epic nightclubs. And while you're here, you'd like to get amongst it and experience the best the Coast has to offer. The only problem is there are so many Gold Coast bucks party ideas, you don't know where to begin.
Wicked Bucks to the rescue! We're Gold Coast locals and we're happy to put together the perfect night out for you featuring the very best nightclubs and pubs in the Surfers Paradise area.
All you have to do is come along for the ride, throw back a few drinks, let loose and celebrate your bud's final bucks weekend of freedom.  
Whether you're after a night on the town in a glamorous, stylish setting, a down-to-earth pub, a sweaty dance nightclub or a live music venue, you're in luck.   
Among its many other attractions the Gold Coast is well-known for its nightlife, particularly around Surfers Paradise and the bustling beachside strip of Cavill Avenue. If you want to chug a beer in an outdoor area with a band playing loud, sit back in a cool cocktail bar while a DJ spins tracks and party in a place where the drinks are awesome and the chicks are hot, you're in an excellent part of Queensland.
Wicked Bucks will take the hassle right out of planning your night by taking you on a journey through some of the biggest and best nightclubs on the Gold Coast. We'll take you to busy, popular night spots where you can mingle with other clubbers while staying together on your boy's night out. And once the tour is over, if you decide to embark on your own expedition out on the town, you know where to go!  
Experience Overview
Why limit yourself to one club
Try them all
Best way to explore the Gold Coast's nightlife
Customised packages offered
Party games
Experienced team to show you around town
You'll certainly be crawling by the end
Get a Quote
Call for Info
5 Reasons to go Deep Sea Fishing in Gold Coast
We hand-pick only the best clubs and pubs on the Gold Coast so you won't wander into a dud spot by mistake.
Gold Coast nightclubs have something for everyone. If you don't believe us, you haven't spent a night out in Surfers yet.
Once our tour around the place is over you can hit up the nightclubs in the Gold Coast you haven't been to yet – and the strip joints too!
Gold Coast nightlife rages all through the night. So you can really go hard.
The beach is just down the road from the Coast's nightlife precinct so when you're hungover in the morning you can cool off with a swim and have breaky at one of the Coast's beachside cafes.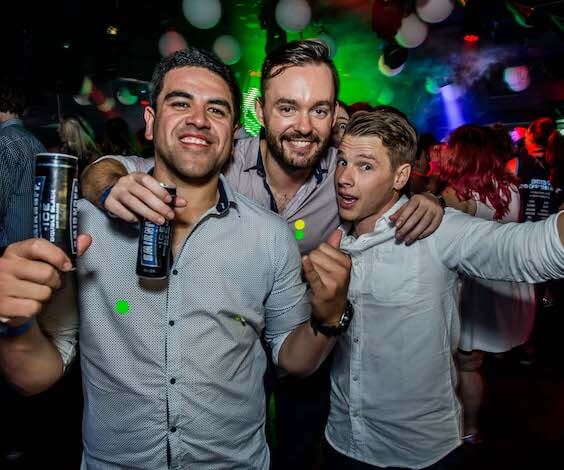 Making the most of your Club/Pub Crawl on the Gold Coast
The Wicked Pub Crawl might make you eager to head out again the following night to experience more of what the Coast has to offer. If it does, check out:
Gold Coast VIP Strip Club Access: Of course the Coast has plenty of strip clubs. And they're well worth checking out on a buck's night. But why settle for just going to a strip club when you can have a VIP strip club experience?
At some of the finest strip joints on the Gold Coast we can set you up with table service, a pre-loaded bar tab and even special shows. Don't compete with every other guy in Surfers Paradise for the attention of these lovely ladies.
Instead, get the VIP treatment from Wicked Bucks Parties and strut confidently through their doors like a high-roller. Just make sure you have enough cash on you to splash because these babes deserve a tip. Just another reason why the Gold Coast is THE place to be for a satisfying bucks party.