Bucks Golf Day Gold Coast Bucks Party Idea
Tee off on one of the fine golf courses located on the Gold Coast, Queensland. As the game gets into full swing and you and the lads compete with one another to hit a hole in one, you'll be accompanied by some very attractive female caddies. Take a journey around the whole course and then, when it's over, head back to the clubhouse for a drink or two. This is naturally one of our traditional Gold Coast bucks party ideas surely to go down with the lads.
Golf has a long-standing reputation as a gentleman's game. And if you're a gentleman looking for a party location, the Gold Coast is the place to be. A Bucks Golf Day makes a wicked edition to your buck's party itinerary. We can accommodate as many of your friends as you need. Four? Six? Eight? It's all good.
This time, your caddies won't be a couple of local kids you've promised to pay five bucks each to, but a couple of smoking hot golf babes. They'll accompany you along the green fairways handing you the right club for the occasion as you let the Gold Coast sun tan your skin (don't forget the sunscreen though). After you've had a satisfying day out on the course, it's time for some refreshments. After all, you've earnt them. You've played a good game out there.
Does it sound like a winning bucks idea to you? Then put on your golf hat and checked shorts (or don't, if you'd prefer) and get ready to play golf like you've never played it before, Wicked Bucks style. Whether you're a first-time golfer or a seasoned pro like Tiger Woods, this is the finest game of golf you're likely to experience.  
Experience Overview
Any hole's a goal
Show off your ball skills
Sink a couple of cold ones
Debrief over last nights antics
Golf cart kire
Club hire
Great for competitive groups
Get a Quote
Call for Info
5 Reasons to do a Bucks Golf Day on the Gold Coast
If you already love to play golf, you'll have a definite advantage over your mates. If you haven't played a lot of golf before, here's your chance to learn in a fun environment. And even if you really hate golf (BOO!), there will be beautiful women there, so you can't complain too much.
Did we mention there will be beers at the end of it? They're refreshing at any time and especially so after a hearty round of golfing.
This your chance to wear your golfing hat complete with checked shorts and knee-high socks. Okay, you don't HAVE to do that, but if you've really waiting for an opportunity, now's your chance! No-one will judge you out here.
It's good exercise, and the fun kind too!
Being skilled at golf is a skill that helps with impressing many people, including beautiful women, potential bosses and new business partners.
Read More: Things to do on the Gold Coast | Gold Coast Bucks Ideas | Gold Coast Bucks Party Accommodation | Gold Coast Bucks Party Packages | Gold Coast Strippers | Gold Coast Nightclubs | Bucks Party Games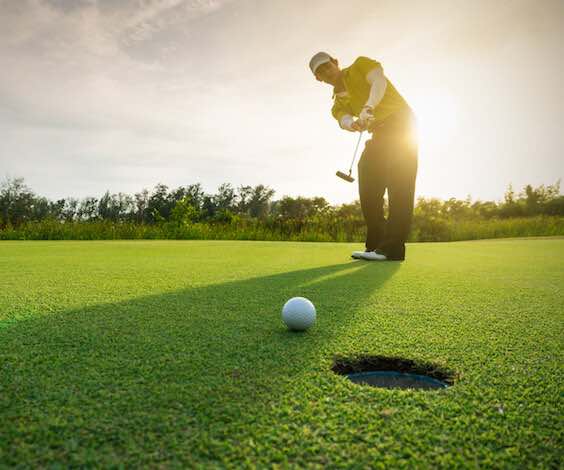 Making the most of your Golf Day on the Gold Coast
Golf is just the starting point for all of the bucks party activities we've got planned for you when you come to the Gold Coast. Check out some more of them:
Gold Coast Axe Throwing: If you want something a little more hardcore than golf, give axe-throwing a try! Don't worry, you're in safe hands. See who scores the highest as you aim your axes and try to be precise. This is probably one of the stranger activities Wicked Bucks has in store for you on the Gold Coast, but boy, it's a great time!
Gold Coast Brewery Tour: Wanna skip the sport and go straight to the booze? The Gold Coast has a wide variety of excellent breweries and you can take a tour of some of the finest, sampling essential local craft beers as you go. With guided inspections of breweries and so many local beers on offer for the tasting, it's an essential part of any good buck's weekend… especially for beer lovers.