Jet Boating Gold Coast Bucks Party Idea
Get set for the jet! Jet boating is one of the must-do Gold Coast's bucks party ideas and a way to see the many splendid sights of the Gold Coast while getting your adrenaline up too.
When you add a jet boat experience to your buck's party itinerary you can have it all: fantastic scenery and sightseeing, fast speed and great spins, excitement (that should be pretty obvious!) and safety. Give us a try and go for a spin. A jet boat ride is kind of like a rollercoaster ride but on the water and with views of some of the Gold Coast's coolest attractions. 
You'll experience top speed, 360-degree twists and turns, slides and some spectacular scenery: Sea World marine park, the high-rises of Surfers Paradise, the mansions of Sovereign Island and wildlife such as dolphins, just to name a few.
It almost feels like another world as you go zooming along the clear Gold Coast waters, past tiny islands and along sandbanks with walls of water shooting up on either side of you. Whether you hang on for dear life or throw your hands up in the air, you'll feel the crazy speed. For those who like to combine the kind of thrills that have made the Coast famous with its more laidback beach vibes, this activity is the best of all possible worlds for your bucks party.  
Experience Overview
Get wet and wild
Perfect for large groups
Get the lads together for unforgettable thrills
All safety equipment included
Spray jacket provided
Enjoy wild 360 degree spins
Thrill seeking Bucks will love it
Get a Quote
Call for Info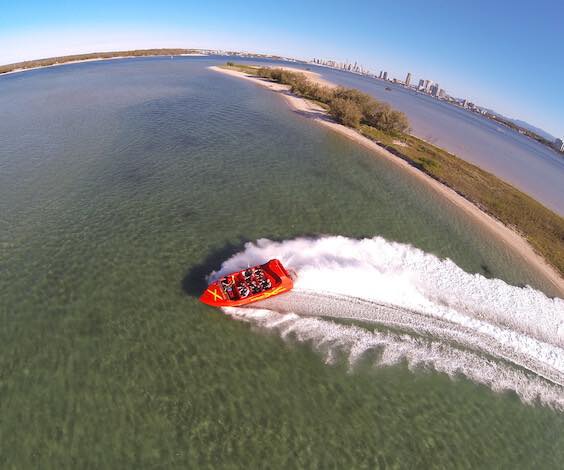 Making the most of Jet Boating on the Gold Coast
When you've experienced the thrill of a jet boat ride there are stacks of other things you can do to make a bucks weekend on the Gold Coast complete:
Calm Water or Deep Sea Fishing: If jet boat riding has given you a taste for the Gold Coast's fine beaches, we have plenty of other bucks party day activities that will let you sample more of them in a calmer way. Our fishing activity in the deep sea or the calm water allows you to indulge in the timeless, blokey activity of fishing and hopefully catch something big, but to do it the Wicked way: with us taking care of your needs. That means bikini waitresses handing you beers as you cast a line in and hope to catch a big bad-ass fish that you can post all over social media. Gold Coast beaches are good for all kinds of things: jet boating, eye candy and now fishing!
Bucks Party Cruise: Another option – and something completely different – is the Gold Coast Party Boat Cruise. Just for one day, you can live like a multi-millionaire as Wicked Bucks sets you up with exclusive access to a motorboat that will let you live lavish. While you're out on the waters of the Gold Coast, Wicked Bucks will provide everything you need in order to really live it up. This is as close to being really rich as you can get without winning the lottery or inventing the next Facebook, so make the most of it with Wicked Bucks.