Helicopter Joy Flights Gold Coast Bucks Party Idea
Give your buck a daytime experience to remember with a scenic joy ride up and over Queensland's Gold Coast taking in both the city and the beach, from the skyscrapers of Surfers Paradise to the sensational, shimmering sea.
The helicopter joy flight is right near the wharf so once he returns to earth you can wander into a bar for a beverage. What could be better? If you want to give your buddy a memorable send-off to the single life, choose a unique experience that will lift his spirits as well as his body! 
Let's hope he's not afraid of heights! Hey, even if he is, now's a good time to face that fear. See the sights and landmarks of the Gold Coast in one of the most interesting ways possible – by taking a guided tour from above.
If you've never taken a joy flight in a helicopter before, it's a unique experience that's hard to compare to anything else. Because you're closer to the ground, the scenery is much easier to see than it is from a plane. Look through the windscreen and through the side windows to check out sweeping views of the Gold Coast.
Experience Overview
Take a bird's eye view
Best views of the Gold Coast's coastline
Experienced pilot to ensure the Buck gets back to his missus in one piece
Commentary throughout
See iconic landmarks from the best seats in the house
Great from small groups
The ultimate tour of the Gold Coast
Get a Quote
Call for Info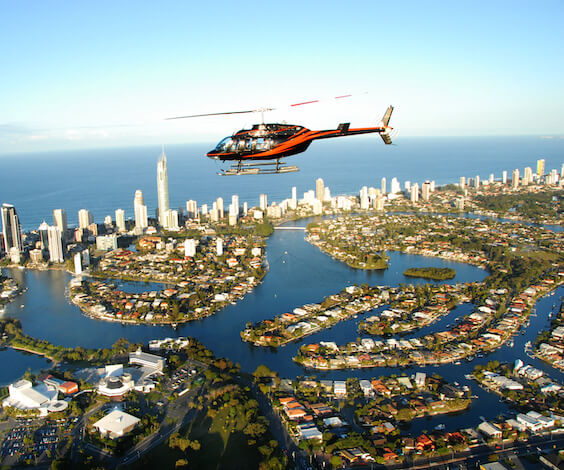 Making the most of your Helicopter Tour and Joy Flight on the Gold Coast
Seeing the Gold Coast from so high up in the air might give you the urge to check out its many attractions in a more up-close way.
Here are some for starters:
Sky Diving: This one is for the hardcore thrill seekers (you know who you are). If you need something that gets blood rushing through your veins and a ride in a helicopter just won't cut it, try hurtling out of an airplane at 14,000 feet instead. You definitely get points for bravery for doing this – and it's sure to impress a lot of ladies too.
Hummer Transfers: How are you planning to get around the Gold Coast? By walking or catching the bus? Not anymore! This is your good buddy's bucks party so it's time to go all out, ditch the mundane and do something wicked. The wicked activity is to cruise the streets of Surfers Paradise in a pimped-out hummer that comes complete with BYO drinks and tunes. When you're riding through town in one of these bad boys, your bux night is sure to get some attention. Especially if you're riding with one of our sexy wicked angels or two.
F1/V8/Rally Race Simulator: It isn't too hard to guess from the name what this is. It's a rally race, it's a simulator, it's a damn fun time and it's an activity to add to your buck's weekend itinerary.
Go Karting: An activity that's wholesome fun for everyone, go karting is a Gold Coast activity that's well worth your while when you're here. Get your crew together, start revving your engines and get racing around the track in a quest to see who can be Go Kart King.
Best Bucks Party Restaurants: This activity is simple but worth your while. If you're a visitor on the Gold Coast and want to know the best places to eat, simply drop our team a line. We're Gold Coast locals who know the area like the back of our hands and can promptly reply with a list of satisfying, reputable restaurants for you to spend your cash at. Just make sure you include requirements like vegetarian, gluten-free etc and we'll get back to you pronto with a list of names and addresses.