Foosball & Air Hockey Gold Coast Bucks Party Idea
Kick off your bucks party weekend with a bit of friendly competition between you and the boys. Without even leaving your hotel room you can play a game of foosball. Nope, not football. FOOSBALL. If foosball doesn't take your fancy or you just feel like a bit of variety, switch to air hockey! Meanwhile a couple of beautiful bikini waitresses will see to your every need, especially when it comes to making sure you have plenty of liquor handy. It makes our list of unique Gold Coast bucks party ideas.    
A group of friends and a couple of great games. What else do you need to make a bucks party complete? Whether you're just kicking off a bucks night or have a whole weekend of going hard ahead of you, this is a wicked fun way to kick things off. In a private room with beautiful Wicked Angels catering to your every need, you can choose from two cracking good games:
FOOSBALL: Like football but without the injuries. This is table football where you and your crew twiddle the knobs (haha!) to move the ball into the goal of your opponent. Give it a try and you'll soon find you can't refuse the foos!
AIR HOCKEY: Like hockey but contained on a handy table. Pick up the strikers and try and score a goal with the puck.
If you need more info about either of the games or their rules, well, you'll have your smart phone handy in the room, right? So look 'em up! With both foosball and air hockey to choose from, you've got the ultimate man cave set-up. A bloke's peaceful fortress of solitude before you venture out and about to hit up the town.
Experience Overview
Exclusive use of foosball and air hockey table
Friendly competition
Bragging rights to the winners
Start your own tournament
Slide the puck past your opponent
Bang the ball into the goals
Great to combine with an In Room Party Package
Get a Quote
Call for Info
5 Reasons to do Air Hockey & Foosball on the Gold Coast
You and your mates can play at being football stars without even having to leave your hotel room. Just take your places around the foosball table and let the little foosball men fight the battle for you!
If you get tired of foosball or just want to change it up, there's air hockey too. Talk about variety.
You can have a good-natured, competitive game without having to go outside or leave the hotel room at all.
And to make it even better you'll have gorgeous Wicked Angels in the room with you.
If you lose badly, no-one will know except your mates who'll give you stick about it for the next five years.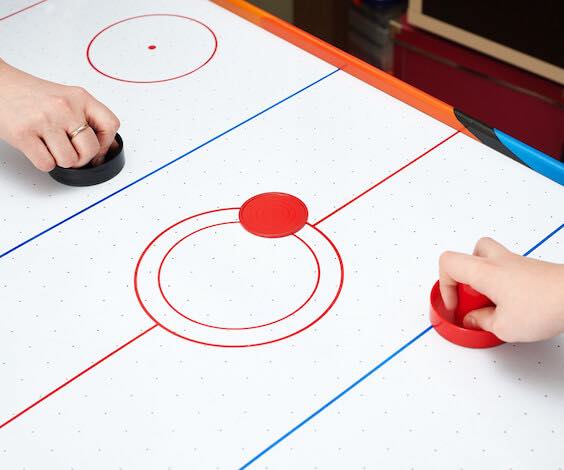 Making the most of your Foosball & Air Hockey Table on the Gold Coast
Wicked Bucks has a ton of other bucks activities on Queensland's sunny, sensational Gold Coast. Some are games, some are not. All of them will give you a blast and make your buck's weekend more satisfying. Need some suggestions?
Gold Coast Paintball: Do you even need us to tell you all about the benefits of this activity? It's paintball! Attack your friends with shots of paint as you plot a way to stay out of the firing line. And make sure your buck cops a splat.
Clay Pigeon Shooting: Never handled a gun before and want to give it a try? This is the activity for you! Shoot those pesky clay pigeons out of the sky and show them who is boss. This activity is even suitable for animal lovers as you don't have to bother the real pigeons.
Sumo Suit Wrestling: Don't lie. At some point when you've seen sumo wrestlers, you've wondered what it must be like to be such a big fat bad-ass. We all have. Now your wish is our command as Wicked Bucks Parties as sumo suits to spice up any buck's party and basically any activity. It's the most fun you can have and about the silliest thing you can do while totally kicking butt.