Race Day Gold Coast Bucks Party Idea
Get dressed to the nines in your suit or throw on the matching bucks party t-shirts for an epic day out at the races. Party in style, add booze, bets and some friendly competition between mates. Not to mention all the track side fillies worth checking out. Definetly one of the 'make a day of it' Gold Coast bucks party ideas worth checking out. Wicked Bucks can provide you with a grand day out package on a racetrack in Queensland's Gold Coast.
You might even win some cash. Pick the horse to bet on, put just as much money down as you're willing to part with and get ready to stand by the track and cheer, stopping only to sip some quality beer.
What's better than a race day? A Wicked-style race day on Queensland's Goldie. Maybe you're a fan of events like the Melbourne Cup and a regular attender at horse races? Maybe this is your first one? Either way you're sure to find it exciting. Naturally having a bucks party on a weekend with major events is going to add some extra costs, so keep that in mind when choosing the bucks weekend date.
Stand on the sidelines as the jockeys race their noble steeds to the finish line and the announcer tells you what's going on and who's winning at a rapid-fire pace. Scream, cheer, chug beer. This is the sport of kings.
Experience Overview
Every punters dream
Don't let the Buck blow the entire wedding fund
Check out the fillies (oh, and the horses too)
Get suited up and place a few bets
Saddle up for a big day
Day drinking at its finest
Great chance to dress up
Get a Quote
Call for Info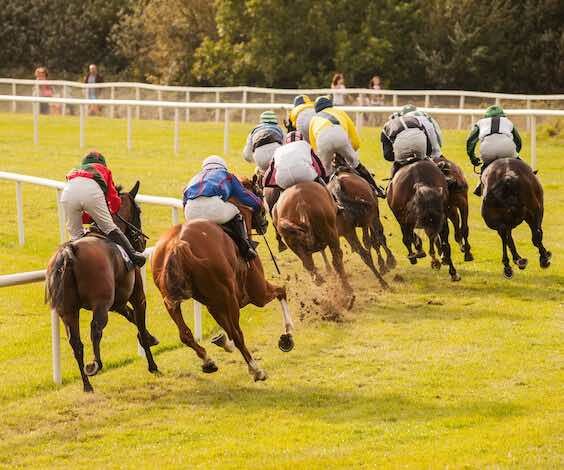 Making the most of your Bucks Race Day on the Gold Coast
So what is there to do on the Gold Coast besides horse racing? We're glad you asked – and we've got you covered:
VIP Nightclub Access: While our Race Day Out is clearly a day activity, this one is a night activity- and what a night it makes for! Walk into the club like 'who's the VIP?'. The answer, of course, is you are, and tonight your buck is the biggest VIP of all! We have partnerships with the best Gold Coast nightclubs.
This isn't your average night out in Surfers Paradise. From the second you arrive to the second you leave, you guys will be treated like the absolute kings of the night. If you've got a good mate who really deserves the VIP treatment, this is a Wicked Bucks activity that's hard to beat.
VIP Strip Club Access: Like the nightclub experience, this one will have you and your whole buck's crew feeling like very important people. Except instead of getting the red carpet treatment at a regular nightclub, you'll get it at one of the Gold Coasts best strip clubs. Special shows can be arranged as part of the experience.
Gold Coast Pub Crawl: It's a pub! It's a club! It's a whole selection. If you really want to get a decent look at the wide variety of quality nightspots the Gold Coast has on offer, give our club and pub crawl a go. We have a wicked selection of places you can go and our tour finishes in time for you to embark on your own nightlife itinerary later on.
Brewery Tour: If Race Day hasn't provided quite enough beer to keep you satisfied, give our Brewery Tour a go. You'll get a trip around a number of the Gold Coast's finest breweries, hand-picked by Wicked Bucks, and get a real taste for the distinctive flavours of craft beer available on the Gold Coast. Taste-teste beers paired with great food and soak up the beachy vibes before going behind-the-scenes to see how your new favourite local beer is produced.
Foosball / Air Hockey Table Man Cave: You'll probably spend part of your buck's weekend just chilling in your room. Fair enough, but you know what will really improve the situation? A foosball and air hockey table so that you guys can challenge each other to see who will emerge the champion of table-top gaming.