High Rollers Poker Gold Coast Bucks Party Idea
Rustle up a couple of glasses of the good whiskey and sit down for a game of poker played like a high-roller, with topless waitresses and a topless dealer.
Somewhere in a classy private location in the heart of Queensland's Gold Coast, you and your buddies – including your lucky buck – will gather in a room.
With topless waitresses and a beautiful topless poker dealer, you'll be surrounded by all the requisite eye candy to give you the motivation to win. And even if you lose, you won't have to lose your dosh. This is one of our most popular Gold Coast bucks party ideas.
Believe us when we tell you that you'll be in one of the most exclusive and most luxurious locations the Gold Coast has to offer. You won't be disappointed by this mysterious room or the services of the lovely ladies who await you inside it.
And you definitely won't be disappointed by the opportunity to beat your friends at poker and emerge from the game victorious. Get in touch with bucks party planning specialists today for a custom activity package.
Experience Overview
The boys will be all in
Get your poker face on
Private poker tournament
Professional croupiers
Fund your Bucks weekend
Bragging rights to the man who leaves with the fullest pockets
Add some girls to serve you
Get a Quote
Call for Info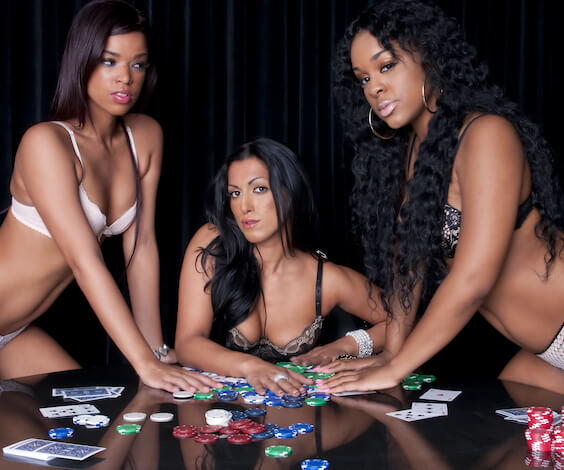 Making the most of your High Rollers Poker Tournament on the Gold Coast
Queensland's Gold Coast is famous for many things: its parties and top nightclubs. Its beaches and surfing. Its theme parks and quirky tourist attractions. Plus there's so much more, like its breweries and bushwalks and road trip locations. Now you can add Wicked Bucks selection of impressive activities to the long list of drawcards of this unbeatable part of the world.
If your private high rollers poker game has made you thirsty for more hot topless women, Wicked Bucks has more activities for you to add to your bucks weekend itinerary.
Hire a Nude Waitresses: Wherever on the Coast your buck's party is, we can deliver some good-looking, fun-loving girls to come over and spice things up. You guys can grab drinks, sit back relax and enjoy the show while our Wicked angles work their magic. What could be better? Well, we have a few more options.
Hire a Lingerie Waitresses: If you're looking for something a little tamer than topless or nude waitresses but still wild enough to get your blood racing, try the lingerie waitress activity. These girls can do it all – providing snacks and ice-cold beers all while wearing a smirk and some lingerie.
Hire a Stripper: If a strip show is more your scene, Wicked Bucks can deliver strippers straight to whatever Gold Coast location your buck's party is at.
Supercar Drive: It's always about girls. Sometimes it's about cars, and you'll feel like one of the coolest cats in Surfers Paradise when you and your buck's party brigade roll through the streets in a Ferrari or Lamborghini.
Race Car Simulator: Take your love of cars and racing to the next level by simulating the experience of a rally in a high-powered race car.
Gold Coast Stunt Park: Ever dreamt of being a stuntman on an action film? Now the dream can become a reality for you and your buck. Watch your buck get lit on fire, experience a samurai sword fight and a Jacqui Chan-style fight scene plus fall from on a great height and survive all on Queensland's Gold Coast!
Drive an Army Tank: One of the Gold Coast's one-of-a-kind bucks party activities is to drive Australia's only working army tank. This vehicle has a big history. It was used in Vietnam and is one of the only three tanks in the world to be turned into a training tank.