Paintball Skirmish Gold Coast Bucks Party Idea
Gold Coast Paintball is about as much fun as you can have in the jungle with a gun in your hand. A favourite Gold Coast bucks party day idea and something the whole squad can get into, it's a safe bet for a bux weekend. Alright, comrades. This is your mission. You must capture the flag. In the course of your duties you have to attack those who are on the opposing team, ducking behind tanks and barricades in order to shield yourself before you spring out on the enemy.
You might get hit. You will get hit. But don't worry, it's just a little paint. Enjoy the excitement of racing through the jungle, thinking on your feet and coming up with strategies in order to emerge victorious. The ultimate playing group for seperating the boys from the men! Get amongst the competition and give it to the lads. Give the Wicked Bucks Parties a call today.
Experience Overview
Protective gear included
Strategise an attack on the Buck
Variety of missions
Dress-ups for the Buck
Annihilate the competition
Gun and equipment included
Ready, aim, fire!
Get a Quote
Call for Info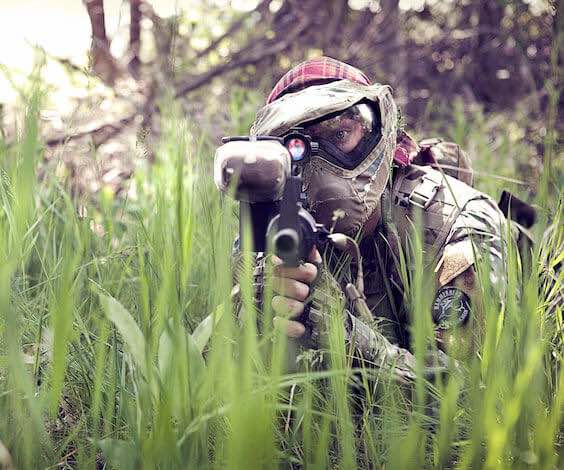 Making the most of Paintball Skirmish on the Gold Coast
Paintball Skirmish is just one of the fun-filled activities we offer for you on Queensland's, Gold Coast.
Here are some recommended bucks activities:
Clay Pigeon Shooting: In the mood for more shooting? Swap those paintballs for bullets and show those flying clay discs who's boss! If you've never fired a gun before, this activity should get your heart racing and your adrenaline pumping but don't worry, you're in the hands of people who know exactly what they're doing and it's totally safe. Unless of course you're a clay pigeon, then watch out!
Kidnap the Buck: Step it up in terms of thrills with a hostage situation. But don't worry, it's the sexiest hostage situation your buck is likely to have ever found himself in as well as the sexiest one you'll ever witness. Two bad-ass wicked angels in uniform will burst through the door of your bucks accommodation and take your soon-to-be-married bud on a titillating, humiliating journey. But don't worry, in the end he'll enjoy himself – and so will you.  
Go Karting: Just like paintball, our Go Karting is an activity that's a real crowd-pleaser whether you're at a buck's get-together or not. Get a small taste of being a race car driver in a competitive yet fun environment where the Go Kart track is your arena and collisions with other vehicles are no big deal. The Gold Coast is known for its car races and even though events like the Vodafone 600 are impressive, the biggest and baddest race is yet to arrive: your buddy's buck's party race. Come on, you know it's true!
Jet Boating: Another exciting, heart-thumping activity that's absolutely perfect for a stay on the Gold Coast. Jet Boating will have you blasting across the calm blue waters of the Coast at speeds of up to 80km/h as well as doing slips, slides and 360-degree turns.
Surfing Lessons: A very Gold Coast activity and a good chance to learn a new skill. Go surfing with Wicked Bucks Parties at one of the Gold Coast's gorgeous beaches and feel like a surf prop superstar.