Boat Party Boob Cruise Gold Coast Bucks Party Idea
Your buddy is saying goodbye to his bachelor days, and what better way to do so than to party on a boat on the Goldie? You'll have the bright Queensland sunshine, the shimmering seas and seductive temptresses for crew members.
Boats and…. Bros? Let your Buck go out with a bang and sail into wedded life with a final party cruise. Have a day or night out in the elements with your buck and soak up the sun and saltwater out on a party cruise. Have a better idea for a bucks party? You're lying.
Buoy oh buoy, how the boys do love a boat day. Stock up on the ice, fill the eskies up with your poison, slather up in sunscreen and let those budgie smugglers see the light of day (finally). We can organise the boat, the bar, a sober driver and any catering/entertainment you are after – just bring yourselves!
Want a little more cheek injected into your Bucks party cruise? Topless waiters & strippers are all available to be arranged to make the day extra special for your Bucks final moments as a Bachelor.
Experience Overview
Luxury with the lads
Have a couple of cold ones on the deck
Option to include girls
Stereo system on board
Catering and beverage package options
Experienced captain and cabin crew
Rock the boat
Get a Quote
Call for Info
10 Reasons to do a Boat Party Cruise in Gold Coast
It's your own private boat party. Just you, your buddies and the babes. No random geezers around.
You're on Gold Coast, so the sights you see are sure to be pretty – and we're not just talking about the girls.
You're probably not a millionaire – yet – so buying your own boat might not be on the cards right now. But you can party like a cashed-up businessman for a few hours.
Beers and beaches are always a winning combo. Throw in babes as well and you've got three of the best things that start with B. Four if you count Bucks.  
If you end up falling off the deck, at least the weather's warm and the water pleasant.
It's affordable – don't want to travel outside of your hometown? You don't have to. Let us arrange your full day of alcohol, entertainment, music, and food for you!
You don't need a deso driver – none of your mates have to sit out on this one! We provide a driver, which means all of the boys can get as sloshed as they'd like. As long as no-one goes overboard (literally).
Scenery changes – this is no standard party or club. It's mobile, with the view and seascape constantly changing (which obviously means things are at least twice as exciting).
You technically can't get kicked out – obviously, we don't endorse losing all of your senses, but a boat is a little more lenient compared to a typical land venue. Just sayin'.
You can make it as fancy (or plain) as you'd like! Keen on platters & waitresses? Done. Just after a couple of eskies and a BBQ? Also done.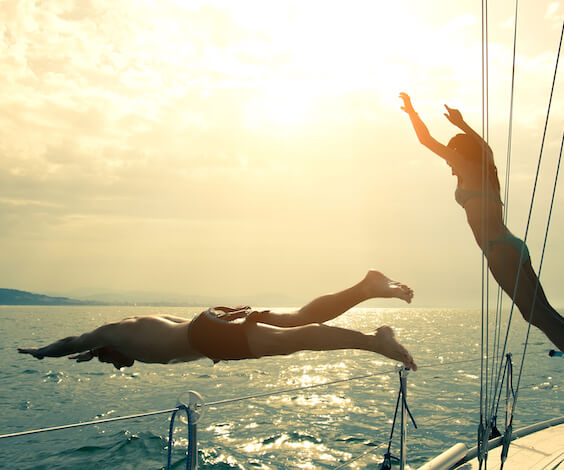 Making the most of your Boat Party Cruise on the Gold Coast
If you're going to sail the high seas, there are few better places to do it than Queensland's party capital: the Gold Coast. Here the views from the seas are spectacular: long, golden stretches of beach, impressive waves, rocky headlands and skyscrapers glinting in the sun. The views on the boat are spectacular too: your mates, including your buck, drinking and having a grand time, plus stunningly attractive lady crew members.
Take a cruise around the bay, cold drink in hand, sitting back in a deck chair and taking in the stunning scenery. Running out of beer? One of our feisty Wicked maidens should be by your side soon to keep the supply coming.
If there's anywhere to go for a party cruise… It's got to be the Gold Coast. Explore the canals of Surfers Paradise, or the gorgeous crystal blue Seaway. Cruise around the passage near Main Beach & venture past Seaworld, South Stradbroke Island, and check out the houses of the rich and famous at Sovereign Island. Keep your eyes peeled for dolphin pods, which are spotted regularly in the seaway.
Aside from boat rides, there's a lot to do on the Goldie – and plenty of activities to make any buck's weekend a party weekend to remember:
Gold Coast Bucks Helicopter Activity: Go from sea to sky and get a true bird's eye view look at the Gold Coast with a ride in a chopper. You'll get the chance to admire the views of the city and the beach. The best of both worlds on the Coast. Once you come back down to earth you'll land on a wharf, so you can walk straight into the closest bar and discuss the sights you've seen over a cold one. On the Gold Coast you can do it all.
Gold Coast Surfing Bucks Activity: The Gold Coast is one of the best places in the world to learn to surf so why not make our surfing activity a part of your buck's weekend? Even if you've never surfed in your life before, now's a good time to learn. And if you have the coordination of Mr. Bean, well, it's just you and the boys so who cares, right? Get a taste of being Mick Fanning or Kelly Slater and feel like a ripped beach god as you tackle the Goldie's waves.
Jet Boating Bucks Activity: This is also a boat ride on the waters of the Coast but it's a bit more adrenaline-pumping than the cruise. And perfect for a crew of adventure seekers. Your heart will race, your palms will sweat but soon enough pure joy will overtake you as you rocket across the water at speeds of up to 80km an hour twisting, turning, spinning and sliding. Hold on tight – or don't, it's entirely up to you – and let the thrill of this mad adventure on the wild waters of the Coast rock your world.
Pull up at Wavebreak Island and bring the paddle-boards/inflatables/ noodles out to play with your bucks! We want to make your Bucks day/evening as special as possible, let us know his needs & we will make it happen.
Looking for other things to do in the Gold Coast? Hit up the famous nightclub strip in Surfers or the Casino in Broadbeach if you are after a big night on the town! During the day, venture along the coastline and check out the beautiful beaches – hire out a surfboard or hit up the mouth watering cafes!