Bubble Soccer Gold Coast Day Ideas
What's round, squishy and fun to play with? Balls! The inflatable, oversized kind, of course! Bubble Soccer is is the perfect activity to battle it out with your mates on the football field, while having plenty of laughs along the way. Get ready to play soccer with a bouncy twist. Bubble Soccer is the newest kid on the sporting block and it is epic. You and your mates will be split into teams and then you'll each be strapped into an inflatable man-sized bubble. With only your legs left to run free, you'll be let loose on the football field. 
The game works just like soccer, except in this version there are no faults, no yellow cards and no penalties. That means you can crash, tackle, bump, body slam and roll around – basically anything within your ability to stop the other side from scoring. With an extra layer of protection from the inflatable bubble, you can also put your body on the line without being reminded of your age.
Experience Overview
Balls included
Outdoor fun, bumping, jumping and crashing
Hell of a good laugh
Perfect chance to smash the bucks
Get a Quote
Call for Info
5 Reasons to do Bubble Soccer on the Gold Coast
Watching it literally just as fun as playing. Whether you're standing on the sidelines or you're right in the thick of things, Bubble Soccer offers something for everyone. 
There's no set length to a bubble soccer match, so you can squish is as much ball action as your heart desires. We must warn you though, you might not last as long as you think!
Ever thought about smashing into your mates? Giving them a really roughing up? Just jump into a Bubble Suit and you'll be ready to take on anyone who gets in your path. Try to remember that you're playing soccer too. 
Bubble Soccer will definitely get the adrenaline pumping and channel your inner competitive streak. A match of this ridiculous sport will have you amped up and ready for an epic night to follow. 
Bragging rights are the ultimate prize. With the offer of Bubble Soccer Champions on the line, we can't see why you wouldn't want in. 
Read More: Things to do on the Gold Coast | Gold Coast Bucks Ideas | Gold Coast Bucks Party Accommodation | Gold Coast Bucks Party Packages | Gold Coast Strippers | Gold Coast Nightclubs | Bucks Party Games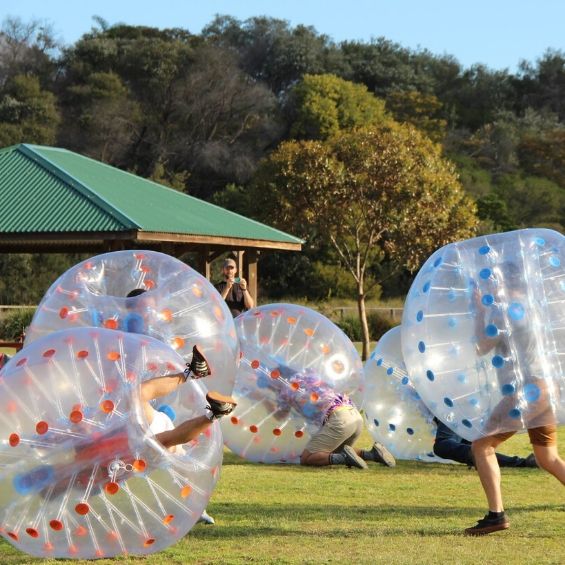 Making the most of Bubble Soccer on the Gold Coast
No longer is the Gold Coast merely a portal to theme parks and sunburns. There is a whole lot happening in this tropical destination. The GC is truly a foodie mecca. The wining and dining scene is becoming so iconic that hollywood A-Listers are regularly spotted frequenting the myriad of restaurants, bars and cafes scattered along the coast. And what's a trip to the GC without a walk down that iconic Coast line? Away from the sea, The Gold Coast hinterland is also a beautiful spot to explore. Mount Tamborine offers a variety of stunning walking tracks and even a cave that lights up with glow worms of a night. This East Coast destination may have undergone a complete transformation over the years, but one thing that hasn't changed is the fun factor. Whether your name is Bob, Bill,Johnathon or Rob, this place has your name all over it. Wicked Bucks will get you there, show you around, and throw you a Bachelor Party to remember – or not, depending on what you're after.