Laser Skirmish Gold Coast
Wake up and get your adrenaline pumping. At Laser Skirmish with Wicked Bucks you can shoot your apparent "best mates" first, and worry about dealing with their hurt feelings over a cold beer after your inevitable win. Round up the troops and get ready to duck, weave, defend and attack your opponents. Playing Laser Skirmish is a weird combination of primary school disco like lighting, being a character in a computer game and getting in your daily step count. 
Every party goer will be assigned a team and then the group will be sent head-to-head. The players will run around a dimly lit space, shooting each other and taking advantage of (or trying to avoid) ramps, stairs, obstacles and mazes. The winning team will be the side which successfully de-activates the other team's home base, incurring as few laser-hits as possible. It might sound odd but somehow, it just works.
Experience Overview
great for large bucks groups
something a little more tame
safety equipment provided
great to ease into a big night
Get a Quote
Call for Info
5 Reasons to do Laser Skirmish on the Gold Coast
When you find yourself reaching for a coffee and you're not sure how you're going to perk yourself up for a huge night to follow, Laser Skirmish is your answer. It is the ultimate way to get your adrenaline pumping and set the tone for an epic night. 
Laser Skirmish might be the closest you'll ever get to being in a sci-fi movie. With all the lighting, music and fog machines, you'll feel like you've stepped straight off the set of a Steven Spielberg blockbuster. 
You're basically locked in a dark room with your mates and ordered to run riot. There is no better way to bond with your nearest and dearest. 
 Are you sick of your Missus complaining that you're on the gaming console for too long? This is your opportunity to prove that all those hours aren't going to waste. Playing Laser Skirmish is basically like a video game but IRL. You won't even need to worry about your controller running out of batteries either. 
Every guy loves some healthy competition. With the promise of bragging rights on offer, you're destined to see a new side to yourself.
Read More: Things to do on the Gold Coast | Gold Coast Bucks Ideas | Gold Coast Bucks Party Accommodation | Gold Coast Bucks Party Packages | Gold Coast Strippers | Gold Coast Nightclubs | Bucks Party Games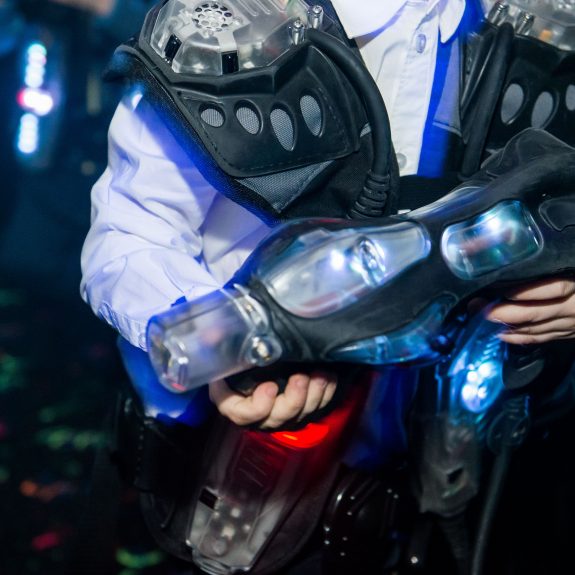 Making the most of Laser Skirmish on the Gold Coast
Millions of people visit the Gold Coast every year – and for good reason. Queensland's second largest city is home to some of the world's most iconic and picturesque beaches. Blessed by warm weather year-round, you can find a stretch of sand to park yourself on any day of the year. This East Coast hot spot also boasts an impressive array of cuisines. From outdoor night markets, to fine-dining restaurants, there is something to keep every taste bud happy. After filling yourself (or overfilling yourself) with drool-worthy food, the next logical option is to kick on?
The nightlife on the Gold Coast may have made a name for itself years ago, but things are a-changing. It's no longer just bustling nightclubs and underground strip bars (although those options are definitely still available). The Gold Coast now also hosts more wine bars, breweries, grungy pubs and clubs than you can poke a stick at. Your biggest struggle will be choosing which one will kick start your night. You can leave the rest of your decision making to Wicked Bucks though. We've got this one covered for you.