Surfing Lessons Gold Coast Bucks Party Idea
Hit some barrels (or depending on experience, whitewash) with your Bucks & the boys! Whether you are all seasoned pros or goofy beginners, a day out in the waves makes for a super fun day. Finish it all off and sink some sunset beers by the beach. No wonder this is on of our unique Gold Coast bucks party ideas.

Looking for a more unique activity to do with your boys and Buck for his special day? Group surfing lessons are a great way to connect with each other, get the party started and have a laugh together. We'll hook you up with a surf guide (or a few), who will teach you more about the waves, safety, and most importantly – how to be the next Mick Fanning.
We can't throw you beginners in the deep end right away… First, we'll have you all on your foam boards in the sand (unless you're already a part-time shredder), teaching you how to paddle onto a wave, and pop up. Once you've all got the essentials down pat, with a full face of zinc, we'll send you out into the waves to give things a crack, for real this time.
Picking up this "surfer thing" pretty quickly? We can arrange a little semi-pro cup tournament for you too, while we're at it! All you need to bring is yourself, a good attitude, swimmers and a lot of resilience. Finish your day with a few happy snaps of the boys throwing shakka's & head off to kick-ons. What. A. Day.
Experience Overview
Surf's up grom
Learn how to hang 10
Catch some gnarly waves
Reward yourself with a cold beer afterward
Fit in with the sun kissed locals
Expert instructors to get you on a wave
Get your cameras out and capture those stacks
Get a Quote
Call for Info
5 Reasons to go Surfing on the Gold Coast
You don't need any equipment – we can provide all surfboards, rashies & sunscreen for you to enjoy your surfing day stress free!
It's a workout – and totally validates your beer sesh occurring straight afterwards
Learn a new skill – your single mate Ben will finally be able to put "surfer" in his Tinder bio. Finally
Ben also gets the opportunity to show off his rig to any nearby surfer chicks
Between the lot of you, there'll be a lot of nose-dives. Lot's of nose dives = lots of laughs
Read More: Top Things to do on the Gold Coast | Gold Coast Bucks Party Ideas | Gold Coast Bucks Accommodation | Gold Coast Bucks Packages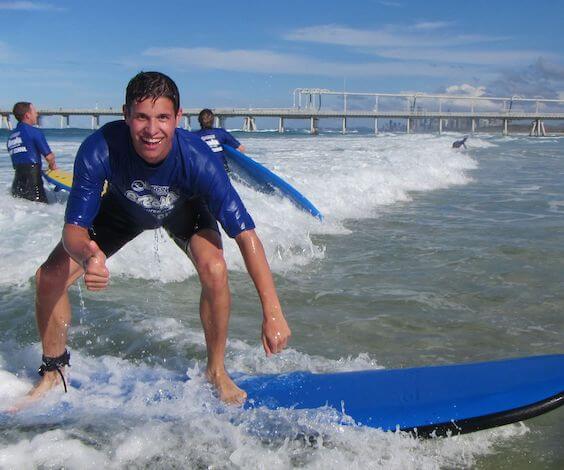 Making the most of your Gold Coast Surf Lessons
When in the Gold Coast, you must own the "surfer" image – and in our humble opinion, as long as you've got a board under your arm, you are on the right track. The sunny Gold Coast is perfect for learning to surf, or carving up the waves if you are already an experienced surfer. Boasting endless stretches of beautiful surfing beaches, you can't go wrong anywhere between Surfers Paradise and Kingscliff in northern NSW. For more sheltered beaches, take yourselves to Burleigh, Currumbin Alley or Rainbow Bay.