Gold Coast Barefoot Bowls + BBQ + Bowls Bunnies
Get your bucks party brigade together, kick your shoes off and get ready to spend the day indulging in several blokey Gold Coast bucks party ideas and pastimes: lawn bowls, beers, BBQ food, talking bulldust and having a blast. The perfect preparation for the night to come – or for an entire weekend of debauchery.
If you've played the popular, much-loved and legendary game of lawn bowls before, you know just what to expect. Carefully, using just the right amount of skill and precision, you roll your ball along the green and hope it will end up the closest one to the jack.
While you're doing this the sun goes down, you slowly sip a can of your favourite beer between turns and the smell of meat cooking on the barbeque gets you salivating.
With our wickedly fun Barefoot Bowls, BBQ and sexy bowls bunnies activity, we have all of this and more in store for you. Play a leisurely game of bowls with just your buds, drink a fine variety of beers together, chow down on steak, sausages, veggie cutlets or whatever else you've got frying on the barbeque and get ready to head out and about on the Gold Coast that night.
Experience Overview
Balls included
Green hire
Bar onsite
Great for competition
Great for groups
Sink some beers barefoot with the boys
What better way to ease into a big night
Get a Quote
Call for Info
5 Reasons to go Barefoot Bowling on the Gold Coast
Barefoot Bowls and BBQ is a top activity at the best of times so it's an even better activity when you want to celebrate one of your buddies getting married.
You can do it your way, with the kind of beer and food that you want and as much of it as you want. But Wicked Bucks will still be here to help make it special.
You can beat your buddy at bowls on his own buck's weekend. Come on, you're not letting him win, are you?
The combination of BBQ and beer goodness is enough to get a lot of bloke's mouths watering even without the gaming action, which makes for a very welcome and excellent addition.
This activity is sure to leave you satisfied and feeling like you've had a top time. And just remember there are more top times to come, probably that very evening.
Read More: Top Things to do on the Gold Coast | Gold Coast Bucks Party Ideas | Gold Coast Bucks Accommodation | Gold Coast Bucks Packages | Gold Coast Strippers | Gold Coast Nightclubs | Bucks Party Games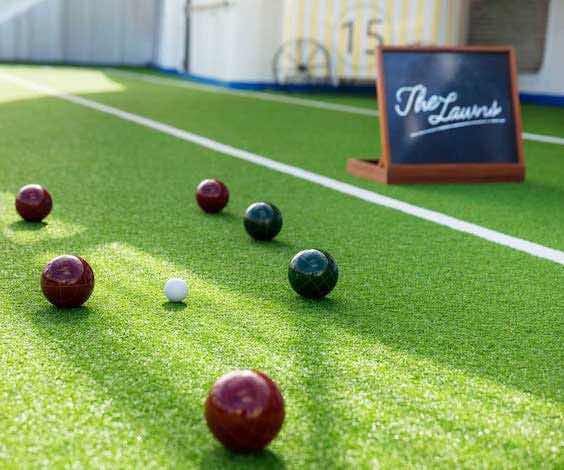 Making the most of Barefoot Bowls on the Gold Coast
As much fun as it is, Barefoot Bowls and BBQ only has to be the beginning. Then it's party time, and if you're heading out on a Friday or Saturday night you can take your pick from the rest of the wicked activities we have on offer for you on the Gold Coast:
VIP Nightclub Access: The Gold Coast is one of the best places to go for party and nightclub action. But why settle for a night out on the town when Wicked Bucks can take the experience to the next level and give you VIP treatment? Don't stand in a queue with dudes pushing and butting in, wondering if the bouncer will approve of your shoes enough to let you in. Cut out the hassle, skip the queue, go straight in and take a seat at a table where Wicked Bucks will give you red carpet VIP treatment the whole night long.
VIP Strip Club Bucks Activity: Maybe you like the idea of getting VIP treatment but instead of the nightclubs of the Gold Coast, you'd like to visit the strip clubs and see some hot girls in action. A full bar tab, table service, even private and stage shows can be arranged. All you have to is show up, let Wicked Bucks handle your needs and watch the sexiness unfold.