F1 V8 Rally Race Car Simulator Experience
If you, your buck and the rest of your boys are racing fans, here's your chance to get a taste of being a race car driver right here on Queensland's Gold Coast. One of our unique Gold Coast bucks party ideas, ideally packaged with the bucks man cave supreme package. The simulated environment is safe, controlled and completely immersive. All you have to do is push your pedal to the floor and test your skills out on the track.  
Right here in Surfers Paradise is Racecentre, Australia's numero uno race car simulater centre. You'll get the very best racing simulation you can possibly imagine here!
It's about as close as you can get to the actual race car experience. Heck, it's so good even pro racing drivers use it as practice for actual races. There are so many options for you and the boys when you rock up for a taste of some racing action.
Take your pick from a number of cars including F1, V8, Lamborghini, Ferrari, Porsche and more. Then there are the tracks. You can try out Bathurst, Melbourne or Monaco and see how you stack up. 
Experience Overview
Unique simulation experience
All the thrill of supercar driving without the risk
Race against the your group
Show off your driving skills
Good friendly rivalry
Recreate a supercar experience
Bragging rights to the winner
Get a Quote
Call for Info
5 Reasons to do a F1/V8/Rally Race Car Simulator on the Gold Coast
You get all the thrills of being a race car superstar but never have to put yourself in actual physical danger. How good is that?
There's flexibility. You can race by yourself or against the boys and either way you'll enjoy the experience.
The features on offer can't be beat. There's a full range of motion allowing you to accelerate, brake and corner. You'll feel the Dolby Surround Sound pulsating through your seat and through your body. Plus there are triple screens so you can see the simulation on either side of you, making it even more involving and visually impressive.
If you've ever wondered how you'd actually do as a race car driver or you just want to know if you'd beat your mates, here's the chance to put yourself to the test and see who emerges victorious.
As well as being adrenaline-pumping and thrilling, it's also an experience that boosts your concentration. Nothing makes you focused quite like having to control an epically fast car around a twisting, turning, unpredictable racetrack.
Read More: Top Things to do on the Gold Coast | Gold Coast Bucks Party Ideas | Gold Coast Bucks Accommodation | Gold Coast Bucks Packages | Gold Coast Strippers | Gold Coast Nightclubs | Bucks Party Games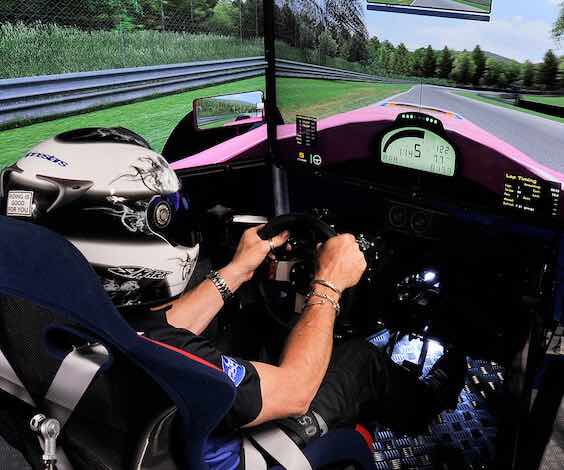 Making the most of your F1 V8 Rally Race Car Simulator Experience
There are always heaps of things to do on Queensland's Gold Coast so once you've had a taste of the rally racing simulation try out:
Ferrari / Lamborghini Drive: You've had the virtual experience. Now try driving real cars! Get a taste of driving an actual luxury sports car, taking your pick from a Ferrari or a Lamborghini. There's a reason the rich and powerful drive these cars: they feel amazing to ride in. Seriously, you really have to try one for yourself to know. From the clean, perfect, luxurious interiors to the powerful engines, these vehicles are worth the money you've gotta spend to ride in them and taking one for a spin is a worthy investment for your buddy's bucks party.
Hummer Transfer: If all this talk about cars has made you thirsty to spend the buck's weekend taking a ride in a luxury vehicle, take it slow with a spin in one of our pimped-out hummers. These wicked machines will cruise through the streets of the Gold Coast looking bad-ass from the outside and even better on the inside.
Accompanied by some gorgeous Wicked angels, you'll be having your own little party complete with BYO drinks and tunes of your choosing. Whether its fast races or slow cruises, the Gold Coast is car central and you're about to take a ride there.