Axe Throwing Gold Coast Bucks Party Idea
Think you're a pretty good aim? Maybe you're a rugged, outdoorsy type who grew up chopping wood with your old man and now you're pretty handy with an axe? Well, it's time to test out your abilities with a few rounds of axe throwing. Yeah, you read that right. Don't worry, it's a lot more fun – and a lot safer – than it sounds. So give it a go. You never know if you never throw. This is highly recommended as one of our unique Gold Coast bucks party ideas.
You might be wondering where you go to throw axes on the Gold Coast. The answer is Lumber Punks. Before the session kicks off, staff give all players a tute on how to throw axes safely. Then it's like a game of darts. The target is painted with concentric rings and you aim to land the axe in one of the rings.
 It's one point for the blue ring, three points for the red ring and five points for the black ring AKA the bulls-eye! So who's going to get the most points?
If you're worried about safety, fear not. Separate lanes that are fenced-off from one another means no chance of axes criss-crossing into other lanes. When you're throwing the axe you're the only one permitted in the lane, while the other players have to wait behind a barrier. You can simply concentrate on keeping the target in your sights, setting the intention to hit a bulls-eye and sending that axe sailing through the air until it gets stuck in the wood with a satisfying noise. You the man! You the axe man!
Whatever previous experience (or lack of) you and your buck have had with axes, we think you'll agree: it's a lot more fun than chopping wood.
Experience Overview
What's more manly than a lumberjack
Enjoy one of life's primal joys
Viking instincts will take over
Weapon wielding for the Buck's last night of manhood
Bragging rights to all who hit bullseye
Expert staff will ensure there's no axe-dents
Technique tutorials included
Get a Quote
Call for Info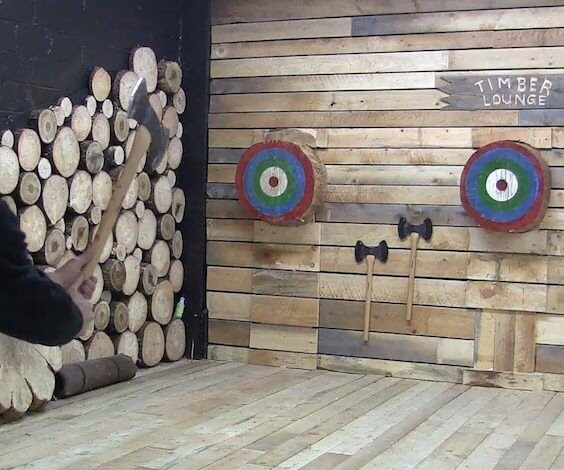 Making the most of Axe Throwing on the Gold Coast
Once you've had your fill of axe action it's time to take your bucks party out on the town on the Gold Coast and enjoy a range of other activities:
High Rollers Poker: You can play a game of poker at the casino or you can play OUR Wicked-style poker with just your best mates and zero chance of ending up with no cash. Plus you'll be surrounded by beautiful women while you do it, think topless waitresses and a topless dealer. All of this will take place in an exclusive, ritzy Gold Coast luxury space with us providing the poker gear including the poker table.
Gold Coast Club Crawl: Do you guys wanna look like you're having the absolute best time out of anyone on the entire Gold Coast right now. Then you simply have to get involved with our party tour activity, the biggest club crawl on the Coast! Here at Wicked we know the best, the steamiest, the most fun places on the Coast to go and we've got a bunch of the best of them ready to make your night one you'll never, ever forget!