Drive a Ferrari or Lamborghini
Ever wanted to drive a Ferrari or a Lamborghini? If you're like most guys and you love the idea of taking a fast luxury sports car out for a ride, now's your chance to do so. And what better place to test drive one of these bad boys than Queensland's sunny Gold Coast? You can count on this experience to be one of the top Gold Coast bucks party ideas.
Step into one of these cars and you'll immediate be impressed by the luxurious interiors. Everything looks shiny, clean and ritzy. You'll turn the key in the ignition and hear the engine begin to roar like a lion, giving you some idea of the power of this vehicle and what it will be like when you get going.
As you drive along, you'll feel the power of your vehicle every time you press the pedal, the potential for what it can do and just how fast it can go. Your body will feel alive, filled with the energy of the car as these ever-so-comfy seats make you feel relaxed and at home.
You'll be able to role-play being a millionaire, possibly a billionaire. And even though you won't be racing anybody, you'll certainly feel like a winner. Get in touch with the Wicked Bucks expert party planners today to get started.
Experience Overview
Reach up to 225km/hr
Exhilarating speeds in a supercar
Professional drivers
Perfect for the rev-heads
Treat the Buck to the thrill of a lifetime
Childhood dreams come true
Kick into gear!
Get a Quote
Call for Info
5 Reasons to drive a Ferrari or Lamborghini on the Gold Coast
You get to role-play at being a cashed-up, successful, confident film star, rock star or entrepreneur. There's a reason really rich dudes buy Ferraris and Lamborghinis. These cars are powerful and make you feel alive.
Our sports cars are well-looked after and immaculately clean, giving you the feel of luxury the moment you step in through the door.
There are few better places to take a sports car for a spin than on Queensland's Gold Coast. With the sun, the surf, the hot babes and the sights to see you're in an unbeatable part of the world.
Unless you have a really rich friend, you invent an app that gets big or you drop a rap album that blows up the charts, this is likely to be your one and only chance to drive a Ferrari or Lamborghini. So come on, make the most of it.
There's really no way to adequately describe what it feels like to drive (or ride in) one of these cars unless you've done it. And once you've had the experience, you'll have a story to impress your friends with for years. Not to mention everyone at the buck's party will be talking about it for ages.
Read More: Top Things to do on the Gold Coast | Gold Coast Bucks Party Ideas | Gold Coast Bucks Accommodation | Gold Coast Bucks Packages | Gold Coast Strippers | Gold Coast Nightclubs | Bucks Party Games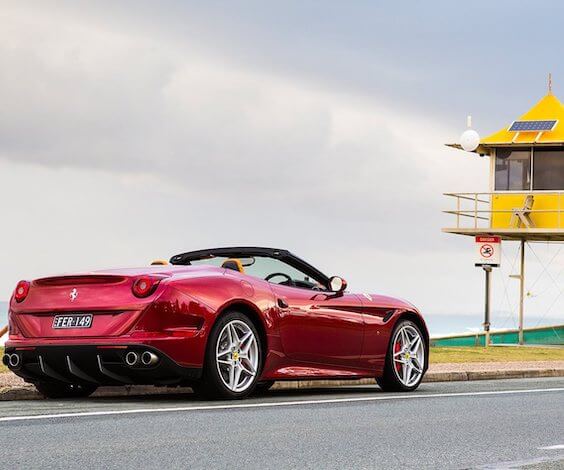 Making the most of your Ferrari or Lamborghini Drive on the Gold Coast
Queensland's glitzy Gold Coast is the ideal place to take a Lamborghini or a Ferrari for a test drive as well as a place to indulge in some other unforgettable bucks party ideas:
F1/V8/Rally Race Simulator: This has got to be one of the funnest simulations you're likely to ever experience. If you want the thrill of going as fast as you like in an F1 or V8 car WITHOUT the danger of crashing into anybody or getting arrested, you simply have to give this simulation a go. It's fast, it's thrilling, it's a terrific great time and it can be part of YOUR buck's weekend.
Gold Coast Jet Boating: The Gold Coast is a very scenic place and a lot of its beauty is in its magnificent beaches. Book a Jet Boat Tour and you can combine sight-seeing with thrill-seeking as you shoot across the waters quick as a flash then hold tight as the boat performs a variety of slides, turns and spins.