Stunt Park Academy Gold Coast Bucks Party Idea
Have you ever watched a stunt in an action movie and thought 'damn, that's cool'? Well, at this stunt park you can bring movie magic to life and be your own stuntman. If you dare, that is! The instructors in this park are world-class performers and experts in their field. For 60-90 minutes they'll make you a part of the action with an experience that's sure to get your adrenaline peaking. Oh, and you can take pictures and video too. Score! This one of kind activity makes our top unique Gold Coast bucks party ideas.
Some of the bucks party activities you'll be able to pick from include a ninja warrior obstacle course, a Jackie Chan fight scene (what? Are you fighting Jackie Chan? You'll have to book to find out), a samurai sword fight, a Hollywood high-fall onto an airbag and the chance to set your best mate on fire. But don't worry, he'll be just fine. It's all a part of getting the most out of your bucks weekend with a visit to this unforgettable stunt park.
Experience Overview
Tumble from incredible heights
Impress with fight choreography
World class stunt facilities
Channel your inner James Bond
All safety equipment included
Expert trainers will have you ready for Hollywood
Bring closed in shoes and get ready to perform
Get a Quote
Call for Info
5 Reasons to go to a Stunt Park Academy experience on the Gold Coast
If you're an action movie fan, this place is a dream come true. You finally get to try out some of the stunts you've seen on the screen in real life.
Photos and videos allowed so you'll have everlasting evidence and souvenirs from this totally wicked time.
Movie buffs and aspiring filmmakers will find it particularly interesting: a chance to peek behind the scenes to see how silver screen magic is made.
Let's be real, some of these stunts are just damn cool.
It's a great social activity. Your friendship will only grow stronger after you've biffed and lit each other on fire and you're talking and laughing about it afterwards.
Read More: Top Things to do on the Gold Coast | Gold Coast Bucks Party Ideas | Gold Coast Bucks Accommodation | Gold Coast Bucks Packages | Gold Coast Strippers | Gold Coast Nightclubs | Bucks Party Games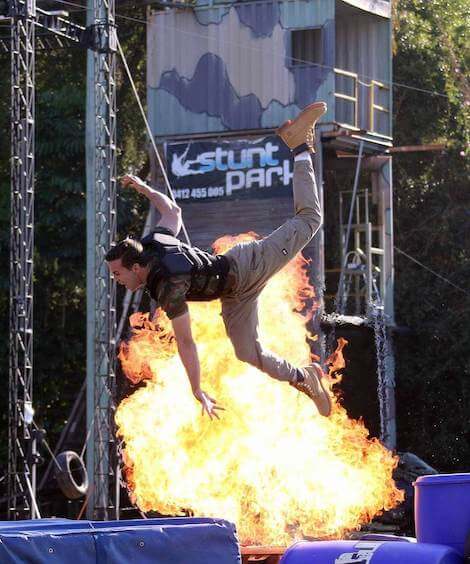 Making the most of your Stunt Park Experience on the Gold Coast
Need some other things to do on the Gold Coast once you're starting to wind down from the adrenaline of the stunt park? Don't worry, we've got you covered:
Gold Coast Surfing Lessons: This one is quite different to stunts but hey, you're on the Gold Coast. So why not make the most of it and go surfing? First-timers will have the opportunity to learn some skills in a stress-free, zero-pressure environment. Surf's up!
Gold Coast Bucks Cruise: Adrenaline activities are great, but there comes a time when you just have to kick back, relax and unwind instead. Luckily the Gold Coast bucks party cruise is here to help you to live the millionaire lifestyle, even if it's just for one day. Wicked Bucks has access to a luxury boat for the exclusive use of you and your crew, and you can take it out on the waters of the Gold Coast and enjoy the peace and quiet… while Wicked Bucks takes care of all your other needs.
Hire a Stripper: Sometimes the simple things in life are the best. And sometimes a simple activity like watching sexy women undress is one of the most satisfying ways to spend a bucks night. There's really not much to it, but that's part of its charm. Wherever your party's at, our girls will make a very welcome addition. Not only will they be wearing not very much at all, they'll also be on hand to look after your food and drink needs while they're at it. Plus they're good to look at. At Wicked Bucks Parties we always aim to please.