Skydive on the Gold Coast Bucks Party Idea
It's something everyone thinks about doing at some point. It's one of life's ultimate "bucket list" activities. It's a beloved hobby of thrills-seekers and if you aren't already a thrill-seeker, it'll make you one. Experience a tandem jump from 12,000 feet, an exhilarating free-fall and then a leisurely float to the ground for a landing on Kirra Beach. A tandem skydiving activity is just what your buck's weekend needs. This adrenaline based activity is definetly one of our top Gold Coast bucks party ideas.
You really have to just go and do it to know what it's like. You'll take off from among the passenger jets at Gold Coast International Airport. As the plane ascends to 12,000 feet you'll have ample opportunity to look out of the window and really admire the beaches, the buildings and the overall impressive scenery of the Gold Coast.
With an instructor who knows exactly what they're doing strapped to your back and a parachute strapped to theirs, you'll tumble out of the aircraft.
You'll spin around in the sky and then you'll get yourself in free-fall position, feeling alive as you take in more of your surroundings than you ever thought possible. Once the parachute opens you'll have even more of an opportunity to look around before you land on Kirra Beach. Straight away, you'll want to do the whole thing again, maybe for the bucks party of your next friend who gets married.  
Experience Overview
As if marriage wasn't scary enough
Conquer your fears
Freefall to the ground at over 200km/h
All safety equipment included
Experienced instructors to get you back to the missus in one piece
Bring closed in shoes and a spare of jocks
Perfect for the adrenaline junky
Get a Quote
Call for Info
5 Reasons to Skydive on the Gold Coast
Nothing compares to the thrill of free-fall and the relief when the parachute opens. You've just gotta try it.
You'll land on one of the Gold Coast's most beautiful beaches. Hey, can't complain about that.
Get some photos of the adventure and you'll have definite bragging rights (and nice pictures to put up on online dating websites). Expect people to look at you with jealous admiration and go "whoa, I could never do that."
You might think YOU could never do it. But you can, and you will. Don't let fear of heights put you off. This is nothing like looking off the top of a cliff. It's a lot more fun.
You'll have all of your mates with you which should definitely give you some motivation to go through with it and not chicken out!
Read More: Top Things to do on the Gold Coast | Gold Coast Bucks Party Ideas | Gold Coast Bucks Accommodation | Gold Coast Bucks Packages | Gold Coast Strippers | Gold Coast Nightclubs | Bucks Party Games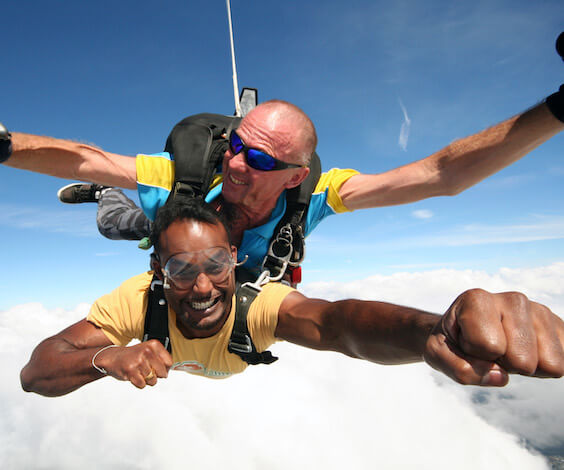 Making the most of your Skydive on the Gold Coast
If successfully completing a tandem skydive has given you a taste for thrills, there are plenty more of them on the Gold Coast:
Gold Coast Stunt Park: This place is full of thrills but like with skydiving, the thrills are supervised and you'll be in safe hands. In any case, it's still something that needs to be experienced in order to be believed. You can conquer a Ninja obstacle course, get involved in a Jackie Chan fight scene, fall from a massive height and get up feeling OK, get into a samurai swordfight and – for the grand finale – light your buck on fire. It'll be the best roasting you've ever given him – literally. But don't worry, he'll come out of it just fine and thank you for the great time.
Kidnap the Buck: This one is a different kind of thrill. It doesn't involve falls from great heights but it IS certain to get your buck's adrenaline flowing. Two sexy women in uniform will burst through the door. These butt-kicking babes ain't taking no crap from you or anyone else. They'll handcuff your buck, deck him out in all kinds of crazy paraphernalia and then take him on a wickedly embarrassing ride through the Gold Coast streets. If he likes his thrills mixed with humour and a little sauciness, this is the activity to go with.