Body Platter Gold Coast
You might have seen it on a Hollywood blockbuster before, but the Japanese art of serving sushi on a naked body is actually a real thing. We did a little digging and it turns out that this experience is exactly what it sounds like – a nude model covered in sashimi, just waiting for you to take your piece. It turns out that regular China is simply just a bit too boring for the Japanese. This culture decided to spice up the eating experience by serving their sashimi in a creative way. Before you shake your head and call it too bizaare – hear us out. 
A string of gorgeous ladies wearing silk robes will greet you and the boys. You'll be whisked away to a private and secluded section of the venue, where the babes will literally become a live sushi platter. The nude women will drape themselves across the table, and individual sashimi and sushi pieces will be scattered across their bodies for you to gorge on. Perhaps the only thing more beautiful than these women is the taste of this freshly made Japanese delicacy. We're not sure about you, but that sounds like a pretty damn exotic way to enjoy sushi.
Experience Overview
1 Hour of body platter
1 Hour waitressing
Host your party
Sushi not provided
Serve you drinks in style
Unique bucks experience
Get a Quote
Call for Info
5 Reasons to do Body Sushi Gold Coast
There really aren't too many rules for a Body Sushi experience. The only thing we ask is that you're respectful of the women and don't touch what you can't afford. 
For the germ-a-phobes out there, we hear you! Before you get your knickers in a knot, we can assure you that although the women is fully naked, the sushi is placed on sanitized leaves to prevent skin-to fish contact. 
The Body Sushi experience actually originated from the Samurai period and was a subculture to the geishas. After this experience, you can chuck that fun fact around and sound cultured AF. Women will be lining up around the block for a piece of you. 
There is nothing like a bit of exotic and racy excitement to get the boys amped up and ready for an epic night to follow. Body Sushi will set the vibe to max. 
Body Sushi isn't just a feast for the eyes, it'll really get your taste buds flying too. The onsite chefs pride themselves on producing some of the best sushi and sashimi on offer. With a free flow of food and drinks, you'll be able to eat until your bulging – and then a bit more too.
Read More: Things to do on the Gold Coast | Gold Coast Bucks Ideas | Gold Coast Bucks Party Accommodation | Gold Coast Bucks Party Packages | Gold Coast Strippers | Gold Coast Nightclubs | Bucks Party Games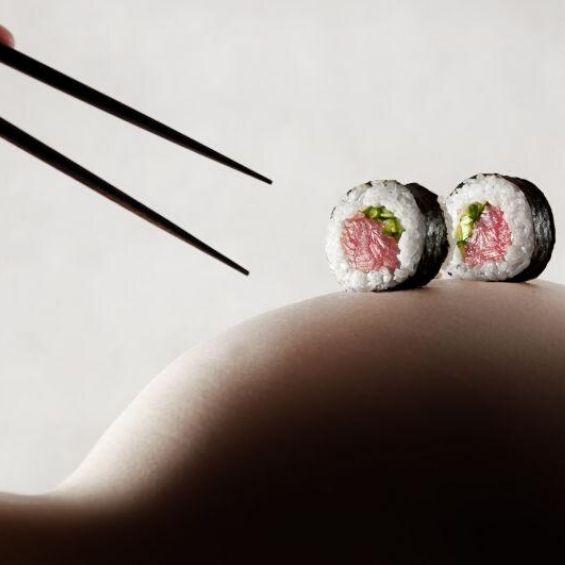 Making the most of Body Sushi on the Gold Coast
The Gold Coast encapsulates all of the very best parts of Australian culture. The star attraction is definitely the beaches. The iconic stretch of golden sand and crystal clear waters offers an option for everyone. There are world-class surf breaks, calm bays and the internationally recognised view of Surfers Paradise. Beyond the beaches, the Gold Coast also offers a booming wining and dining scene. From speciality coffee shops to boutique breweries and a string of sophisticated restaurants that rival the offerings of Sydney and Melbourne.
Once the sun goes down, the Gold Coasters come out and play. And boy, do they know how to have a good time! Attracting tourists from across the world year round, you can find a pumping venue any night of the week. The only thing putting an end to your night will be the sunrise. So, what are you waiting for?  Let Wicked Bucks give you the 5-star treatment and show you how Bachelor Parties should be thrown.