In Room Bucks Party Gold Coast Bucks Party Idea
We get it. You've booked some sweet bucks party accommodation on the Gold Coast and you don't want to leave it. Luckily you don't have to. Wicked Bucks will bring the party to you instead with our In-Room Party Activity, one of our top Gold Coast bucks party ideas.
If you've ever said "the party's wherever I am", well, that's really true this time! Although the Gold Coast is known for being one of the biggest party spots in Queensland and indeed Australia in general, Wicked Bucks are more than happy to do something a little different and localise the party entirely within your home, room or apartment.
No need to venture out into the streets and the nightclubs to find food, drink and women – although you can later on, of course. This activity is perfect as a warm-up or as a standalone fun thing to do for stay-at-home types.
Just give us your deets and Wicked Bucks can arrange an insta-party to crash into your room and give everything a shake-up. Music, beers, gorgeous girls and a strip show. We can make it all happen. All the classic buck's party activities can be yours to indulge in and you don't even have to step outside. Celebrate your mate's last weekend of freedom in the privacy of your own space and we'll still provide everything you need to make the experience complete.
Experience Overview
No need to leave your hotel room
We bring the party to you
Stunning girls delivered to your door
Enjoy your own private show
Great for big groups
Kick off your bucks weekend in style
Customise your private party experience
Get a Quote
Call for Info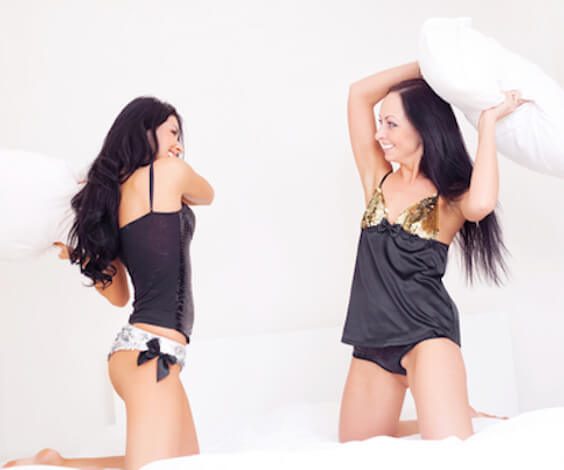 Making the most of your In Room Bucks Party on the Gold Coast
Your room is a great place to party but as you'll see, it's not the only place in town to party. You can also check out:
In-Room Bucks Poker Party: Another activity where we bring the fun to your room, this one raises the stakes with a game of poker. Get your beers and cigars ready because we'll bring all the poker gear around. We also have a number of additional elements that can make the game even more satisfying and fun: topless waitresses and a topless poker dealer who knows exactly what she's doing. Maybe even a strip show for you and the boys? For once, you have everything to gain and nothing to lose from a game of poker. But only if you play it Wicked-style.
Bucks Angel Hosts: We call them our Wicked Angels for a good reason, and that's because they'll help to make your bucks party heaven. Seriously, there are few activities that can't be improved by the addition of a hot hostess, and our Wicked Angels certainly deliver the goods. Need another beer? Your glass re-filled? Your pizza taken out of the oven? A lass wearing lingerie or bikinis is happy to do it. Talk about service with a (very big) smile.