Paintball Skirmish Darwin Bucks Party Idea
Fair warning this one is not for the faint hearted or dim witted. You will require skill, tactic, speed, precision, fast reflexes and teamwork. Separate the men from the boys – watch leaders rise, betas fall and give your buck one last shootout before settling down with the misses. Calling on those guilty of a cheeky Call of Duty Friday night session with the boys!  Get in touch with our specialist bucks party planners for a custom package to suit.
When was the last time you all got off the couch for something other than the pub? Well get up and get loading, because it is time to face off with your best mates over a friendly (…or not so friendly) game of PAINTBALL! The ultimate send off that is sure to have you in some sort of stitches. Brought to you by Darwin's best Paintball Arena and your next battle ground. We recommend bringing along a change of clothes… this is not gonna be pretty!
Experience Overview
Protective gear included
Top quality guns
Elaborate playing fields
Multiple missions to choose from
Plan an attack on the Buck
Great staff to assist
Heated competition
Get a Quote
Call for Info
5 Reasons to do Paintball Skirmish in Darwin
YOU CAN SHOOT YOUR BEST MATES (surely that is all the convincing you need?)!
Bragging rights… what better story to tell the ladies later on at the bar than that you scored the most hits out of all your mates.
There's buck parties that leave a lasting impressions, and then there's buck parties that leave physical bruises (or badges of honour).
It is god damn exciting and sure to get the adrenaline pumping and boys hyped for an evening of fun.  
Paintball allows a range of movement; diving, ducking, and tip-toeing around your mates (enemies) to make up for all the food and alcohol you are sure to consume for the rest of the evening.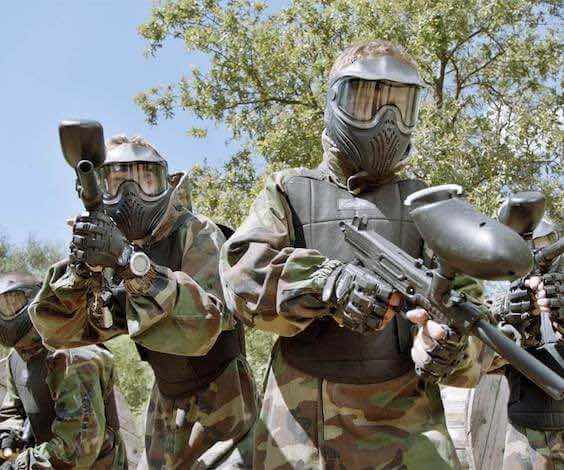 Making the most of your Paintball Skirmish in Darwin
Don't worry about breaking the bank in one of the most reasonably priced cities in Australia… we are talking about the Capital of the Northern Territory (of course), DARWIN baby! There is a heck of a lot to do here, so we recommend making a weekend of it (and a great excuse to extend the bender)!
Get your bucks panties in a twist as he faces off with the last remaining dinosaur to walk (well swim) the earth… the prehistoric CROCODILES. Hold your breath as you take a spin in the free beach side wave pool and explore the copious stretches of untouched beaches. The crocs are not the only creatures lurking around, there have been a few shark sightings and more often than not you're lucky enough to catch the Sea Turtles floating around.
Treat yourself and the boys to some of the finest dining in Australia, with a touch of Asian infusion, there are multitudes of restaurants to choose from! If you're looking for something light grab a snack at the Mindil Beach Sunset Markets. Not to mention the endless happy hours, cheap beers and dangerously delicious shots.
Or perhaps you'd rather spend your bucks weekend simply being outdoors! Basking under the warm sun, sipping cocktails by the pool, exploring the many rock pools and feeling the earth beneath your feet? Because it really doesn't get much better than that! So give your buck the gift of final freedom and let him kick back and relax in the most underrated hotspot in the land of Aus. Trust us, he'll love you for it!
Other Activities:
Ahoy hoy lads… looking for something that'll go down a little smoother? A little more boujee, that'll make for the ultimate Instagram flex? Then get your boat shoes on and climb aboard the Party Cruise!!! Get drunk in half the time as your sea legs do the rest. This is one of our most hyped up activities, with a sexy crew to take care of you and unlimited bevvies flowing! The boys will be cheering you on for pulling off something so great for your main man's last evening as a (technically) free man.