Experience Overview
Protective gear included
Top quality guns
Elaborate playing fields
Multiple missions to choose from
Plan an attack on the Buck
Great staff to assist
Heated competition
Get a Quote
Paintball Skirmish Darwin Bucks Party Idea
Destination: DARWIN
Fair warning this one is not for the faint hearted or dim witted. You will require skill, tactic, speed, precision, fast reflexes and teamwork. Separate the men from the boys – watch leaders rise, betas fall and give your buck one last shootout before settling down with the misses. Calling on those guilty of a cheeky Call of Duty Friday night session with the boys!  Get in touch with our specialist bucks party planners for a custom package to suit.
When was the last time you all got off the couch for something other than the pub? Well get up and get loading, because it is time to face off with your best mates over a friendly (…or not so friendly) game of PAINTBALL! The ultimate send off that is sure to have you in some sort of stitches. Brought to you by Darwin's best Paintball Arena and your next battle ground. We recommend bringing along a change of clothes… this is not gonna be pretty!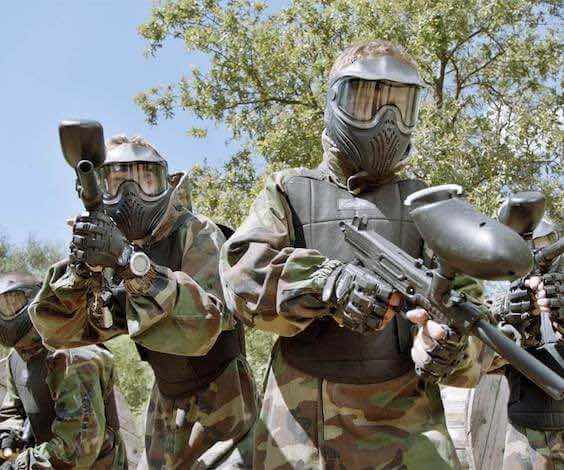 BUCKS PAINTBALL SKIRMISH INFORMATION
5 Reasons to do Paintball Skirmish in Darwin
YOU CAN SHOOT YOUR BEST MATES (surely that is all the convincing you need?)!
Bragging rights… what better story to tell the ladies later on at the bar than that you scored the most hits out of all your mates.
There's buck parties that leave a lasting impressions, and then there's buck parties that leave physical bruises (or badges of honour).
It is god damn exciting and sure to get the adrenaline pumping and boys hyped for an evening of fun.  
Paintball allows a range of movement; diving, ducking, and tip-toeing around your mates (enemies) to make up for all the food and alcohol you are sure to consume for the rest of the evening.