Fishing Charters Cairns Bucks Party Ideas
Nothing beats a day out on the water! With the esky packed, cold beers ready to go. A Cairns fishing charter around the tropics is a dream come true. This tropical North Queensland town is internationally renowned for its marine life so if you can hook a keeper, you've got something to be worried about.
We know you. We know the way to you heart. Fishing, mates and some Hollywood worthy serenity. The tropical North Queensland town of Cairns is home to Australia's premier fish supply. So you won't be short of a great day out on the water with beverages and rod in hand. The perfect chance to bring home the goods and supply the bucks party with some fresh fish.
The range and quality of fish swimming in the waters here is actually one of the seven wonders of the world – The Great Barrier Reef.  Thousands of fishing tragics from around the country and the world make the journey to Cairns to experience the sport at it's best. That doesn't mean you have to fight off the crowds.
There are almost more places to cast your line than there are fish in the sea. Wicked Bucks' fishing charter has rounded up the g-spots of the reef so we can take you out to the places where you're sure to hook a keeper. Pack your bags and bring the tape measure though because on these boats, size really does matter.
Experience Overview
Best local fishing spots
Drop a line and relax
Take home your catch
Fish around the reef
Perfect for the master baiters
All fishing equipment included
Spectacular views
Get a Quote
Call for Info
5 Reasons to go on a Fishing Charter in Cairns
You might consider yourself a group of men, but as soon as the word "competition" is mentioned, you're probably resemble your high school selves. Why not sort the men from the boys and turn this Fishing Charter into a game? The winner will receive bragging rights for the rest of the party. It's one activity where size really does matter.
Out on the sea, you can drop the speaker bass as loud as you please without having to worry about your pesky neighbours. Although you might scare the fish away with your questionable music taste, there is no better way to kick start your night.
If you like to consider yourself a bit of an expert multi-tasker, then look no further. While you're boating around Cairns, you'll get a unique view of the city and won't need to worry about finding a tour later on!
Fishing is all about the slow game. No one likes ending before they start. This activity will have you savouring every moment and we promise it makes the whole experience even sweeter.
Unfortunately the water's of Cairns aren't known for being turbulent. It might be the only time you're grateful your ride wasn't rough.
Read More: Top Things to do in Cairns | Cairns Bucks Party Ideas | Cairns Bucks Party Accommodation | Cairns Bucks Party Packages | Bucks Party Games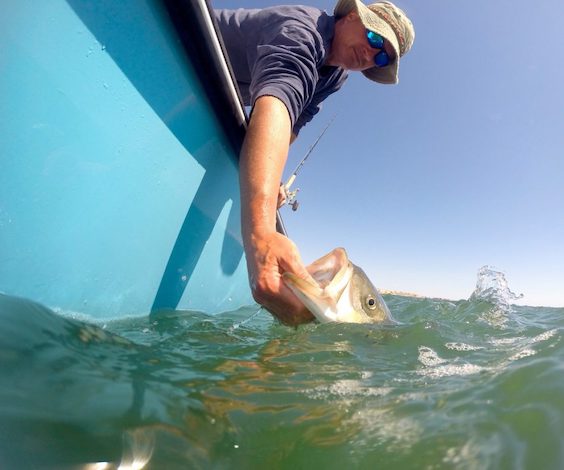 Making the most of your Fishing Charter in Cairns
If you ask most people what there is to do in Cairns, they will probably sheepishly answers "umm.. The Great Barrier Reef". Although this Wonder of the World attracts hundreds of  thousands from around the world each year (and rightly so, it is beautiful), there is actually much more to this Tropical North Queensland town than these responses may reveal. With so many travellers frequenting the town, Cairn's has a thriving nightlife scene.
The dress code of thongs and singlets may be slightly questionable, but you're guaranteed cold beers and a good time. Wicked Bucks knows not everyone is a nocturnal party animal though. We've got everything an adrenaline seeking junkie could dream of too. Choose from bungy jumping, jetboating, paintball, archery tag, bubble soccer, go-karting, wakeboarding and plenty more. That's just a little glimpse of the bucks party activities that will keep you busy in Cairns. If you're keen to get in on the action, drop us a line and we'll take the organisational part of planning a Bucks Party out of your hands.