The announcement of your buddy's marriage is both good and bad news. While you might feel like you're losing your partner in crime and bidding farewell to the days of Friday arvo beers at the local pub, you are now in charge of tee-ing up his Bucks Party. Despite what you might try to convince yourself, a few bevvies, mates (to consume the bevvies) and food (to soak up the bevvies), followed by my bevvies, is just not going to cut it. As the best man, you're responsible for planning, organising and executing a celebration worthy of being in the history books. Whether you're looking to sink beers, get your heart racing, flop on a beach or enjoy some cheeky entertainment, Bali is the answer for you. From hiking to beaches, incredible waterfalls to lush forests, this tropical oasis has it all. Want to hear more? 
Canggu Beach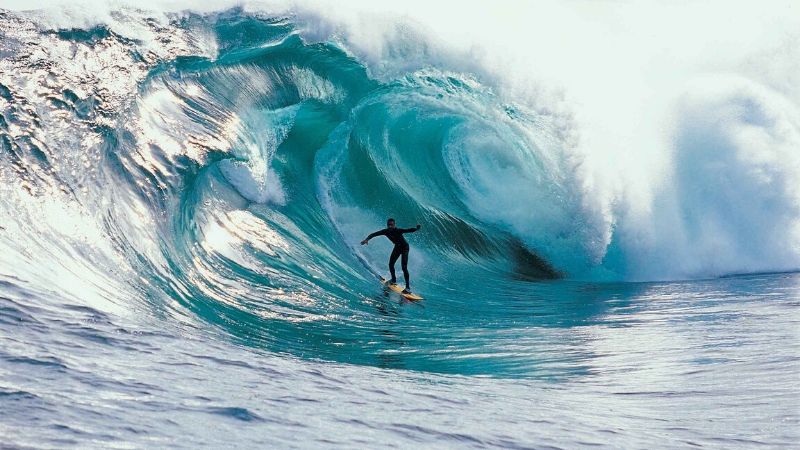 Affectionately known as "The Island of the Gods", Bali is blessed with pretty much year-round epic surf. The warm water, tropical vibes and pumping breaks make the island one of the most famous surf destinations on the planet. The best spots for beginners and pros alike is undoubtedly Canggu beach. Even if your Buck has never laid eyes on a board before, he'll be zipping along the waves and hanging-10 (okay, maybe not but he'll stand up at least once) at these spots before you know it. It's not just incredible beach breaks like this that make Bali such a popular surf destination, it's also the incredible patient, tolerable and all-round-good-people that get you on the boards and out into the water. 
Sacred Monkey Forest in Ubud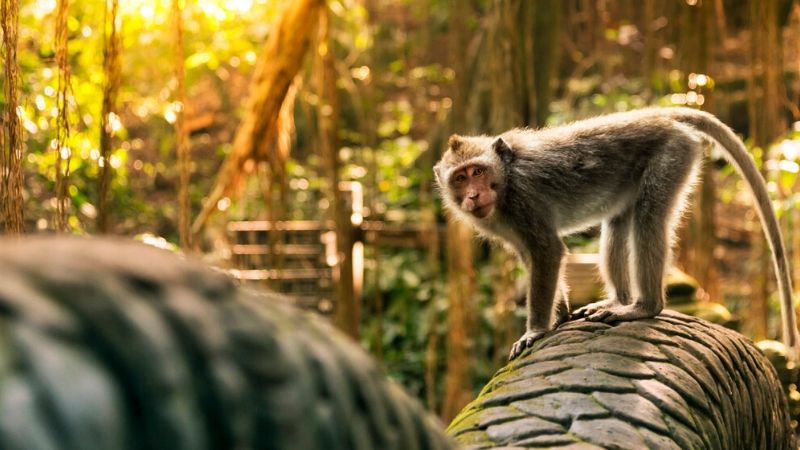 One of the best things about visiting Bali is the friendly locals. While the shopkeepers, taxi drivers, hotel concierge and surf instructors are all great, it's the inquisitive wildlife that have our heart. The region is rich in colorful fauna and wild animals, many of which are only found in Indonesia. Our favourite of them all are the cheeky monkeys. The Balinese Macaque (or Balinese long-tailed monkey) live in troops, which are basically just huge monkey families. These little guys are mostly found in the lush rainforest regions of the Island and they're not shy about welcoming visitors. If you want to get up close and personal, we suggest visiting the Sacred Monkey Forest in Ubud, where you can snap a pic of the Buck's closest cousins. Don't be afraid to point out the resemblance to him. You don't want his head to get too big. 
Address: Monkey Forest Street, Padangtegal Ubud Gianyar Bali
Contact: +62 361 971304
Mount Batur Hiking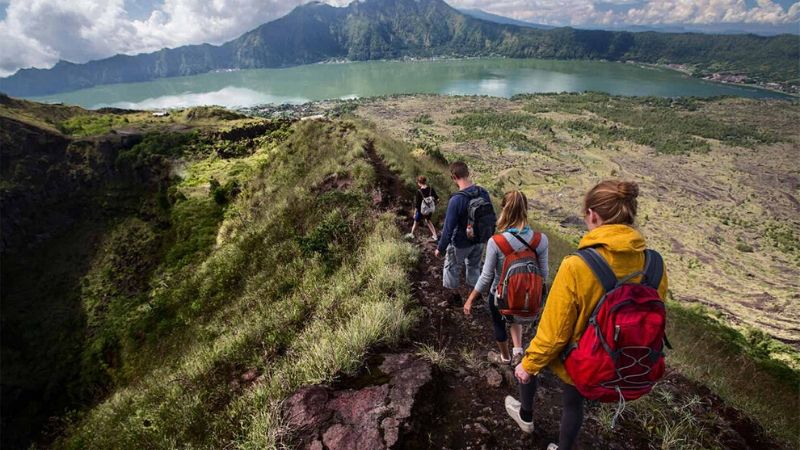 The first things that come to mind when we mention Bali are probably the beaches, temples and waterfalls. While these attractions are well worth the hype, there is so much more to the island. If you want to take a break from the Coast or you're more of a land dweller, there are plenty of hiking options across the region. One of the most popular choices is Mount Batur for the sunrise. Scaling this active volcano requires a 2-hour hike, but the view is worth every step of the 2am wake up call. 
Address: South Batur, Kintamani Bangli Regency Bali Indonesia 
Potato Head Beach Club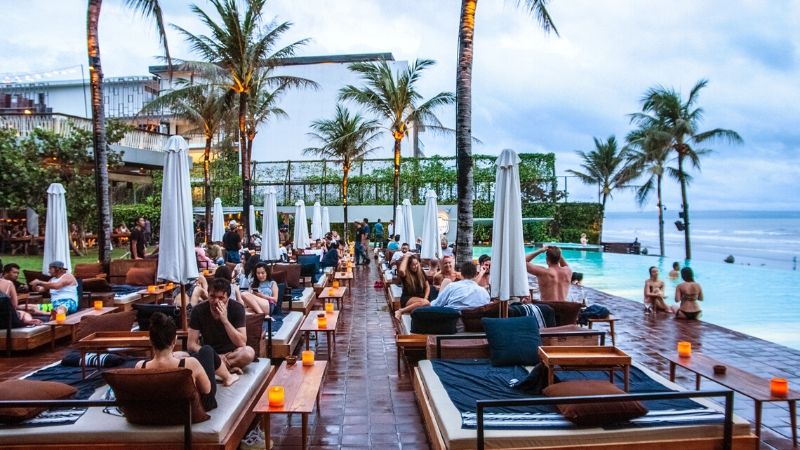 A trip to Bali is practically synonymous with sunset cocktails. Visiting this tropical oasis and not dropping by one of the iconic beach clubs is pretty much a crime – and Potato Head is about as good as it gets.  From the moment you step foot inside this waterfront locations, you'll feel like you've stepped into the shoes of a rich and famous celebrity. The decor is elaborate, the cocktails are never disappointing, the bikinis are skimpy and the view is world class. We should warn you though – Casual afternoon bevvies at Potato Head generally turn into a rowdy night out on the town. 
Address: Jl. Petitenget No.51B, Seminyak, Kec. Kuta Utara, Kabupaten Badung, Bali 80361, Indonesia
Contact: +62 361 4737979
Waterbom Bali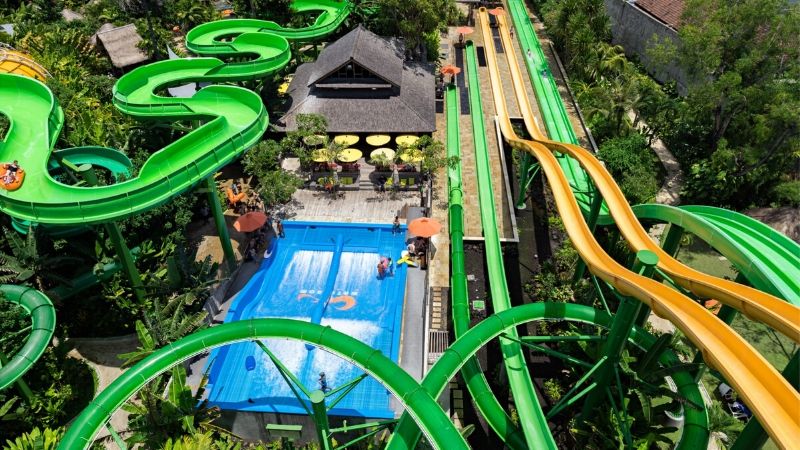 With your mate's final days of freedom quickly approaching, it's time to get wet, get wild and throw your adult responsibilities out the window. Waterbom Bali is an action-packed water park, located in the heart of Kuta. Before you roll your eyes and assume this is just one for the kids, just hear us out! This comprehensive park offers wakeboarding, waterskiing, kneeboarding and skurfing (a cross between surfing and waterskiing). You can also test your adrenaline threshold on one of the many twisting water slides and rides, which boast names like the Python, Green Viper and Super Bowl. If you're looking for something a little more slow paced, you can also unwind with a reflexology session, fish spa therapy or massage. It's everything you could ever want, and more!
Address: Jl. Kartika Plaza Tuban Kuta, Bali 80361 Indonesia
Contact: +62 361 755 676
Pura Tanah Lot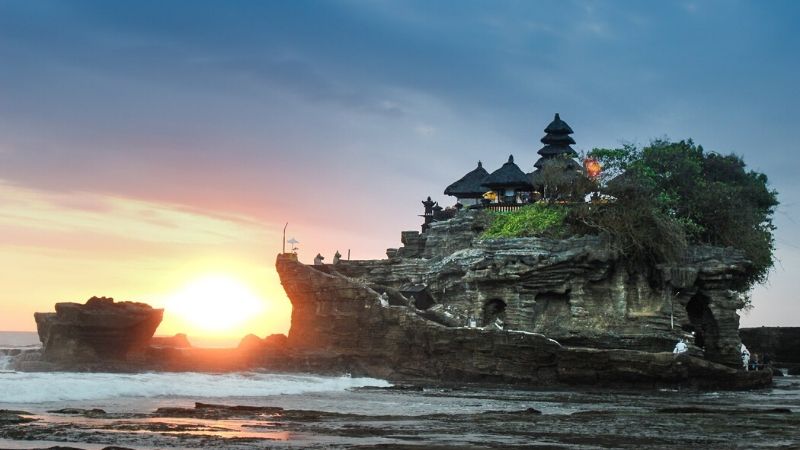 Head northwest of Kuta for around 20 kilometres and you'll stumble across Pura Tanah Lot. This is one of the island's most iconic and spectacular temples, and as soon as you step foot inside the seaside premise, you'll understand why. For Balinese people, this is one of their most sacred sea temples and has also become one of the most popular spots to soak in a legendary Balinese sunset. Although foreigners can't actually enter any of the temples, you can walk across to the main temple at low tide, and it's just as magnificent from the outside. 
Address: beraban Kediri Tabanan Regency Bali 82121 Indonesia
Tirta Empul Temple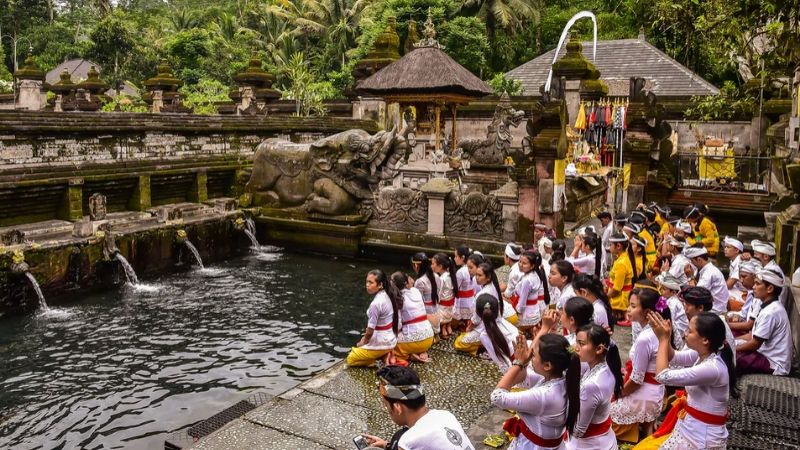 Another popular temple on the island is Tirta Empul Temple. Dating back to around 960 AD, this sacred place is situated in the lush and tropical forest of Central Bali. While it isn't on the coastline, the temple is equally as water-orientated. This important complex provides a glimpse into the sacred purification ritual that is so fundamental to Balinese culture and spirituality. The focal point of the venue is the large and rectangular pool, which is fed by mountain springwater. This is where locals come to pray and soak in the healing waters. You can join in too! The friendly locals are always keen to share their beliefs with newcomers, but we suggest seeking guidance from one of the experienced guides on site.  
Address: Jl. Tirta Manukaya Tampaksiring Kabupaten Gianyar Bali 80552
Agung Rai Museum of Art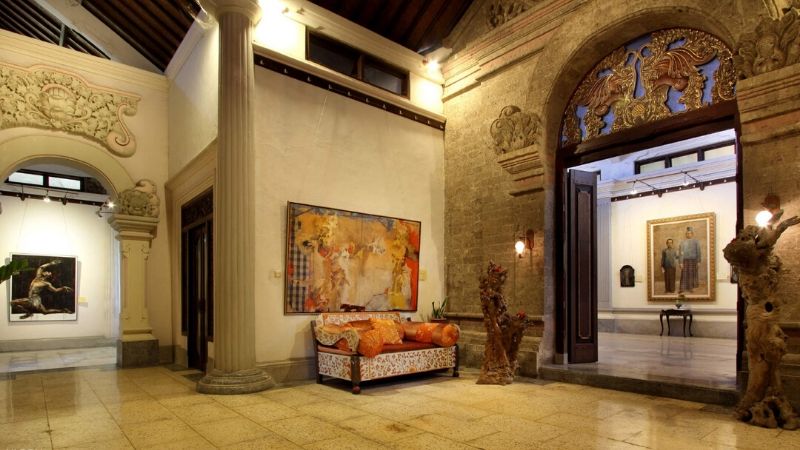 Ubus first rose to fame after featuring in the popular Hollywood blockbuster, Eat, Pray, Love. This in-land town is the epicenter of the island's art and culture scene. This is where the modern Balinese art movement was born, and is also home to a host of local museums and galleries. For an overview of the art evolution, Agung Rai Museum of Art should be your first stop. Collections at this gallery include everything from traditional to contemporary, and is a great idea for a slow afternoon. 
Address: Jalan Raya Pengosekan Ubud Bali Indonesia
Contact: 62 361 976 659
Seminyak Square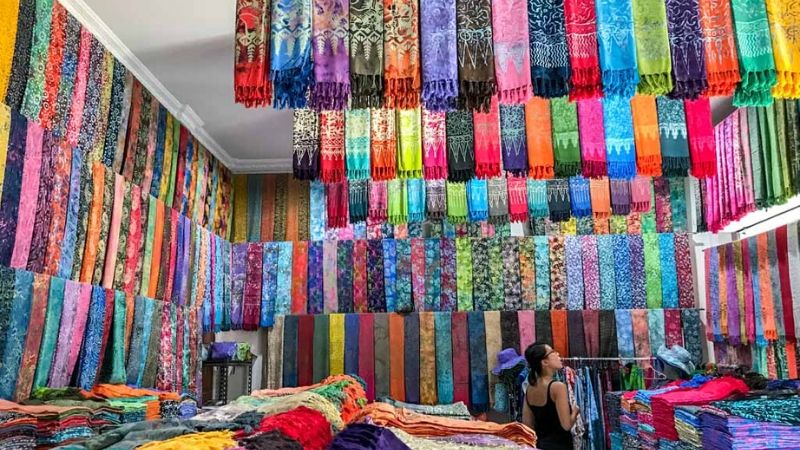 Bali is known for its incredible range of designers and fabulous boutique fashion stores. While you can pick up plenty of bargains in the local markets, Seminyak Square is a mecca for high-end fashionistas. Ranging from cutting edge designer fashion, surf and swimwear to jewellery furniture and homewares, you can get your hands on just about anything. Even if you're not much of a shopper, you'll definitely win some brownie points with your Missus when you bring her home a gift. You can thank us later. 
Address: Jl. Kayu Aya No.1, Seminyak, Kuta, Kabupaten Badung, Bali 80361, Indonesia
Nusa Lembongan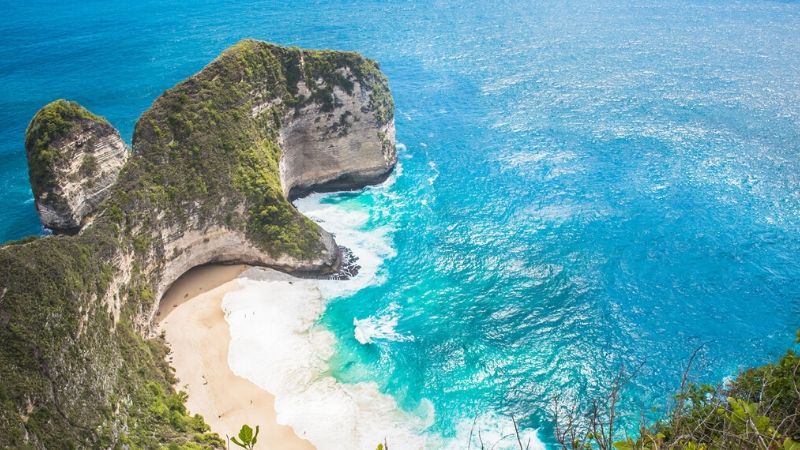 If you're looking for a slow-paced and easy going respite from the chaotic nature of Bali, The Nusa Islands should be at the top of your list. The most popular of the three islands is Nusa Lembongan. Situated about 20-kilometres offshore from Sanur, the dreamy island is easy reached by a speedboat. Once you step onto the island, the options are literally endless. You can spend your time surfing, snorkelling, diving, kayaking or even stand-up paddle boarding. Drop by for the day or stay for a night, you seriously won't regret it.