Race Day Adelaide Bucks Party Idea
We know you and we know how you like your rides. You like them fast paced, a bit rough and with a big prize at the end. That's why Wicked Bucks has the ultimate Race Day planned for you. This show might go all day long but we promise you'll love every minute. This is a show like no other. The South Australian Jockey club is the largest premier race club in the state and with 58 days of racing action throughout the year, there is plenty to be fascinated by.
With your very own trackside party, you'll feel like the King of the race course. When you manage to drag your eyes off the impressive horse action, you'll also be treated to a BBQ buffet luncheon, premium beverage service, betting facilities and live streams of other races. Don't forget to pack your best tux though because this race course will transform into a exploded pinata of fashion. There might even be something in store for the best dressed – There's only one way to find out.  
Experience Overview
Perfect for punters
Check out the fillies (oh, and the horses too)
Get suited up
Saddle up for a big day
Day drinking at its finest
Start the bucks party in style
Don't let the Buck blow the wedding fund
Get a Quote
Call for Info
5 Reasons to do a Race Day in Adelaide
Beers, betting and babes. What more could you want?
It might not be the race that stops the nation but a day with The South Australian Jockey Club is still worthy of the history books. Whether you leave up or down on the betting tables, everybody will leave feeling like a winner.
You won't be hitting the hay when the racing ends. After an afternoon trackside, you'll be primed and ready for the ultimate night out on the town. There really is no better way to prepare!
Even if you don't understand how the whole racing things work (because let's face it, how many people really do?) there is still plenty of fast-faced and high-energy trackside action to keep you entertained.
Have you ever dreamt of a day in the life of a Hollywood A-lister? When you're swanning around your private party in your sweet suit, you'll feel like the true celebrity you deserve to be.
Read More:  Adelaide Bucks Party Ideas | Adelaide Bucks Party Accommodation | Adelaide Bucks Party Packages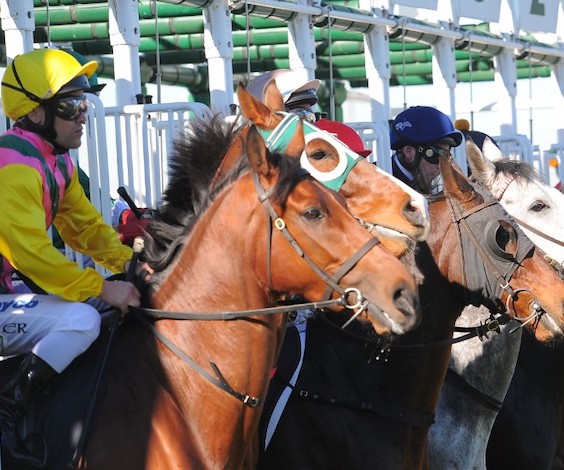 Making the most of your Race Day in Adelaide
For a city that has as much to see, do and eat as Adelaide, you'd be stupid not to have it at the top of your destination hit list. South Australia's capital has everything you've ever wanted to do (and everything you never knew you wanted to do). Visiting this city without stopping into the Central Markets is like visiting Rome and not indulging in a gelato (or 10). With hundreds of stalls to explore, you'll find everything from wild mushrooms and gourmet cheese to handmade chocolates and freshly baked bread. The best part about this foodie wonderland is the amount of free samples on offer – There's enough to feed a small army.
For the budding David Attenborough's out there, Adelaide is also a green haven. The city has cycling tracks to ride, mountains to climb, rivers to kayak and beaches to sunbake on. Like every city does, Adelaide also offers an abundance of nightlife options. Whether you want to cut shapes on a techno dance floor until the sun comes up, sip whisky in the corner of a hazy bar or catch a game at the local pub – there is something for you. Whatever it is you're after, Wicked Bucks can make it happen. All you need to do is say the word. Check out our Bucks Party Packages Adelaide has available.