Boat Party Cruise, Boob Cruise, Stripper Cruise & Party Boat for Hire
Pack your best sailor's hat and don your favourite loafers because this Boat Party Boob Cruise is about to jet off – Ahoy! A Bucks Cruise through the majestic Adelaid-ian waters will leave you feeling like the true A-lister Hollywood star you are. This is one boat you won't want to miss this bucks party. There's nothing we love more than a day out on the sea, except maybe to do so with a cold beer in hand. If that sounds like something to get excited about, we've got the remedy for that specific kink.
Operating from the prestigious Royal SA Yacht Squadron, this Boat Cruise with boobs will put your weekend kick-about on the tinny to shame. Whether it's an exhilarating sail along Adelaide's postcard-perfect coastline, a Hollywood style party on the Port River or simple just an opportunity to laze on deck and catch some rays, our Boat Cruise promises you a rocking-good time. You can expect a full food and drinks package (or BYO if you prefer to drink from your favourite esky) and an instagram worthy view.
Experience Overview
Kickstart the bucks party in style
Drinking allow on deck
Option to include girls
Music on board
Catering and beverage package options
Experienced captain and cabin crew
Rock the boat
Get a Quote
Call for Info
5 Reasons to do a Boat Party Cruise in Adelaide
Adelaide's waters are known for being calm and serene, which means this may be the gentlest ride you've ever had.
Our Bucks Boat Cruise can be tailored to suit whatever your needs are. Whether you're an adrenaline junkie or budding National Geographic photographer, we can design a cruise to keep you and your buddies happy.
Are you sick of the Missus complaining about your inability to multi-task? Wait until she hears about this one. You'll be partying with your mates, while touring around some of Adelaide's most iconic scenes and catching a tan. It's pretty impressive in our books.
Feeling nauti? After a day spent relaxing out to see with your mates, you'll be set and ready for the ultimate night to follow.
It'll just be you, your mates and the big open sea (oh, and the sailor too). Without the worry of neighbours to make noise complaints, you can celebrate as loud as please.
Read More:  Adelaide Bucks Party Ideas | Adelaide Bucks Party Accommodation | Adelaide Bucks Party Packages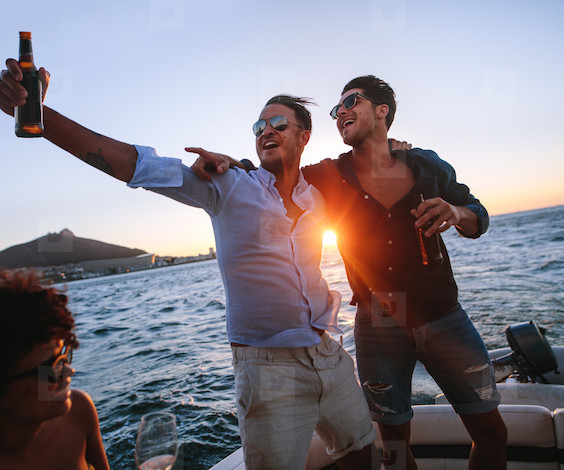 Making the most of your Bucks Boat Party Cruise in Adelaide
Despite offering postcard perfect beaches, an array of award winning wineries, locally grown farmers markets and a bustling nightlife, Adelaide is often overlooked as a holiday destination. Wicked Bucks has been in on the know about this underrated gem for quite a while now – long enough to uncover all the must-do activities. Adelaide is Australia's festival capital and reading through the list of events on offer feels longer than a minute on the treadmill. In the South Australian city you'll have your pick from all the big happenings like WOMADelaide, the Fringe Festival, Tasting Australia, and Tour Down Under, as well as smaller street parties, night markets and family festivals.
Only a hop, skip and a jump from the city CBD, you'll find National Geographic worthy views. With beautiful beaches, stunning nature, landscapes and wildlife, even David Attenborough would be jealous. We don't want to hold you up too much longer because we know you're probably already jumping online to book your tickets to Adelaide. Before you do anything crazy (like sell your house and move to this dream-like destination), give Wicked Bucks a call and we'll do all the hard work for you (we refuse to pack the boxes through). Let us give you the ultimate Bucks Party in Adelaide.