Sky Challenge Adventure Park Adelaide Bucks Idea
If you've got a high pitched squeal and a low tolerance for adrenaline, then this activity probably isn't for you because a day at Adelaide's SkyChallenge will leave you weak at the knees and screaming for more. It might just be the biggest rush you can have fully clothed. Who ever said Adelaide was dull and boring obviously never visited the SkyChallenge. With over 70 obstacles available for you to tackle, this adventure park is bigger and better than anything your 10-year-old-self could imagine.
Although this is probably one of the few Buck's Activities where sobriety is required, you might feel like you're tripping when you play tennis in the sky, row a boat mid air or manoeuvre between obstacles like a floating esky. If you think you've got a little James Bond hidden inside of you, why not take the leap of faith from the MegaJump? Whatever level of radical you're ready to try, the SkyChallenge crew will be there to keep you safe in their world-class harnesses and laugh at your inevitable squeals.
Experience Overview
Alpha Competition
Harnesses included
SkyChallenge's MegaBounce
One of a kind
Over 70 obstacles
Sobriety is required
Sort the boys from the men
Get a Quote
Call for Info
5 Reasons to do the Sky Challenge in Adelaide
A group of guys at a Buck's Party screams one thing: Alpha Competition. If you're keen to sort the boys from the men, SkyChallenge is your answer. Let your inner primary school ego meet your full-grown self and turn "last one down is a rotten egg" into "last one down is shouting drinks tonight" – we think it's a winner
You might not be able to bring your beers up in the harnesses with you but when you get the adrenaline flowing and the heart pumping, the pace will be set for an epic night to follow.
You've probably dreamt wish of being a bin chicken but maybe the perks of being able to fly have crossed your mind before? With SkyChallenge's MegaBounce you'll be strapped in and ready to launch yourself 8 metres into the air. It might not be the heights of a Boeing 737, but you'll still have plenty of room to flip and somersault your way through the air
Looking for some quality time with your mates? At SkyChallenge, you'll literally spend an afternoon "hanging" with them
SkyChallenge is a one of a kind adventure park in Australia. With the only other sister park being the flagship in Singapore, you won't get an experience quite like this anywhere else in the country.
Read More:  Adelaide Bucks Party Ideas | Adelaide Bucks Party Accommodation | Adelaide Bucks Party Packages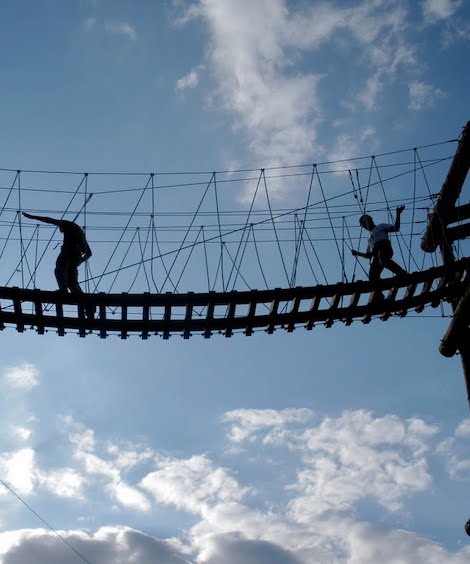 Making the most of the Sky High Adventure Park Challenge in Adelaide
They weren't kidding when they called it Radelaide. South Australia's Capital may have one the title of most underwhelming city in Australia, but we think these reviews are all wrong. Whoever came up with this rep obviously never visited the region with the expertise of Wicked Bucks. Adelaide is brimming with festivals and events, without the maddening crowds of Sydney and Melbourne. During Mad March, you'll find some world renowned celebrations – the Fringe Festival, WOMADelaide, Tour Down Under and Taste Australia. This Southern secret is also Australia's capital of wine.
Although you'll find wineries all around the country, no other cities has so many offerings within a short jaunt of the CBD. Hidden in this hinterland is some of the country's most recognised brands, such as Penfolds, Yalumba, Wolf Blass and Jacob's Creek. Don't think Adelaide has forgotten the party animals either. Although the city only has a population of 1-million, you'll still find a bustling nightlife scene every day of the week. You can pick from laid back bars, pumping nightclubs or fine-dining eateries. Whatever it is you're looking for, Wicked Bucks can find it in Adelaide. All you need to do is round up your mates, pack your bags and prepare for the ultimate bucks party.