Bucks Barefoot Bowls Bay of Islands + BBQ
With your buddy preparing to walk down the aisle and marry the woman of his dreams, it is your job to prepare him for what is ahead. Think: Sunday brunch with the in-laws, Saturday nights on the couch watching The Bachelor and fighting over who stacked the dishwasher last. It sounds just like the lifestyle of your grandparents, right? Well, there is no better way to show him what he is in for than with a session of Lawn Bowls. It's your Grandpa's favourite past time and from the moment you step out onto the greens you will understand why.
Have you ever wondered why the senior citizens of the world spend so much time at their local bowling club? You're about to find out that your Nanna really knows what's up. After donning your best white apparel (It's all about looking the part, even if you've got no idea what you're doing!), and ridding your shoes, and prepare yourself for the competition of all competitions. 
The Bay of Islands "Winterless Weather" lends itself nicely to the sport, which requires you to hurl a few balls down the green, with the aim of getting as close to the marker as possible.  We'll throw in bowls, a mat, a jack and a quick demo if you're a bit rusty or you've been tuning out when your Grandpa recounts his epic Tuesday lunchtime win.
To top it all off, you can hit the greens with a schooner of shandy (hold the lemonade) in hand. The fun never stops at this Bowling Club, where there is also a fully stocked bar and kitchen to celebrate your win or drown your sorrows. Don't judge these oldies by their looks, you'll be surrounded by pros who have a lotta hot tips to give. Beers, balls and bucketloads of banter. What could be better? Absolutely nothing. 
Experience Overview
Balls included
Green hire
Bar onsite
Great for competition
Sink some beers barefoot with the boys
What better way to ease into a big night
Get a Quote
Call for Info
Reasons to bucks barefoot bowls
Barefoot Bowls is basically available around the clock. Catering to the older citizens of the community, who aren't really doing too much else with their days, this venue keeps its doors open every day of the week. The crew of grey-haired legends ensure they always have a spare green free, and are always ready to give you a few pointers. 
If stuffing your cob and wetting your whistle is a little more up your alley, then you can look forward to the feed and bevvies to follow. Whether you hit up the basic but trusty on-site bar or you venture further into the city, Barefoot Bowls will have you amped up and ready to go. 
For just a tidy little fee, you can have endless hours of fun. You might not have the skills of your Grandad or the patience of your Nanna but you can still be the laughing stock of your group. 
Barefoot Bowls is ideal for Bucks Party groups of any size. Wicked Bucks can cater packages to suit any age group, interest and ability. You can cram onto one green or rent the entire joint out. 
Even after Summer ditches the party, the Bay of Islands doesn't let winter wrap its crusty claws around the city too tightly. The year-round warm weather means you can hurl balls down the green in any season.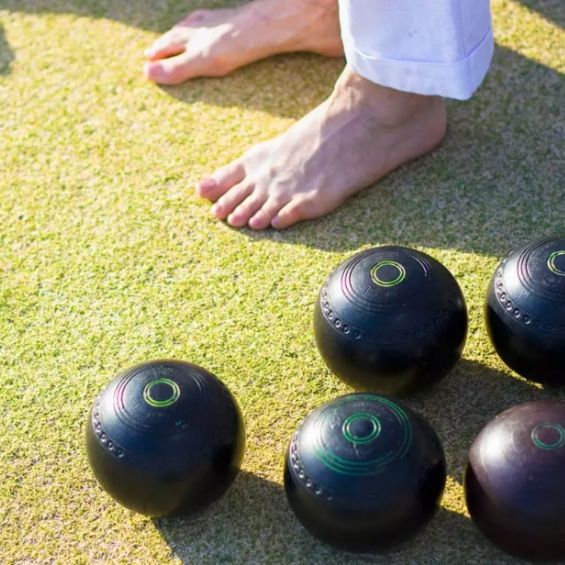 Making the most of your Bucks Barefoot Bowls Bay of Islands
If you're seeking summer-time fun, sea, sailing, sightseeing, spectacular scenery (excuse us for getting too excited), then New Zealand's very own Bay of Islands is calling your name. Situated on the country's North Island, this subtropical destination is practically a nature nerd's dream come true. From the moment you step food into the micro-region, you'll be treated to postcard-perfect views, idyllic clear waters, golden beaches and thrill-fuelled adventures.
There are more than 140 different islands to explore, meaning there is always an abundance of land and sea exploration on offer. If you're looking to shower your Buck with a bit of good luck, there is even a famous Hole in the Rock, which was sculpted after centuries of sea and wind erosion, and is seen by the locals as a good omen.
The North Island is home to the country's first vine plantation, which is a pretty good excuse to visit the local wineries. The eclectic wine tasting experiences will give you a behind-the-scenes glimpse at where the magic happens, leaving you with a new-found appreciation for your favourite vino. So you've heard us rave about the islands, now it's time you paid the region a visit yourself. Say hello to a tropical escape with the boys, and wave goodbye to any type of logistical responsibility.
Wicked Bucks has your back and we can promise a celebration that will go down in history.