Skydiving Bay of Islands on the Bucks Weekend
With a partner locked down, a wedding on the way and an entire party in celebration of his efforts, it's no surprise that your buck is starting to get a big head. While it is important to show him a little bit of love before the big day, you don't want to let him get too carried away. Put the soon-to-be-groom back in his place by scaring the absolute living daylights out of him. He might think he is a mister tough guy, but when he looks out of the helicopter in the minutes before his Skydiving jump, his face may say otherwise.
Looking for a rush? An adrenaline rush greater than that moment you heard your parents pulling into the driveway in primary school, and you realised you'd forgotten to take the meat out of the freezer? Well, well, well, you've come to the right place. You won't find an adrenaline-packed rush bigger than Skydiving.
After donning a glamorous (i.e. grossly coloured and baggy) jumpsuit and strapping into your safety harness, you and the boys will be taken up into the air in your private helicopter. After several minutes you may look out the window and realise just how high up you are – but don't worry, that's just the halfway mark. Once you finally reach the dizzying height of your jump point, we suggest strapping a Go-Pro to the chest of your Buck. You can thank us later.
Before you even have time to back out of this ludicrous idea, your highly experienced instructor will jump out of the plan, with you strapped to their front. The first few moments flying through the air are like nothing else you will have ever experienced. After what feels like an eternity, the parachute will open up so that you can slowly drift your way back down to the ground. Along the way you will have a unique and uninterrupted view of the idyllic, postcard-perfect landscape. It's equal parts thrilling and enchanting.
Reasons to choose this activity:
While you might feel like this is the most dangerous thing you'll ever do in your life, you are in good hands. All of the instructors are highly experienced and safety underpins every aspect of the experience – which is kinda important when you free fall for up to a minute at 200km/hour. 
The adrenaline rush. It's unlike anything else you will ever experience. When you touch back down to the ground, you feel like you've conquered a mountain, finished a marathon, won a pie eating contest and graduated university with your Masters – all in one day. 
Skydiving sets the mood. Not in the romantic, candle lit dinner for two sort of way, but in the "LET'S GET BEERS AND CELEBRATE" kinda style. It's the perfect way to amp up your group for an epic night out on the town. 
If you're looking for some content for your best man speech, this is gold. Re-enacting the Groom's face, reaction and high pitched squeals are enough to send any crowd into uncontrollable fits of laughter. If you remember to strap a GoPro to his chest, you'll even have footage to laugh over by the time his Birthday rolls around. 
This may be one of the few Wicked Bucks activities that requires you to hold back on the bevvies beforehand, but we promise that the cold beers taste 137% better afterwards.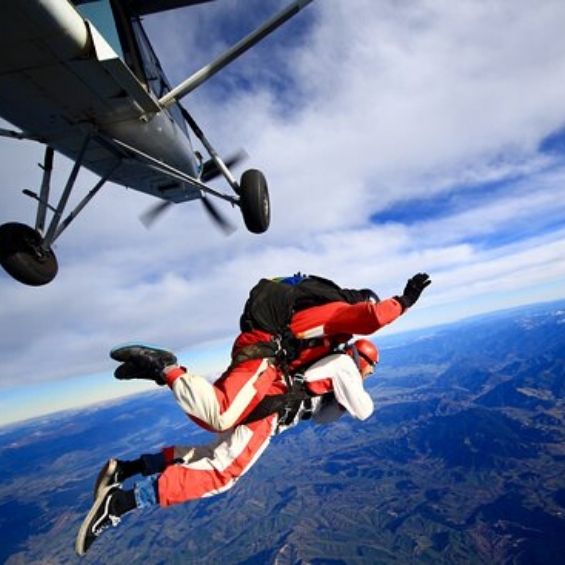 Making the most of Skydiving in Bay of Islands
Bay of Islands is the type of place you see on a postcard, the front cover of a travel book or in your Instagram feed. It's a destination that looks and sounds almost too good to be true, but after doing the hard yards of research, we can assure you that this north islands destination definitely lives up to the hype. As one of New Zealand's most popular summer destinations, the breathtaking natural beauty and 144 island make it the perfect aquatic playground. Boating, fishing, swimming, kayaking and snorkelling are all popular past times, and the endless warm conditions means you can embrace your inner marine qualities at pretty much any time of year.
The towns of the Bay of Islands all take advantage of their natural surroundings, to provide a range of locally-produced and drool worthy menus. The incredible range of restaurants, cafes and bars rivals the offerings of a much bigger city, without all the hustle, bustle and waiting times. There are dining options to suit all tastes and many of the venues also have ocean, bush or orchard views. Whatever you're looking for, you'll be able to find it in the Bay of Islands. It's the type of destination that will leave you wanting more – in the best kind of way.
Show your Buck some wholesome love and give him the send off he deserves. You'll earn plenty of brownie points for being the best best man, and you won't even need to do any of the hard work. That's what Wicked Bucks is here for. It's as simple as packing your bags and rounding up the boys.