Kayaking Bay of Islands
Ahh, marriage. It's an absolute wild rollercoaster ride, full of ups and downs – hopefully bringing more ups than downs through. When your buddy dropped the knees, his biggest concern was probably not if she would say yes, but how he was going to break the news to the boys. There is nothing like a wedding announcement to rock the boat of bro-mance. Now it's your turn to rock his boat – literally – with an afternoon Kayaking through the Bay of Islands. It's the perfect waterside adventure for this beautiful destination and if you're lucky, you can even capsize his boat and send him swimming back to land.
Can you smell that? Do you know what it is? No, it's not the Chinese takeaway containers from last night that are still sitting on the bench in your kitchen (Don't worry, we won't tell your Missus). It's the scent of adventure. The nature-fuelled, outdoor-wonderland, sun-drenched and memory-filled kinda adventure.
The Bay of Islands is one of the places where the water is perfect, the marine life is in abundance, the sun is always out and the vibes are always pumping. It would be just plain rude not to embrace it all. Kayaking is the ultimate opportunity to spend a day floating around on the water, soaking in the natural beauty, meeting friendly locals (aka. the fish, dolphins, turtles, manta rays and more) and ticking off all the iconic landmarks too.
The expert local guides will take you to uninhabited islands, past rugged cliffs and across the crystal clear waters, while also giving you an incredible insight into the rich Maori Legends and culture. Whether you want to feel the spray from the unique horseshoe-shaped waterfall or explore the coastal waters, there is a tour for everyone. Wicked Bucks can cater to all levels of experience and desire for adventure. Regardless of which package you choose, we can guarantee you won't regret it.
Reasons to go Kayaking in the Bay of Islands
Including ½ days to full days to even multiple days on the kayak, Wicked Bucks can tee-up an experience to suit everyone from the novice paddlers to the gun-Olympic bound athletes of the group. There are no excuses for skipping out on this one. 
The Bay of Islands is comprised of more than 140-islands. The sub-tropical micro-region has amassed an international reputation for it's jaw-dropping scenery and glistening waters. While you can experience this scenery from the land, kayaking across the surface, past the cliffs, through the caves and along the edge of islands will provide you with a unique and uninterrupted view of the area. It's so perfect that we will forgive you for getting distracted and crashing into our kayak. Only once though. Anymore than that and we'll capsize yours. 
During a day out on the water, kayakers seem to develop a unique bond with each other. Maybe it's the sense of camaraderie that emerges from paddling through waterfalls together, maybe it's the laughs that were shared when your Buck flipped his kayak, or maybe it's just sunstroke from being outside for too long. Whatever it is, it's a feeling that creates a bromance to rival even the likes of One Direction. 
It might sound like a casual afternoon paddle, but we can make things a little spicer – if you would like, of course! All you need to do is say the word and we can chuck a few spanners in the works to keep you on the edge of your seat. 
Whoever said organising a wedding is stressful obviously never tried to line a group of blokes up for a Bucks Party. Stress relief is probably one of the most cited benefits of Kayaking, and it'll set the tone for the rest of the party.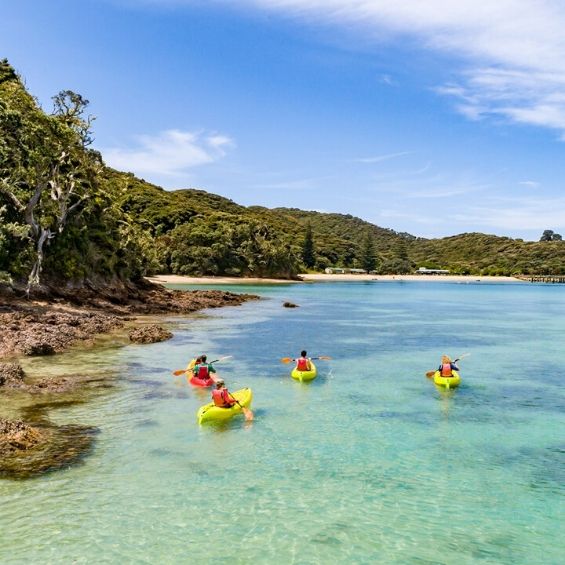 Making the most of Kayaking Bay of Islands
Beautiful beaches, pristine islands, an abundance of marine life, waterfall, lush greenery and rich history – The Bay of Islands is a full-packed. You name it, this destination has it. Spread over 144-islands, you are spoilt for choice in this tropical oasis. With year-round warm conditions, you can spend your mornings kayaking under waterfalls, indulge in a generous lunch overlooking the water, before skydiving in the afternoon and hitting an eclectic bar at sunset.
True to the reputation of New Zealand, there is a seemingly endless string of adrenaline-fuelled activities on offer. Skydiving, white water rafting, mountain biking and go-karting are just a few of the opportunities to satisfy your inner thrill seeker. The region is also home to an abundance of wineries, which offer behind the scenes tours and an opportunity to sample their world-class selection of drops.
All in all, the Bay of Islands is just about as perfect as they come. The best part is, you don't even need to lift a finger! Wicked Bucks has all your logistical needs covered, so just round up the boys, pack your bags and get ready to celebrate your mates final days of freedom.