Bucks Scuba diving Bay of Islands
Throwing a Bucks Party these days isn't easy. It's hard to find something that is adventurous, fun for everyone and not overdone. You want it to be out of this world, but like, actually still realistic. Still scratching your head and looking for ideas? Let Wicked Bucks help you out. Scuba Diving and Snorkelling is the best way to feel like you've been transported into another universe without actually leaving reality.
Thanks to plenty of Hollywood Blockbusters (The Hangover, we're looking at you…) there is now an expectation that Bucks Parties are taken to the extreme. As the Best Man it is your responsibility to throw a celebration that goes down in history as "THE BEST THING EVER!". 
Scuba Diving or Snorkelling is an epic adventure or challenge that will suit dudes from all walks of life. After a quick briefing from the professionals, you'll be strapped to a tank, taken out to sea and transported into another world. There is really nothing else like swimming underwater for up to 40 minutes, alongside turtles, fish, mesmerising coral, manta rays and even the odd shark (Don't worry, these guys are friendly).
If that sounds a little too extreme, you can also opt for the snorkelling option. Floating around on the surface of the water will give you one of the best seats in the house. The view is unparalleled, the water is surprisingly warm and the company is even better.
Experience Overview
Enjoy Bay of Islands from below
Witness beautiful reefs and protected marine reserves
Get a Quote
Call for Info
5 Reasons to choose this activity:
Bucks Parties are an opportunity for the soon-to-be-groom to bond with his nearest and dearest. Whether it's his Great Uncle Harry, his best friend from primary school or his fiance's brother, this celebration is a chance for some quality bonding. While you're out to sea and underwater, there are no phone calls to answer, emails to respond to or distractions in the way, meaning you can focus on being in the moment with the people that matter. 
Is life bringing you down? Watching your buddy prepare to walk down the aisle may leave you feeling a little heavy as you reminisce on all the cheeky antics you got up to in the past. Scuba Diving is the way to defy gravity and get that weight off your shoulders – literally. Learning to dive is a feeling of neither sinking nor floating, it's just a damn sweet spot. 
The muscle pump of carrying your tank around all day will help pick up the ladies in the bar later than night. Guess who is going to #score tonight??
Did it really happen if it wasn't on Instagram? Scuba Diving or Snorkelling provides ample opportunity to capture that epic shot! This is particularly helpful to one up your friends at home that are always posting about their new cars, running PB or charity venture. 
The Bay of Islands is literally world-renowned for its marine life and amazing scenery. There is no better place to explore the underwater world than in this idyllic aquatic destination.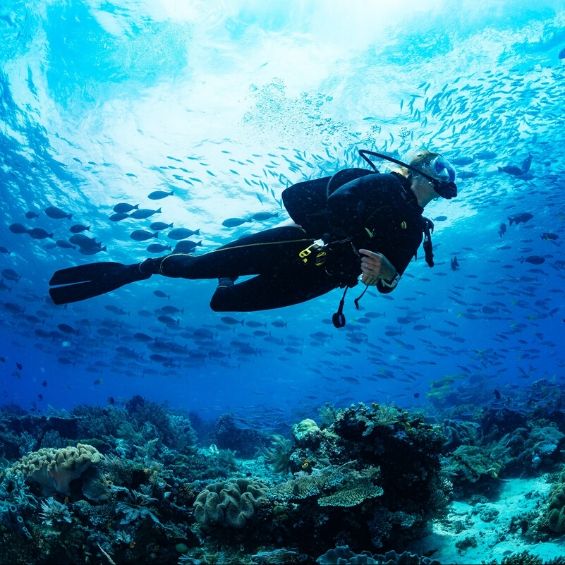 Making the most of Scuba Diving/Snorkelling Bay of Islands
As the birthplace of New Zealand, the Bay of Islands encapsulates all of the best aspects of the country. The North Island destination is one of the most spectacular and picturesque regions on the globe. Boasting year-round warm conditions, it is the perfect place to channel your inner nature-nerd and soak in the abundance of marine life. Imagine swimming in crystal waters next to dolphins, watching whales migrate from the top of a cliff or hiking past seals as they're perched on rocks.
The rich history also provides a unique insight into the eclectic mix of Maori tradition and European culture. This rare intersection of customs is evident in the abundance of dining options. The restaurants, cafes and bars all take advantage of their natural surroundings, craft menus from fresh, sustainable and ultra-tasty local produce. While it might sound like a sleepy and sun-drenched lifestyle, the local residents still know how to have a good time after dark. Once the sun goes down, the vibrant string of nightlife venues pump live music, DJ sets and all your favourite tunes until the next morning breaks.
It's probably one of the most energetic seaside towns that we've ever visited. The Bay of Islands is the perfect combination of relaxing vibes and memorable adventures. We've spent our fair share of time across the 144-islands, to gain insider knowledge. All you need to do is say the word, and we'll show you how to have a good time in the Bay of Islands.