Fish and Snitz Sydney Dinner Ideas
Wicked Bucks has a boys night out that you definitely won't regret. We're talking serious dude food, cute topless waitress and a spunky private show for your party goers. These babes will have all your senses tingling – including your taste buds. They're fun, they're flirty and they're here for you. These cute topless waitresses are like something out of your wildest dreams. The night will kick off with these lovely ladies serving you some serious dude food. 
We took to responsibility of road testing the offerings and we can assure you that this food will have you drooling – even months after you finish the meal. Once the night goes on, these cheeky babes will slowly lose their skimpy diner style get-ups. The raunchy action doesn't stop there though! It turns out they're not just waitresses – they're performers too. The showgirls will keep the party rolling with their elaborate Burlesque acts, but on stage and among your crew. Like what you're hearing? We thought so.
Experience Overview
Chicken Parmi + Boobs
Great for large groups
Plenty of chicken fillets
Dinner with a view
Get a Quote
Call for Info
5 Reasons to choose Fish and Snitz in Sydney
This joint does everything in generous servings. We're talking food, drinks and yeah.. The rest is up to your imagination. 
Your buddy is preparing for his big day and there is no better way to celebrate than man of the hour than with some blokey fun. You'll have beers, burgers and banging babes. What more could he ask for? 
We're not sure if the food or these chicks are more beautiful. It's a close competition. We won't make you pick though. You can have them both. 
Nobody likes sharing when it comes to these things. That's why we've tee-d up a private and secluded section of the venue so that this show will be for your eyes, and your eyes only. 
Anything goes really. Just try not to bite off more than you can chew because these ladies have more experience than you and the boys combined.
Read More: Top Things to do in Sydney | Sydney Bucks Party Ideas | Sydney Bucks Party Accommodation | Sydney Bucks Party Packages | Bucks Party Games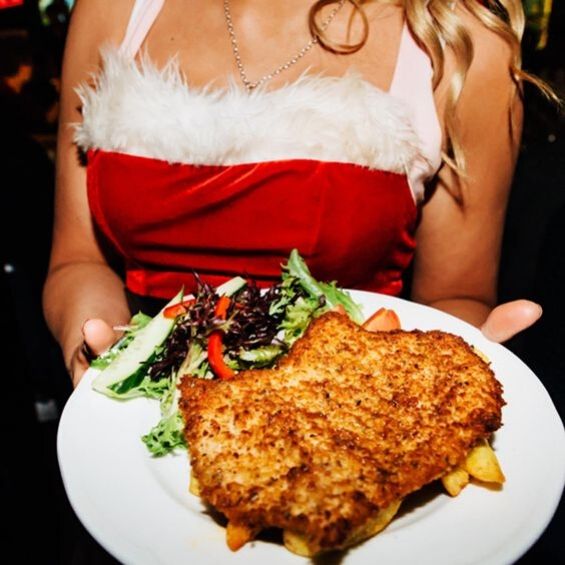 Making the most of Fish and Snitz in Sydney
Sydney may not be the capital of Australia but it's definitely our favourite. This thriving metropolis offers everything you could ever want – and everything you never knew you wanted. It's hard to ignore just how beautiful Sydney is. In fact, you'll find some of the world's most unique landscapes and wildlife when you're exploring the countless hiking tracks, national parks, walks and beaches. The diversity doesn't stop there.
Sydney is home to an incredible array of cuisines and your choices range from a casual night market feed to the most luxurious of fine dining.  We know that no Bucks Party is complete without an epic night out on the town and Sydney will not disappoint you. Whether it's on a roof, in a basement, by the pool or even at a suburban bowling club, Sydney-siders love to party. If you're up for a good boogie and you're ready for the party of a lifetime, let Wicked Bucks take the reins. We have you covered.