Barefoot Bowls & BBQ Sydney Bucks Party Idea
It's no secret that lawn bowls is making a big comeback and people are stripping off (their shoes) all around the country to get in on the action. So grab your mates, get on the shandys (hold the lemonade) and get ready for the ultimate afternoon ball action.
We think your grandpa has cracked the code. All these years he's known the best balls technique – But now his secret is out. Strip down and round up the boys – the local lawn bowls club is where it's happening.
Once the realm of social seniors in Napisan-clean whites, lawn bowls has been adopted by a younger, barefoot, beer-sinking generation.
While you're welcome to get as competitive as you can, the bowling bit can also just be an excuse to spend a lazy afternoon in the sun. It doesn't stop there though, when you've finished letting the grass tickle your balls, we've got a full BBQ spread too. Don't let your Grandpa keep his secret any longer.
Experience Overview
Aussie BBQ
Option to include Bowl Bunnies
Sink beers barefoot with the boys
Lose track of the score
Show off your ball skills
Bar onsite
No better way to ease into a big night
Get a Quote
Call for Info
5 Reasons to go Barefoot Bowling in Sydney
What guy doesn't love some ball action? You'll be rolling with joy for hours.
While lawn bowls may be slower than your typical sport, that doesn't mean you need to be any less competitive. Split your bucks party into teams and make the winner shout drinks – It's sure to give this activity an added injection of adrenaline.
Many of Sydney's lawn bowls clubs are beautifully situated and offer views of the iconic Sydney Harbour. So kick back and soak up the atmosphere.
This is one of the few no-experience needed sports. Whether you're a master of the spin or your aim is a little off, lawn balls will hit everyone's sweet spot.
Although Bucks parties are guaranteed to produce an abundance of stories and memories, it's likely many of these will be G-rated. Barefoot balls is one experience you'll be able to go home and share with your Nanna.
Read More: Top Things to do in Sydney | Sydney Bucks Party Ideas | Sydney Bucks Party Accommodation | Sydney Bucks Party Packages | Bucks Party Games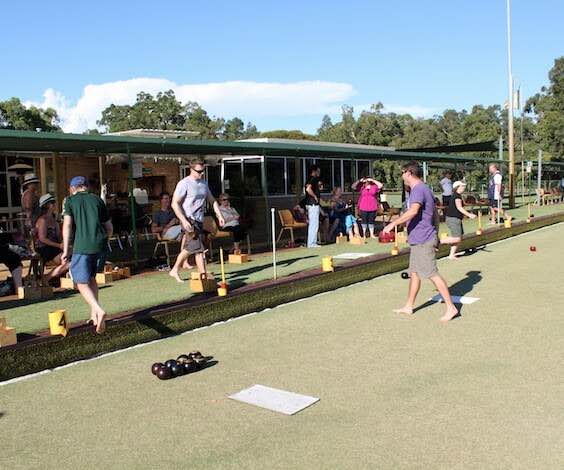 Making the most of your Barefoot Bowls in Sydney
Thanks to "The Coat Hanger" or as you may know it, "The Sydney Harbour Bridge", Sydney is a tourist hot spot. Welcoming over 10 million international and domestic visitors each year, there's no arguing that this thriving metropolis has something for everyone.
With a postcard perfect harbour view, iconic nightlife scene and an endlessly list of 'gramworthy restaurants, your Buck will struggle to keep up. 
When you've finished ticking off all the bucket list tourist spots to make ya Mumma proud, some quirkier activities include:
Bucks Party Cruise: It's time to bust out your sailor's hat because there's a boat party cruise – Ahoy! This is your chance to kick back, channel your inner Leonardo Dicaprio and swan about on a boat like the true superstar you are. You'll be treated to a delicious buffet, fully stocked bar and some extra special topless waitresses.
Indoor Bubble Soccer: Yes, the name says it all. This really is soccer in a giant inflatable bubble. Grab your mates and get ready to roll around, this will pump up your Stag party.
Go-Karting: Don your best Mario and Luigi costumes, because this is real life Mario Kart Racing. Well not quite, but go-karting is about as close as you can get.