Jelly Wrestling Sydney Bucks Party Idea
What do you get when you cross heavy-contact sport with half naked babes? If you think the answer is only in your wildest imagination, you are wrong. This is reality calling and we have a night full of jelly wrestling and pillow fights for you.
This is one instance where you won't mind being taken down by a girl. Eat your dinner boys because dessert is where it's at tonight. Jelly Wrestling and Pillow Fighting is where your fantasy meets a Sex in the City sleep over.
While you're sinking beers with the boys, you'll be treated to the best topless sheilas, acting out your day dreams. In between pillow fighting, wet t-shirt competitions and jelly wrestling, there'll be a side serving of dude food and a free-flow of drinks – served by more Sydney topless waitresses, of course.  
If dessert was always this sweet, you'd never have a problem eating all your veggies. Get in touch with our bucks party planning specialists today for a custom activity package.
Experience Overview
Get ready to rumble!
2/4 girls throwdown
Wild night of entertainment
Music and lights provided
Cheer on as a spectator
Jelly arena provided
Pillows provided
Get a Quote
Call for Info
5 Reasons to have Jelly Wrestling in Sydney
These girls won't be the only ones feeling hot, sticky and out of breath by the end of the night. You'll may be pinching yourself the entire time but we promise – this is real!
If you've never wondered what happens at a girls sleepover, you're either lying or you're lying. Imagine no more. We can't promise this is EXACTLY how it goes, but it's close enough.
As your focus and attention is needed centre stag, being distracted by a trip to the bar is the last thing you need. That doesn't mean your glass will be empty. Topless bar staff will be at your beck and call to keep the beers flowing and spirits high.  
Each round gets naughtier and nakedier, until these women are topless and panting. You'll be on the edge with anticipation for the entire bachelor party night.
Dessert is everyone's favourite meal of the day. There's nothing like a bowl of jelly, topped with naked babes and a side of pillows. You'll definitely be going back for seconds.
Read More: Top Things to do in Sydney | Sydney Bucks Party Ideas | Sydney Bucks Party Accommodation | Sydney Bucks Party Packages | Bucks Party Games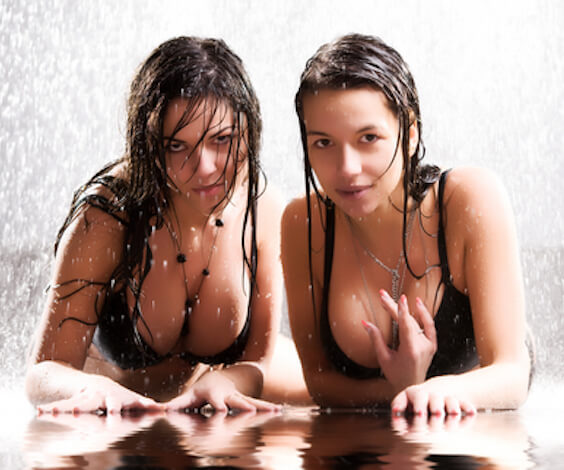 Making the most of your Sydney Jelly Wrestling and Pillow Fighting
Sydney is the home of all things FUN. With more than 12,368km² to explore, you can wreck more havoc than Dennis the Menace. The iconic Kings Cross offers a host of cheeky strip clubs and pumping nightclubs.
For a more chill vibe, you'll find endless rooftop bars and beach front restaurants along the Coast. If that hasn't sold you yet, Australia biggest city also offers the iconic harbour, a New York style skyline and luscious national parks. The views are so delicious, your instagram followers will be salivating through their screen.
The East Coast hub is pretty temperate year-round, averaging at 26 degrees in summer and only dipping to an average of 18 degrees in winter. So whenever you're planning your Bucks Party, Wicked Bucks can do the hard yards and organise the ultimate Sydney experience for you.
A preview of the activities available include:
Indoor Bubble Soccer: What's round, squishy and fun to play with? Indoor Bubble Soccer, of course! At Indoor Bubble Soccer your patented bubble suit will let you run, bounce, roll and spin, all while bumping into other bubbles. That's some pretty fun ball play if you ask us.
Sydney Bucks Cruise: Don your sailor's cap and bust out your leather loafers because there's a bucks boat party – Ahoy! This cruise is nothing like the tinny you and the boys take out on the river. Your trip around Sydney on a luxury cruise boat will have you feeling as though you're voyaging to Monaco or St Tropez a la the likes of Gatsby.