Body Sushi Sydney Bucks Party Ideas
This sushi won't just tingle your taste buds. Our Body Sushi experience will leave your entire body tingling. With gorgeous ladies as your dining table, endless amounts of delicious sushi and a free flow of drinks, it really is everything you've ever dreamt of – and more. Body Sushi is an amazing meal best served with a side of sex appeal. The luxury bar will whisk you and the lads into a private room, for your once in a lifetime bucks night experience. 
Sushi will have to be organised before hand and then the gorgeous naked lady will be prepared and covered in sushi for an hour. The equally beautiful women will spend their time serving each of your guest a prodigious portion of sushi, while you devour the scene with your eyes. When you've eaten your fill, the personalised hostesses will shower you with your very own private show. So sit back and enjoy – all we ask is that you refrain from touching what you can't afford.
Experience Overview
1 hour human sushi platter
1 hour nude or topless waitressing
Unique bucks idea
Ensure the party will be remembered for the ages
Extra girls available
Sushi not included
Get a Quote
Call for Info
Top 5 Reasons to try Body Sushi in Sydney
This Body Sushi experience won't just give you a taste of Sydney's freshest sushi and sashimi, but you'll also be treated to a private bucks show. How many people can say they've done both of those together on a bucks night?!
These erotic entertainers are a feast for the eyes and the taste buds. The tantalising show will set the tone for an epic night to follow. 
It only takes one phone call to have your function booked and organised. Wicked Bucks takes all the hard work out of tee-ing up an experience to remember. 
We must warn you that these nude human platters will be having just as much fun as you. It might get a little tricky trying to stay still while chatting and giggling – but it only adds to the fun. 
Body sushi is literally all the good things in life rolled into one. You get food, drinks, hot ladies and a private show. What more could you want?!
Read More: Top Things to do in Sydney | Sydney Bucks Party Ideas | Sydney Bucks Party Accommodation | Sydney Bucks Party Packages | Bucks Party Games | Top Sydney Nightclubs | Top Sydney Strip Joints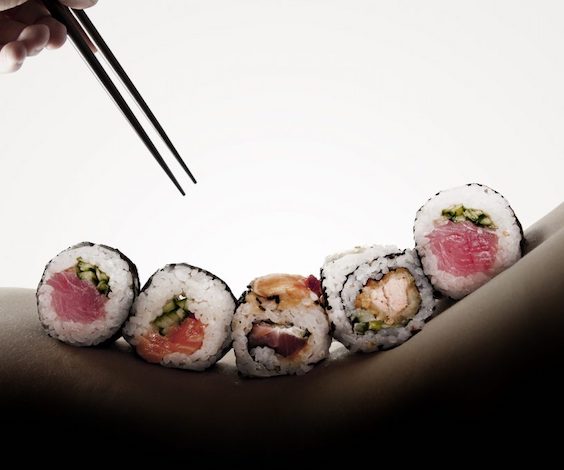 Making the most of Body Sushi in Sydney
Ah Sydney, not so much as a destination than a lifestyle. NSW's capital is the type of place where even the shoe stores feature live music. There is a lot more to this city than traffic lights and bridges. Sydney's beaches are some of the most well known in the world and many of them are located only a few kilometres from the city centre. Choose from the white sands of Bondi Beach or the indie scene of Manly or the laid back vibe of Cronulla. You really can't go wrong. The beaches all have pretty good waves for surfers and you might even spot some Humpback Whales making their way past. 
The diversity goes well beyond the beaches though. The city of full of people from all corners of the world. The multiculturalism means you're treated to an array of drool-worthy restaurants of all cuisines. Once the sun goes down, everyone comes out to play. Whether it's a Monday afternoon or a Saturday night, you're bound to find a pub, stripjoint, bar or nightclub to tick all your boxes. All you need to do is hit up Wicked Bucks and get ready to settle in, because you're probably not going to want to leave.