Paintball Skirmish Sydney Bucks Party Idea
Every guy loves a bit of ball action. But playing with these balls can be so rough, you're almost guaranteed to leave with some gnarly bruises.
Whip out your army style tactics and brace yourself for the best Paintballing experience in Sydney.
Round up the troops and get ready to duck, weave and defend – This is one heck of a day out.
Wicked Bucks will kit your out, give you a gun, load you up with paintballs, then deny all responsibility and leave you to fend for yourself.
Equal parts fun and pain, you'll be hidden in trenches, with no choice but to rely on survival instinct, cunning and training.
Assuming you survive, you'll may have a few bruises to match your tall tales in the pub that night.
Experience Overview
Strategise a planned attack on the Buck
Variety of missions
Safety Equipment Included
Enjoy a male bonding experience like no other
Customer built courses
Top quality guns
Ready, aim, fire!
Get a Quote
Call for Info
5 Reasons to do a Paintball Skirmish in Sydney
Who wouldn't love some fast paced ball action, that really gets the heart pumping? You'll leave sweaty, bruised and dying for more!
If you've been searching for something to unleash your inner kid, you've come to the right place. Like an unsupervised 8-year-old in a lolly shop, once you get started, you'll never want to stop.
Paintballing is the perfect opportunity to practice role playing. While you're out in the field, you'll feel like you have been transported to the set of James Bond or Indiana Jones. Your missus will love it.
While Wicked Bucks takes no responsibility for any friendships destroyed during the game, we do endorse that the losing team should shout beers for the winners.
We all know that you've been spending too much time on your Xbox (sorry for sounding like your Mum). Paintballing combines everything you love about Call of Duty, but even better.
Read More: Top Things to do in Sydney | Sydney Bucks Party Ideas | Sydney Bucks Party Accommodation | Sydney Bucks Party Packages | Bucks Party Games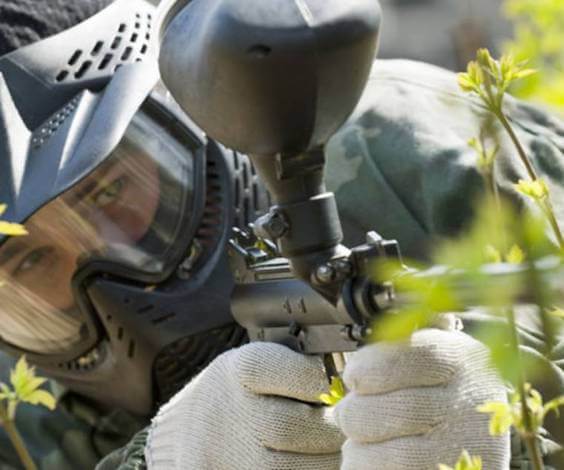 Making the most of your Sydney Paintball Skirmish
Whether your name is Bob, John, Jimmy or Neville, Sydney has something for you. As Australia's largest city, the list of things to do is mind boggling. If you find yourself in Sydney during summer, a trip to some of their iconic beaches is almost mandatory.
You can strip down to your swimmers and strut your stuff along sheltered bays, busy surf breaks and bustling tourist destinations.
If you're more of a winter bunny, a whisky tasting or brewery tour could be calling your name. For something a little more fast paced, jet boating, go-karting or even indoor bubble soccer is the perfect opportunity to let your creative streak run wild.
Whatever you've got your heart set on, fire up the group chat and get the boys pumped; Wicked Bucks has the ultimate experience for you.