Indoor Bubble Soccer Sydney Bucks Party Idea
What's round, squishy and fun to play with? Sydney Indoor Bubble Soccer, of course! At Indoor Bubble Soccer your patented bubble suit will let you run, bounce, roll and spin, all while bumping into other bubbles. That's some pretty fun ball play if you ask us. This activity is set to blow your Bucks party up! 
At Indoor Bubble Soccer, you'll wear an inflatable bubble suit and play soccer with no fouls, red cards or penalties. As everyone loves a little bit of rough play, it's all about bumping into each other, bouncing around and stopping the opposition from scoring goals. You may run a little slower than usual in your suit, but your improved endurance won't go unnoticed.
Experience Overview
The most fun you'll ever have with an inflatable (probably)
Regular soccer tactics go out the window
Body check the Buck
Just staying vertical is an achievement
Zorb balls included
Referees included
Staff to set-up for you
Get a Quote
Call for Info
5 Reasons to do Indoor Bubble Soccer in Sydney
Soccer goes for 90 minutes and has 11 different positions. Now that's a pickup line that is sure to win some attention.
You can play rough. Your inflatable bubble will protect you from injuring yourself and soften any falls. It's the safest rough play you can find.
What's more competitive than a guy playing sport? A group of guys playing a sport. Split your party into teams and go head-to-head. Wicked Bucks takes no responsibility for any friendships lots in the process, but we do promise you'll have a ball.
It's different. Everyone has played soccer before but how many people have played Bubble Soccer? This unique experience will create memories to last a lifetime.
Most Buck's Party activities focus heavily on all the fun things, like cold beers, delicious food and exciting cocktails. Wicked Bucks knows this may make your heart sing but having a run around on the field will be good for your heart too. Get sweaty, and you'll feel like you've earnt that afternoon beer.
Read More: Top Things to do in Sydney | Sydney Bucks Party Ideas | Sydney Bucks Party Accommodation | Sydney Bucks Party Packages | Bucks Party Games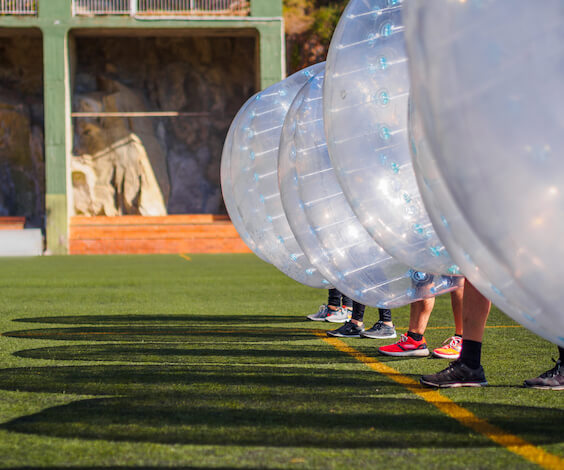 Making the most of your Indoor Bubble Soccer in Sydney
Russell Crowe, Iggy Azalea, Rebel Wilson, and Toni Collete have all called Sydney home. With 1750 square kilometres of bush, beach and city to explore, it's no wonder these celebrities are drawn to the East Coast hub. However, Australia's biggest city doesn't only accommodate rich and famous Hollywood stars.
From barefoot bowls and indoor bubble soccer to private boat parties and axe throwing competitions – There is something for everyone. Wicked Bucks does all the hard yards, so all you have to do is kick back, relax and celebrate your final days of freedom.
Some other Sydney bucks activities to keep you busy may include:
Sydney Paintball Skirmish: Every guy loves a bit of ball action and getting a bit rough. We've combined the two in an activity almost guaranteed to leave you with some gnarly bruises. Whip out your army style tactics and brace yourself for the best Paintballing experience in Sydney.
Sydney Go-Karting: Do you remember a simpler time, where you could afford to spend hours huddled in front of the TV, racing down Rainbow Road and trying not to slip on bananas? Chances are the missus wouldn't be too happy if you decided to do that now. Round up the crew hit the go-karting track and prove you will always be the reigning champ of Mario Kart.