Quad Biking Sydney Bucks Party Idea
Hop on board and get ready to go. This baby is designed to give you the ride of a lifetime. Bang around Sydney on a Quad Bike and live out your South American road trip dreams together – it may be your last opportunity to ride off into the sunset with all the lads afterall. Is there really anything better than tearing it up with your best buddies? There is no better place to run wild with your mates than in the Sydney bushland. 
Quad biking with Wicked Bucks is the ultimate opportunity to hit the open trails, race your mates and show them how real men take on some brutal trails, water crossings and technical challenges. While you zip through the private bush trails, with the wind in your hair, you'll be treated to some of the most picture-perfect scenes Sydney has to offer. After ignoring your brake and slamming the accelerator all day long, you'll be well and truly ready to sink a few cold ones with the boys. 
Experience Overview
All training and safety equipment
Get covered in mud
Enjoy a day on the trails
Late model bikes included
Local tour guides
No motorbike experience required
Own personal itinerary for your group
Get a Quote
Call for Info
Top 5 Reasons to go Quad Biking in Sydney
Even David Beckham and his family came to experience this awesome quad biking adventure on one of their trips to the Land Down Under. If it's good enough for Posh Spice, we reckon it's good enough for you too. 
It may not be smooth sails on these private bush trails but you know what they say about all good rides – the rougher, the better? 
And because nobody likes finishing early, you can make quad biking a full day out. We're flexible to work around what suits you best. All you need to do is say the word and we can make it happen. 
You don't need to be a budding Top Gun enthusiast to take on these trials. The tour not only includes all the gear, but we'll also throw in experienced guides and a full instruction session. 
If it didn't appear on Instagram, did it really happen? We know how important keeping up your social game is so we'll be there capturing plenty of happy snaps along the way. 
Read More: Top Things to do in Sydney | Sydney Bucks Party Ideas | Sydney Bucks Party Accommodation | Sydney Bucks Party Packages | Bucks Party Games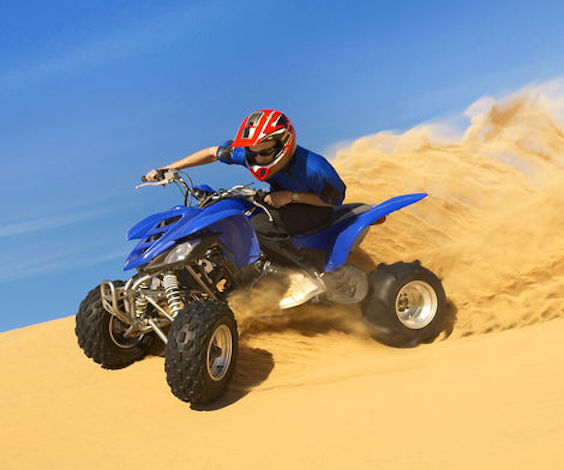 Making the most of Quad Biking in Sydney
It comes as a surprise to many overseas visitors that Sydney is not the capital of Australia This East Coast hub has so much on offer, that it leaves many scratching their heads with confusion. Sydney has some of the most acclaimed beach in the country – and for good reason too. Bondi, Manly, Cronulla and Coogee are all just a stone's throw from the CBD.
Culturally diverse, Sydney is also a mecca for people from all walks of life. You can find a bustling pub, club or bar any night of the week, filled to the brim with happy customers. It may not be the capital of the country, but this place really is the capital of fun. Don't let all the fun happen without you. Wicked Bucks can show you the ropes and give you an experience you'll never forget.