Axe Throwing Sydney Bucks Party Idea
If you haven't seen Game of Thrones, you've obviously been living under a rock. But now Jon Snow isn't just confined to the small screen – You can live a day in his life. Dust off your viking hat and stretch out your arms, You're going to be throwing axes like a pro.
Everybody has dreamt of being a moviestar. It's the ultimate pick up line. This is your opportunity to live the Hollywood life – Game of Thrones style.
Obviously you won't be throwing axes at each other – there are big bullseye targets painted onto thick timber walls. The aim of the game is to throw your axe and hit your target. You may think this activity is reserved for those with hefty upper arm strength, but that's FALSE. Chopper chucking is for everyone. Wait until the ladies hear about this one.  
Experience Overview
What's more manly than a lumberjack
Enjoy the primal thrill of axe throwing
Viking instincts will takeover
Expert staff will ensure there are no axe-idents
Bragging rights to anyone who hits bullseye
Technique tutorials included
Group tournaments
Get a Quote
Call for Info
5 Reasons to do Axe Throwing in Sydney
The only thing women love more than a guy in a uniform, is a guy muscly woodchopper (we promise!). When they hear about your stories of hurling hunks of sharpened steel through the air, they'll come running to you.
Your weekday routine can sometimes become something worn and mundane, never really changing up. This boredom can something make you angry. So angry that you could just throw something. Luckily throwing things is exactly what Axe Throwing allows you to do. You'll go home a rejuvenated and mindful man.
It's fun for everyone. Whether you grew up chopping wood on the farm or you've never touched an axe in your life, picking this activity will be no axedent.  
It's a competition. We can't guarantee anything more than bragging rights for the winner, but who doesn't love letting their competitive streak run wild.
This is probably the only reason you'll legally be allowed to throw axes without getting in trouble.
Read More: Top Things to do in Sydney | Sydney Bucks Party Ideas | Sydney Bucks Party Accommodation | Sydney Bucks Party Packages | Bucks Party Games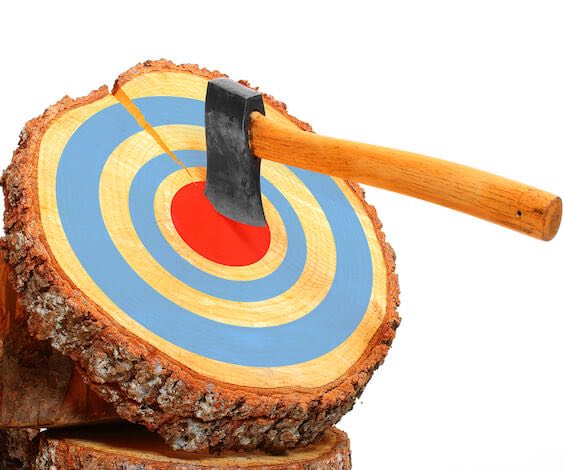 Making the most of your Axe Throwing in Sydney
Brash and brassy it may be, as many Melbournian will happily remind you, but Sydney has got alot to crow about. Pristine beaches, weather of the gods and a twinkling harbour that's the envy of the world. Eating your morning eggs is a way of life here. Sydney's cafe scene is arguably the best in Australia and the city is renowned for it's brunch culture – which actually lasts most of the day.
But if you're looking for something after hours, take a walk through the nightlife hub of Kings Cross and you won't be able to count the number of strip clubs and adult toy stores. If all of that isn't enough for you, just remember Hugh Jackman calls Sydney home. If it's good enough for him, we reckon it's good enough for us too.