Sumo Suits Sydney Bucks Party Idea
What does a woman love more than a man in a suit? Nothing. So call the boys and (sumo) suit up. You'll be rolling around, getting sweaty and slamming into each other. It's the best PG-rated fun you'll ever have. Sumo Wrestling takes Dad bod appreciation to a whole new level, so Suit up and get ready to throw your weight around.
The rules are simple: the wrestler who exits the ring or touches the ground with anything other than their feet loses. We can't guarantee anything more than bragging rights for the winners but it'll make for some quality yarns in the pub afterwards. Get in touch with our specialist party planners for a custom bucks party package.
Experience Overview
Sumo Suits and helmet included
Battle mats set-up
Staff to set-up
King of the mat
Big boys battle
Work up a sweat
Who will be Sumo champion?
Get a Quote
Call for Info
5 Reasons to get Sumo Suits in Sydney
When else is it socially acceptable to roll around and slam into your mates in public? Sumo Wrestling lets you live out your childhood wrestling dreams, without being arrested for public violence.
You can let your competitive streak run wild. Every guy loves a little healthy competition and Sumo Wrestling will let you go head to head against your mates, until someone is on the floor. Literally on the floor.
Your gym membership has to be good for something. Lifting weights and sipping protein shakes certainly makes for good mirror selfies but Sumo Wrestling will let you show off your guns and prove your strength. May the best gym junkie win.
Sumo Wrestling is one activity where you can let your beer belly out, without any nagging from your missus.
This is an ancient Japanese sport where you can flaunt around in a g-string. It may be a sight for sore eyes, but it'll produce some hefty laughs.
Read More: Top Things to do in Sydney | Sydney Bucks Party Ideas | Sydney Bucks Party Accommodation | Sydney Bucks Party Packages | Bucks Party Games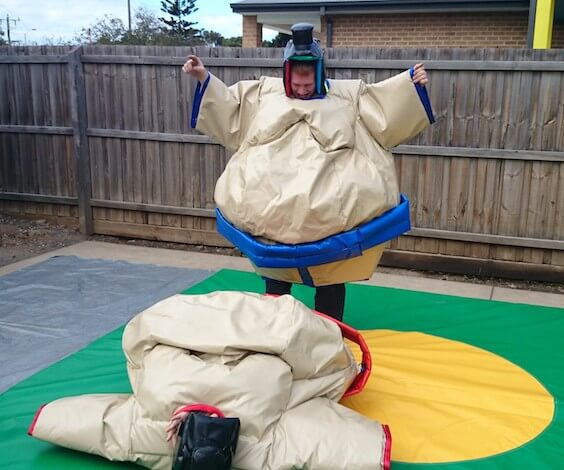 Making the most of your Sumo Suits in Sydney
Sydney is the home of Instagram influencers, backpackers galore and a nightlife scene that will have you cutting shapes into the early hours of the morning. Take a bucks party cruise around the iconic Sydney Harbour, soak in the rays on one of the many idyllic beaches and finish your day with at a world-class cocktail bar.
As Australia's biggest city, you won't be challenged to keep busy but you may struggle to fit everything in. Wicked Bucks has all the local knowledge to make sure your Bucks Party is one for the memory books – So kick back, relax and let us do the hard yards.
Some bucks party activities you might like include:
Sydney Go-Karting: What is more competitive than a guy in a go-kart? A group of guys in go-karts. Rev your engine and get in gear, there's nothing slow about Go Karting. We take no responsibility for any friendships lost in the process.
Sydney Party Bus: Sydney may be renowned for busy traffic, but that doesn't mean your time on the road should be waster. Sydney Party buses have poles, flashing disco lights and some extra special lady dancers. By the time you arrive, the wheels won't be the only thing going around and around on this bus.