Deep Sea Fishing Sydney Bucks Party Idea
The deeper you go, the fishier it is. Whether you like them small and slippery, or big and strong, you're guaranteed to hook a keeper when you go Deep Sea Fishing with Wicked Bucks. Jump onboard, bait your line and cast your rod, this is every man's favourite pastime but on a whole new level.
Marlin and Dory aren't the only fish in Sydney's Harbour – in these reefs you'll find flathead, morwong, snapper, kingfish and schools more. Wicked Bucks will hook you up with all the gear so you can get that candid Instagram snap, even if you have no idea what you're doing.
Experience Overview
Beautiful coastline to explore
Rods, bait, tackle and other fishing gear included
Who will bring home the catch of the day?
Once you catch your first you'll be hooked
Plug in to the onboard stereo
Sit back, relax and watch the fish come to you
BYO
Get a Quote
Call for Info
5 Reasons to Deep Sea Fishing in Sydney
The deeper the better. With our quality fishing equipment and expert guides you'll be hooking in deeper than ever before.
This is an opportunity to be shellfish. You love fishing but a day out on the boat with the boys isn't your Missus' cup of tea. Celebrate your final days of freedom but doing exactly what sets your heart on fire, without hearing any complaints.
Sydney is internationally renowned for their iconic harbour views. On our deep sea fishing charters, you can see the landscape from a whole new perspective.
A day out to sea is the perfect bonding session. What better opportunity to spend some quality time with the boys then out in the middle of the ocean. Without any distractions, you're destined to leave with a bromance that rivals the gang from The Hangover.
Fishing is historically the role of the alpha male and family provider. Polishing up your Deep Sea Fishing skills will let you kick start your married life with some extra brownie points.
Read More: Top Things to do in Sydney | Sydney Bucks Party Ideas | Sydney Bucks Party Accommodation | Sydney Bucks Party Packages | Bucks Party Games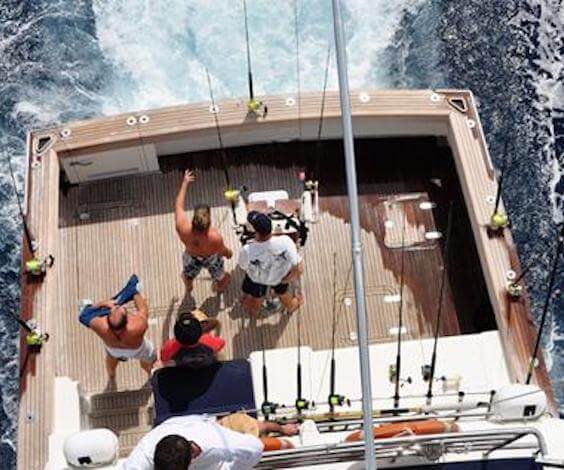 Making the most of your Sydney Deep Sea Fishing Trip
Since you've only got one chance to get your bucks party right (we hope, anyway!) picking your destination can be the make or break. Sydney is one place that will definitely please everyone.
As Australia's biggest city, the harbourfront destination is home to the iconic Opera House and Harbour Bridge. Behind these gramworthy landmarks, you'll find a pumping nightlife scene, adrenaline junkie activities, competitive sports and everything in between.
This is why Sydney is perfect for a bucks weekend getaway, with everything at your fingertips you won't have any difficulty deciding what to do.
If you're struggling to pick from the endless list of options, some of our red hot suggestions include:
Barefoot Bowls: Call your Nanna and invite her too- lawn Balls is the in-thing. Once dominated by napisan-white senior citizens, these outdoor greens have now been overtaken by a younger, barefoot and beer sinking generation. Situated in some of Sydney's most idyllic locations, you'll have a view to enjoy as you sip on your shandy (hold the lemonade) and let the grass tickle your balls.
Paintball Skirmish: What do you get when you mix Fortnite and some major ball action? A bloody good time! Paintball Skirmish will leave you huffing, puffing and screaming for more. Wicked Bucks takes no responsibility for any friendships lost in the process.