Luxury Boat Cruise Sydney Bucks Party Idea
Don your sailor's cap and bust out your leather loafers because there's a boat party – Ahoy! This cruise is nothing like the tinny you and the boys take out on the river.
Your trip around Sydney on a luxury cruise boat will have you feeling as though you're voyaging to Monaco or St Tropez a la the likes of Gatsby.
A Luxury Cruise Day around Sydney is your chance to kick back, channel Great Gatsby, and swan about above deck like the true VIP that you are.
There's nothing like OTT decor, a private bar, gourmet food, plush daybeds and a cocktail in hand to make you feel totally extra.
While you're soaking in the ambience and uninterrupted skyline views, you'll feel millions of miles away from the hustle and bustle of Sydney.
So round up the bouys, it's about time you put your inner seamen to good use. Get in touch with our specialist party planners today for a tailored bucks activity package.
Experience Overview
Ultimate luxury experience
Private cruise for you and the boys
Private Captain
Cabin crew included
High end private vessel
Spectacular views
Onboard catering and beverage packages
Get a Quote
Call for Info
Reasons to do a Sydney Luxury Cruise
You'll be able to drop the bass. Out at sea, you won't have any neighbours to file sound complaints, so you can pump the tunes to your heart's content.
A day on the boat is the ultimate bonding session for you and your party-goers. From the moment you step on board, it'll be all smooth sailing to a bromance which rivals The Hangover cast.
If you've never dreamt of a day in the life of Great Gatsby, you're obviously lying. This cruise is a once in a lifetime opportunity to transport yourself to the world of the rich and famous.
Luxury Cruise Boats can cater for all party sizes. Whether you're after an intimate drink with your nearest and dearest, or you've invited half the population, Wicked Bucks can arrange a boating package to suit your needs.
With spacious dance floors and disco lighting, it won't take much pier pressure to get the entire Bucks Party moving and grooving.
Read More: Top Things to do in Sydney | Sydney Bucks Party Ideas | Sydney Bucks Party Accommodation | Sydney Bucks Party Packages | Bucks Party Games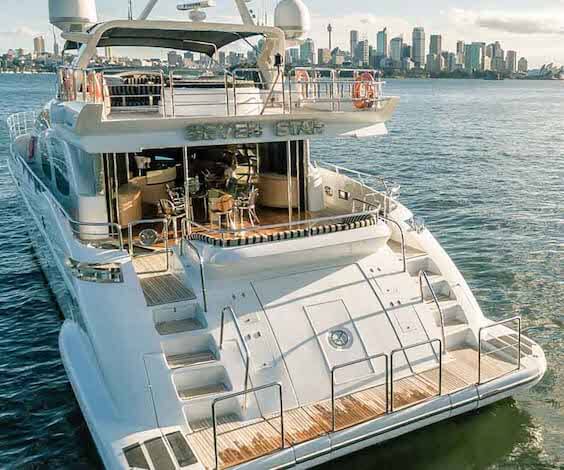 Making the most of your Sydney Luxury Boat Cruise
Sydney is internationally renowned for its postcard-perfect scenery. With gramworthy beaches around every corner, sprawling mountain trails that legendary harbour, Australia's largest city is a crowd favourite with locals and tourists alike.
That's not to say it's only for keen outdoorsy people. On top of its picturesque views, Sydney is also home to cheeky nightlife and restaurants galore.
From the naughty Kings Cross to the indie inner west, your biggest struggle will be choosing which venue will kick start your night.
When you've finished living your Gatsby life on our Luxury Cruise Day, Wicked Bucks has plenty more activities to keep you busy.
A few of our top picks include:
Sydney Sumo Suits – What does a woman love more than a man in a suit? Nothing. So call the boys and (sumo) suit up. Sumo Suit Wrestling will have you rolling around, getting sweaty and slamming into each other. It's the best PG-rated fun you'll ever have.
Sydney Go-Karting – Do you remember a simpler time, where you could afford to spend hours huddled in front of the TV, racing down Rainbow Road and trying not to slip on bananas? Take a trip down memory lane by hitting the go-karting track and proving you will always be the reigning champ of Mario Kart.
Sydney Golf Day – Whether you've got a knack for swinging a driver or not, a day out on the green will keep everyone pleased. You can bang it hard, slip it in slowly and have some unforgettable ball action with a Wicked Bucks Golf Day.