Bucks Barefoot Bowls + BBQ
Forget everything you've ever been told, Lawn Bowls are no longer just for the grandmas and grandpas in our lives. The sport that was once exclusively associated with retirement has been taken over by a younger, barefoot, beer drinking crowd – with the new and improved name of Barefoot Bowls. It's an absolute hoot and we finally understand why your Grandparents spend so much time at their local bowling club.
Have you ever wondered what your Grandparents get up to when they don their Napi-san whites and head down to the local bowling club? What is so special about these greens that can keep them entertained for hours? If you're seriously asking those questions, you've obviously never tried your hand at the sport. After being overtaken by barefoot, beer sinking 20-somethings, Barefoot Bowls is now the cool kid on the block.
Tauranga Bowls Club is just like the bowlo you visited for your Grandad's birthday last year, but with colder beers and a younger crowd. You and your buddies will be split into teams and given a quick lesson from the grey-haired gurus, before you're sent head-to-head in some epic, slow-paced ball action. The aim of the game is to get your bowl as close to the marker as possible, without losing your shit at the surprising complexity of nailing the arm movement.
If you're in more of a spectating kind of mood, the food and drinks menu hits the mark every single time. We're talking about an enviable list of delicious beers and a killer range of bar snacks and all your favourite canteen-classic snacks. Take off your shoes and have some much needed fun in the sun with Wicked Bucks. It's probably the only time you can claim to be playing a sport while you've got a beer in your hand. 
Experience Overview
Show you have the superior ball skills
Sink some beers with the boys
Bar onsite
No better way to ease into a big night
Get a Quote
Call for Info
Reasons to choose this activity
There is a reason why our grandparents have been raving about their favourite pastime for so many years. Instead rolling your eyes, nodding at the right times and pretending to listen when you're actually thinking about their secret stash of chocolate cookies, why not give it a go yourself. You might be surprised. 
Barefoot Bowls is the newest hit on the sports scene. The revamped sport is teeming with 20-something larrikins, which is probably due to the beer culture that surrounds the game. It's the perfect activity to bring your mates together and celebrate the man of the hour. 
Every guy loves a bit of ball action and just because you're spending some time away from your Missus, doesn't mean you need to miss out. The slow-paced nature of this action means the final reward will be even sweeter. 
Barefoot bowls is a game of skill, touch and patience, that always reveals true character and butt cracks. Thanks to the new and relaxed uniform policy, barefoot bowls is now synonymous with banter and always provides a hefty supply of lifelong memories. 
How many other sports can you play with a beer in hand? Enough said.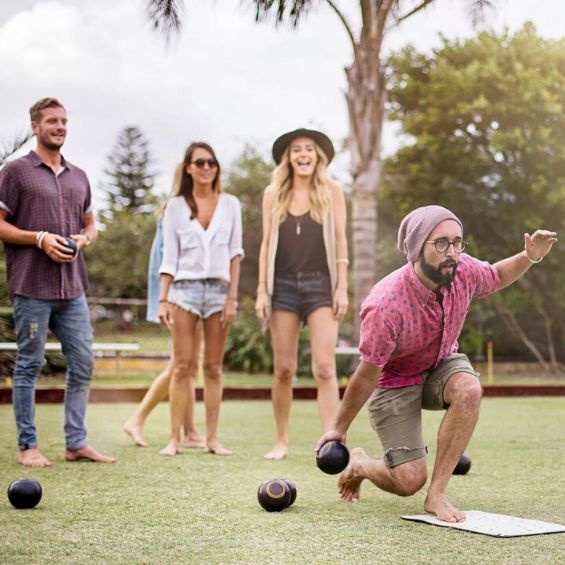 Making the most of Barefoot Bowls Tauranga
Unlike most temptations, Tauranga is something that will leave you drooling but that you're also  able to tell your Missus about. The harbour city offers more options than an all-you-can eat buffet and promises more fun than a 6-year-old's birthday party. Located in the iconic Bay of Plenty region, you can expect picturesque mountain ranges, mesmerising sandy stretches, a crystal clear coastline and lush greenery. With a backdrop like this, it's not hard to find the motivation to strap on your walking shoes on and get outdoors. You can spend your days hiking along a wide range of tracks suitable for various fitness levels, kayak down refreshing and glistening waterways or explore secluded swimming holes and waterfalls.
Despite being an outdoor wonderland, Tauranga still punches well above its weight in the cosmopolitan lifestyle. The CBD is steeped in history, which is evident in the restored buildings, cultural centres and Heritage Village. As a city entrenched in the arts scene, there is also an abundance of gallery-worthy street art and world-class performances on every night of the week. After a long day of exploring the region, there are a seemingly endless number of watering holes to choose between. Ranging from grungy pubs to luxe rooftop bars, you can sip yourself into the next day.
Tauranga is a popular tourist destination for a reason. The coastal city offers just about everything you can imagine, in a preserved and underrated kinda way. Your Buck deserves that type of treatment, so let Wicked Bucks show him just how much he means to you all.