Bucks Go Karting Tauranga
Regardless of what you tell yourself, life is a race and nobody likes a loser. It's all about crossing the finishing line first, proving you've got what it takes and putting your buddies to shame. Okay, maybe don't apply that theory to all aspects of your life but it does come in handy on the Go-Karting track. This is your opportunity to maintain your top-dog status and stop the soon-to-groom's head from getting too big. 
Nothing compares to the feeling of a good ride. You know that feeling when you're in the zone, you've got the right speed and you're perfectly in-time? Get your mind out of the bedroom dude, we're talking about the Go-Karting Track!
This timeless classic is guaranteed to get your competitive juices flowing and is also your opportunity to keep the soon-to-be-groom in check, while using the guise of a fun activity.
After rocking up at the track, you'll be handed the keys to your very own set of wheels and decked out to look like a formula-1 race car driver. The experienced and professional drivers will give you a quick run through of the course, as well as their top tips to dominating the field.
Sitting in the driver's seat of your purpose built German kart and with your foot hoovering, the countdown for the green light will feel like an eternity. Then FLASH, it's all systems go. Smash your pedal to the metal and you'll take on long stretches, sharp corners and winding turns. The track is a smooth, concrete surface with tyre buffers strategically placed around the course, meaning you've got no excuse to hold back.
Your Buck might be the reigning champion of Mario Kart but don't let him get away with a win too easily. The promise of bragging rights should be enough motivation to ensure you pass the checkered flag first. 
Experience Overview
Heated competition
Powerful karts
Safety equipment to ensure the Buck gets back to the missus safely
Mario Kart has nothing on this
Who will be the fastest on the track?
Get a Quote
Call for Info
Reasons to do Go Karting in Tauranga
These karts aren't like the measly contraptions you rode at your primary school camp. Wicked Bucks only delivers the finest, which is why we offer state-of-the-art, purpose-design vehicles. The high energy absorption systems, supreme comfort and high-power engines are the real deal. 
Go Karting is an activity that most people associate with children's parties or corporate events. Those people have obviously never experienced the Wicked Bucks way of doing things. This go-karting session isn't for the faint hearted. It's fast, it's furious and we won't hold back from paying you out about your poor driving skills. 
Boys and competition are a match made in heaven. It's a combination that rivals the pairing of Friday nights and beer – we're not kidding. Put your money where your mouth is and send the boys head to head. It's an epic way to bring the party together and create some life-long memories. 
The buzz of go-karting is something special. After a session out on the track, you'll be amped and ready to hit the town for an epic night to follow. 
While this is one of the few Wicked Bucks activities where you'll need to hold back on the beerios, we promise the celebratory post-race booze tastes even sweet.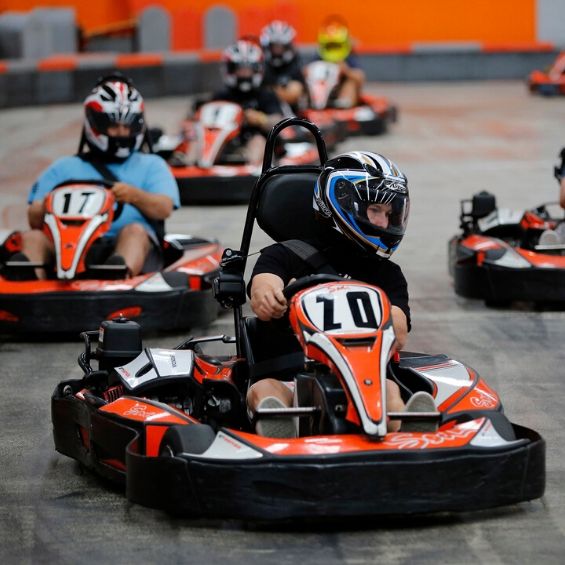 Making the most of Go Karting Tauranga
Lush parks, golden beaches and an accessible location makes Tauranga one of the most popular destinations in New Zealand's Bay of Plenty. In the country's North Island city, you'll find so many opportunities to soak in the great outdoors that you'll struggle to pull yourself away at the end of it all.
Take a refreshing dip in the swimming holes, hike through gorgeous greenery, soak in your daily dose of vitamin D or go snorkelling with the abundance of local marine life. While the city is known for its iconic scenery, the CBD is just as inviting. Cobbled stone streets, heritage homes and grungy street art reflect the region's burgeoning arts scene, while also paying tribute to the area's rich history. A
s a popular tourist destination, there is always an impressive range of live gigs, gallery exhibitions or street markets on offer too. Whether you're after a quiet beer at sunset or you want to boogie until the early hours of the morning, Tauranga's nightlife scene will tick all of your boxes. We're talking chic cocktail bars, epic clubs and classic old pubs.
With the help of Wicked Bucks, you can show your Bucks some brotherly love and chuck him an epic celebration in Tauranga. It's as easy as swinging us a message and letting us take the wheel.