Indoor Rock Climbing Tauranga Bucks Activity
Marriage is no walk in the park, it's equal parts confusing, enjoyable and a pretty huge workout trying to keep up. As the best man, it's your responsibility to get the soon-to-be-groom ready for his big day and everything that follows. Scratching your head and trying to find the perfect activity? Rock Climbing. Just like marriage, this activity is the perfect top-to-toe workout for your mind and body.
When it comes to keeping fit, there's no denying that we can all get a little bored of the standard gym rut. Although curling weights, pretending not to admire your biceps in the mirror and walking around the venue in an attempt to look busy can be fun, sometimes you need something a little more.
So break the cycle and get your buddies together for a day of fun, fitness and full-blown laughter – all in the name of the man-of-the-hour.
Tauranga's indoor rock climbing centre has a range of different gradient walls, ranging from beginner gentle to expert hard core. The experienced team of instructors offer learning to climb and intense training sessions that will put your upper body strength, endurance and agility to the test. This centre was also designed with the kooks of your group in mind, which is why the walls are equipped with automatic belay devices and crash pads.
Whether you're an extreme sport junkie or you've got two left feet, a Wicked Bucks session of Indoor Rock Climbing is the ultimate way to prepare your buck to climb into the world of marriage.
Experience Overview
Race your mates to the top
Year-round activity
An activity that anyone can do no matter the skill level
Work on that six pack before consuming a six pack
Get a Quote
Call for Info
Reasons to do Indoor Rock Climbing in Tauranga
The team at Tauranga's indoor rock climbing centre are probably the sport's biggest fans. They're keen to see the action-based activity grow into one of the most popular past times, and they've got the enthusiasm. Don't be surprised if you're tempted to throw in your day job and join them in their efforts. 
Everyone knows that marriage = Dad Bod. But introducing your soon-to-be-groom to Rock Climbing before the big day could be his saving grace. Once he tries his hand at the sport, he'll be hooked and he'll earn the 6-pack he's always dreamt of having. Well, no promises but it's worth a try. 
Rock Climbing is a year-round, weather-proof sport. Whether you're trying to avoid the cold winter breeze or escape the beaming Summer heat, this indoor activity has you covered on all fronts. 
Wicked Bucks takes indoor climbing to a new level. Once you enter the climbing arena, you'll be surrounded floor to ceiling walls. There are 26 climbing challenges to 31 fun climbs and two adventurous add ons. Race your mates to the top, try the edge-of-the-ledge balancing or just enjoy looking down on your buddies below. 
Literally anyone can get involved with this sport. The only requirement is that you're older than 2-years and that you BYO good vibes. There's no excuse for your Grandpa Joe to skip out on the fun.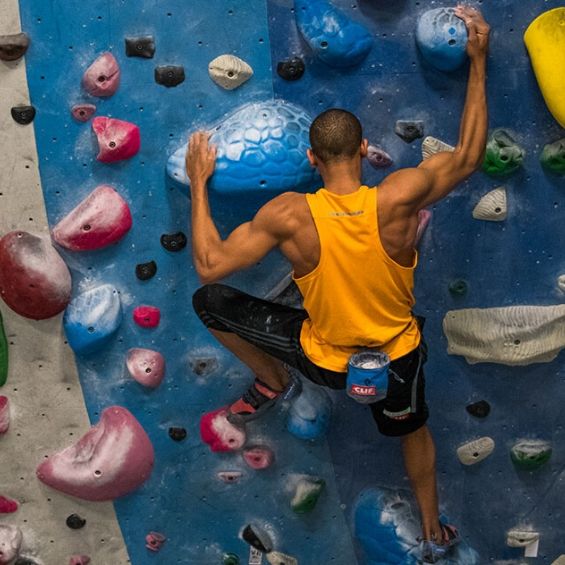 Making the most of Indoor Rock Climbing Tauranga
The Bay of Plenty is one of New Zealand's most popular tourist destinations and our top pick of these coastal gems is Tauranga. A shining gem in a glistening crown of natural beauty, this harbour city is the real deal. Imagine mornings spent swimming with dolphins, afternoons hopping between local wineries and nights of fine dining and bustling dancefloors.
It might be known as a chilled and easy-going beach town, but Tauranga is actually the 5th largest city in the country. This relatively booming population means the region boasts the ease and accessibility of a much larger city, without the hustle and bustle of some other destinations.
Visitors aren't just restricted to the city centre though. Tauranga is just a hop, skip and a jump away from numerous major tourist spots, including Mount Maunganui, the country's only active marine volcano and an abundance of secluded beaches. True to the Kiwi way of life, you can also satisfy your inner adrenaline junkie with the abundance of heart pumping action-based activities. Think: Skydiving, white water rafting, surfing and rock climbing.
The city is a popular spot for a good reason. It's practically just the whole package. Treat your buddy to the full-blown experience for his final days of freedom, by giving him a Wicked Bucks send off in Tauranga.